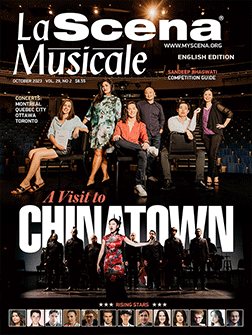 This page is also available in / Cette page est également disponible en:

Francais (French)
Nurhan Arman came to Toronto at just the right time. The Chamber Players of Toronto had just ceased operations, and the city was in want of a chamber orchestra. Fortunately, Arman, who was conductor of Symphony New Brunswick at the time, felt up to the task of starting a new organization, and so Sinfonia Toronto was born.
Now entering their 25th season, the organization touts an impressive history that includes local performances, concert tours, and six recording projects. The orchestra's international appearances stand out as highlights for Arman. "Repeating the same repertoire night after night on tour, you have the opportunity to create so many special musical moments," he says.
Although outweighed by its triumphs, Sinfonia has encountered its fair share of challenges over the last 25 years. "We have survived three crises," says Arman. First, the 2003 SARS epidemic in Toronto; then, an extended CBC/Radio-Canada walkout that resulted in the temporary closure of the Glenn Gould Studio, which had been the orchestra's home; and, most recently, the COVID-19 pandemic. Arman is quick to point to the pandemic as the part of the orchestra's history that he is most proud of. "We kept our musicians working and healthy, and safely produced concerts for our audience," he says. With the advantage of being a chamber orchestra, Sinfonia was able to rehearse in small sectionals, and begin live-streaming performances as early as 2021. Remarkably, they "only cancelled two concerts, and one tour."
The orchestra's anniversary celebrations will last all season long, and feature audience favourites alongside new commissions, by an international coterie of composers. "Our orchestra is very curious," observes Arman, noting their desire to explore new musical styles and ideas. "This season's programming is a mixture of works by new, established, and unknown composers."
In their opening concert, on Oct. 21, Sinfonia will perform four premières. French composer Louis Sauter has written Regard de l'anniversaire XXV especially for the occasion. Inspired by the harmonies of Messiaen, his piece offers a humorous, orchestral take on the classic Happy Birthday. Canadian composer Frank Horvat's Magnificent Roots, another world première, draws inspiration from a 250-year-old red oak tree, the oldest tree in the city of Toronto. 
Also on the program are two Canadian premières. Georgian Soviet-era composer Otar Vasilisdze Taktakishvili's Violin Concerto No. 2 combines features of early modernism and late romanticism, and will be performed by young Georgian violinist Elisso Gogibedashvili. Finally, the orchestra will perform the Canadian première of Sreten Krstič's string orchestra arrangement of Beethoven's famous Symphony No. 5 in C minor.
The remainder of the season will continue to combine the old and the new, at once appealing to and challenging audience expectations. "Arts organizations should show leadership in their programming," says Arman, who hopes to continue pushing the boundaries of expected chamber orchestra programming, and supporting his orchestra's members to his utmost ability for years to come.
Sinfonia Toronto will perform their first concert of the season, 25th & 5th!, will take place on Saturday,
Oct. 21, at the George Weston Recital Hall. 
This page is also available in / Cette page est également disponible en:

Francais (French)