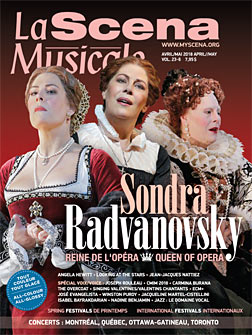 Known as the Association des organismes musicaux du Québec (AOMQ) at its foundation in 1987, this organization became the Conseil québécois de la musique (CQM) in 1993. The year 2017 marked the 21st anniversary of the Opus awards and the 30th of the foundation of CQM.
This edition of the Opus awards recognized music created, produced and performed between September 2016 and 2017. We can only praise the hard work and the outreach. Awards were interspersed with generous performances, much collaboration and mixing of the genres and specialities.
I allow myself a question regarding performances after prizes: it is impossible to be attentive to all the different interpretations of the musical themes linked to each laureate? Wouldn't it be better to appreciate the effort of invited musicians who put in rehearsal time to make the transitions and introductions smoother?
Five of eight prizes – two have been added this year – are accompanied by envelopes reaching a total of $28,000 thanks to the generous partnerships.
The $10,000 prize from the Conseil des arts et des lettres du Québec for Composer of the Year went to Julien Bilodeau for the opera Another Brick In The Wall. The ministry of Culture and Communications offered $5,000 to Strada Productions for Production of the Year (young public) and for its show La Fanfare fanfaronne.
Another $5,000, awarded by the Conseil des arts du Canada, went to the Bozzini Quartet as Performers of the Year. The Orchestre Métropolitain received $3,000 for the Concert the Year (Montreal) for Une page d'histoire: Yannick Nézet-Séguin dirige le sublime Parsifal.
For its part, the Fabrique culturelle from Télé-Québec offered $5,000 in the form of a video capsule to the Orchestre symphonique de Drummondville, which won Concert of the Year (regions) for its Bel Canto.
Artistic direction of the gala was under the care of Nicolas Jobin, who surrounded himself with an effective technical team. Marc Hervieux was host of the Red Carpet introduction, which was broadcast live on the CQM's Facebook page. François Lemay of Ici Musique was host of the gala.
The Homage Award went to Lorraine Vaillancourt. With the aplomb of an expert teacher who is still young at heart, this conductor reminded us that "for a succession to take place, there must be an aging generation."
Other awards deserve attention. The National Jazz Orchestra, which organized the first 2018 edition of the Youth Jazz Orchestra of Montreal sponsored by Oliver Jones, celebrated its fifth anniversary by gathering two Opus awards. One was for the jazz CD Under the Influence Suite (Christine Jensen directing and composing). The other, for Jazz Concert of the Year, went to Orchestre national de jazz invite John Hollenbeck et Theo Bleckmann.
Also noteworthy: the Molinari Quartet received its 19th Opus award.
Details on the awards are available at www.cqm.qc.ca.
Translation by Viviane Reid