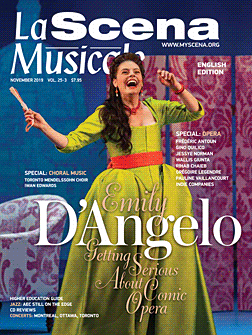 This page is also available in / Cette page est également disponible en:

Francais (French)
Founded in 1894, the Toronto Mendelssohn Choir (TMC) is Canada's oldest choir. It performed its first concert at the inaugural season of Massey Hall in January 1895. John McCrae, who famously penned the war memorial poem "In Flanders Fields," was in attendance. Throughout its long history, the TMC has been served by eight artistic directors. Since 2018, David Fallis has been its interim conductor, and the choir undertakes an international search for an artistic director to take the helm in 2020-21.
The choir consists of a professional core of about 20 and has its own concert series featuring a broad range of repertoire, including commissions from Canadian composers. It frequently performs with the Toronto Symphony Orchestra. The annual TSO/TMC performances of Handel's Messiah have been a longstanding holiday tradition.
The TMC performed in the opening concerts of Roy Thomson Hall (1982) and Koerner Hall (2009), two important Toronto venues. Other notable moments in the choir's history include singing at the 1976 Summer Olympics in Montreal and the 2010 Winter Olympics in Vancouver. The choir has embarked on several tours of Canada, the United States and Europe. In 1995, it received the Lieutenant Governor's Award for the Arts. Its recordings, many made with the TSO, have received Grammy and Juno nominations.
The choir has a huge following of dedicated members. Many stay for decades, with 50 years being the longest record of service. This season the choir has 114 members ranging in age from 18 to 75. Forty percent are under 35, and a similar percentage have sung in the choir for 10 years or more.
Now in his 45th year in the TMC, Daniel Parkinson is the longest-serving chorister. He recalls when the choir used to be 160 voices strong, and says he learned a great deal from Elmer Iseler and Noel Edison, the two artistic directors he has worked with. He does not tire of Messiah because "every conductor brings a different style" to the masterpiece. Parkinson now coordinates Singsation Saturdays, an outreach program that offers participants an opportunity to sing in a large choir under many different conductors and experience a wide range of music. Participants are as eclectic as the conductors and musical genres. Besides classical choral masterpieces, Singsation Saturdays have featured opera, Gilbert & Sullivan, gospel, jazz, barbershop, Latin, Indian and Jewish music, as well as Canadian works.
The TMC has an associate conductor program designed to provide talented conductors at an early stage in their career with coaching, training and mentoring while they provide the TMC with conducting support. Since its inception in 2011, there have been four associate conductors, each holding the position for two years.
Another initiative is the TMC apprentice program for experienced choristers aged 17 to 22. In addition to receiving full subsidy of the cost to join the choir, apprentices are mentored by an experienced TMC chorister and receive four coaching sessions per year by a qualified instructor. One such apprentice, IJ Sison, joined the program three years ago in his final year of high school, after attending a TSO/TMC Messiah. "Even though I have sung in school and church choirs almost all my life, being in the Toronto Mendelssohn Choir is my very first experience singing at this high calibre," said Sison. His TMC experience led him to choose music as a career—he is now in his third year at York University, double-majoring in Music (voice) and Theatre.
Some TMC members have gone on to successful solo careers. Mezzo-soprano Catherine Robbin is one example. Robbin sang with the TMC and the Festival Singers, its then professional core, in the early 1970s and went on tour to Western Canada and Europe. Her most vivid memory of singing on stage as a chorister in the TMC was standing behind and above Maureen Forrester singing Mahler's Second Symphony. "Watching her back expand with every breath was something I can never forget," says Robbin. "But truly, it was the choristers as much as the soloists who impressed me and introduced me to the life of committed musicianship. Singing chorally with such an illustrious group was a brilliant launch to my own life of singing." Robbin had an illustrious 30-year career performing in recital and concert. Retired in 2003, she became the director of Classical Voice Studies at York University, a position she held until 2018.
Mezzo-soprano Jean Stilwell, a noted Carmen, originally studied social work. Her mother discovered that she had a voice and urged her to take lessons and audition for the TMC. Stilwell ended up singing with both the TMC and the Festival Singers in the 1970s, sitting next to her mother, Margaret Stilwell, herself a well-known contralto who had sung at Carnegie Hall with the TSO. She has fond memories of Poulenc's Gloria in her first TMC concert.
Another memory is of singing music by Penderecki that included "fiendishly difficult" quarter tones. The TMC opened many doors for Stilwell, which led to a long career of operatic, oratorio and even cabaret work with Northern American and European orchestras and opera companies. She still performs occasionally but is known now as the co-host of Classical Mornings on The New Classical FM station in Toronto.
Listeners to this station will also be familiar with the velvety voice of Alexa Petrenko, host of Breakfast Classics and Sunday Night at the Opera. Petrenko sang in the TMC and the professional Elmer Iseler Singers in the 1980 and 90s. She remembers the opening concert of Roy Thomson Hall, when the candles on the celebratory cake set off the fire alarms. She recalls Iseler as "one of (her) favourite complicated, gifted, brilliant music people on the planet." Petrenko jokes that she still uses her opera voice to call her dog.
The TMC celebrates its momentous birthday with a 125th anniversary gala concert on Oct. 20 at Koerner Hall. Singing through Centuries features three works from three centuries: Fauré's Requiem, Stravinsky's Symphony of Psalms and Andrew Balfour's Mamihcimowin, a TMC commission. For more information, visit www.tmchoir.org
Memories of a TMC alumnus

In 1995, I was fresh out of university and just moved to Toronto. The Toronto Mendelssohn Choir was the only choir I knew about in Toronto, and I decided to audition for it. I sang "Oh Thou That Tellest Good Tidings to Zion" from Handel's Messiah for Elmer Iseler. Upon learning that I grew up in Hong Kong, his eyes lit up and all he wanted to talk about was his spectacular flight landing experience at the then-city airport, where planes almost grazed the roofs of residential building. He then said, "See you tomorrow," to which I asked perplexedly, "Am I in?" The answer was yes, and I later learned that I was one of only two altos admitted that year.

The next day, I remember my first impressions being there were so many seniors in the choir, some even older than Elmer! I was so young and green – while it took me some time to fit in socially, I immediately felt artistically right at home. It was thrilling to be surrounded with incredibly talented singers, and to learn challenging repertoire from different centuries. I was very fortunate to have a great mentor in Marg Fisher, my assistant section leader, who took me under her wings and included me in many events, and with whom I am still friends today. I am eternally grateful to the late Ernest Clark, choir marshall, who drove me home from choir practice every week. I was honoured to sing at Ernest's funeral, and delighted to learn that the choir now has an award in his name honouring his 50 years in the choir.

The choir introduced me to so many great choral works. Besides singing in the requisite Latin, German, French and Italian languages, I had to learn Russian, Polish and Czech. At my very first TMC concert, we sang Berstein's Chichester Psalms which I immediately fell in love with. My favourite concerts were those with the TSO, the most memorable included Carmina Burana with almost 300 musicians on stage; Mahler's 2nd Symphony with Maureen Forrester; Prokoviev's Ivan the Terrible, with the great Christopher Plummer as the narrator. I accosted Mr. Plummer at the dress rehearsal and asked him to autograph my Sound of Music CD and DVD collections, which he kindly obliged!

I have only sung with the TMC for five years when other priorities in life took over, but those five years made such an indelible mark and changed my life in so many ways. The fire that kindles the love of singing never dies. Once or twice a year, it is fuelled by singing at Singsation Saturday, when I also proudly wear my TMC alumnus pin!

— Denise Lai
---
The Toronto Mendelssohn Choir celebrates their 125th anniversary Gala on Sunday, October  20, 2019 at 3:30 PM. See web page.
This page is also available in / Cette page est également disponible en:

Francais (French)