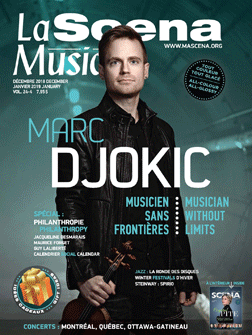 This page is also available in / Cette page est également disponible en:

Francais (French)
Maurice Forget died on May 3, 2018. On Nov. 14, the Conseil des arts de Montréal paid a special tribute to him. Following are extracts from the speech given by Danielle Sauvage, one of his close and loyal colleagues.
Jan-Frydryck, Nathalie, Council members, dear friends – good evening.  
When I was asked to speak during this tribute tonight to Maurice Forget, I accepted immediately. This is a chance, for me, to speak about an exceptional man, with whom I worked closely for over 4 years at the Conseil des arts de Montréal (CAM).
We had met during the 1980s, when I was involved with the Montreal Museum of Fine Arts. He never missed any of our openings and special events. Known mainly as a collector and donor, he was a close friend of all museums. He was an imposing figure. His sense of repartee, his fluid and elegant language, in French as well as English, made him an impressive character. In fact, he intimidated me.
However, working along with him at the Conseil, I had the chance to know him better. I discovered a person of determination and courage who used plain language and who always pursued his ideas to the end. A sensitive person, too, with a very open mind and heart.
He has left his mark on the Conseil des arts de Montréal in many ways. First, with his hard work in obtaining the Conseil's legal autonomy in the early 2000s, after a protracted battle he fought fiercely with provincial and municipal authorities. His legal skills were put to the test, but legal autonomy brought many changes to the Conseil's operation, changes that he guided judiciously.
Another area was strengthening the arts-business connection. As CAM's first Chair to come from the business world, he was passionate about relations between arts and culture. He certainly intended to share this passion with as many business people as possible. With this goal in mind, he convinced the Chamber of Commerce of Metropolitan Montreal to bring back the prix Arts-Affaires de Montréal which recognized the contributions given by large, medium and small businesses to the development of arts organizations in Montreal. Likewise, he always made sure that representatives from the business and education communities were on the judging panel of the Conseil's big prize.
His most remarkable contribution, undeniably, was the inclusion of what we then called "cultural communities." On my arrival at the Conseil, Maurice had been very clear: "The Conseil, he told me, has to open up to culturally diverse artists and to different forms of artistic expression. When will the CAM decide to subsidize a gamelan music ensemble?" We were far from making that dream a reality! Remember that, at that time, although really not that long ago, world music was excluded from arts councils.
Under Maurice's initiative, the CAM established an advisory committee and in 2004 organized, at the Saidye Bronfman Centre, a Day of Diversity, which brought together artists and agencies from all the disciplines. Following that day of animated discussion, the movement was irreversibly launched. A few months later, the Conseil issued its Politique de développement de la diversité culturelle dans les arts [Cultural Diversity in the Arts Development Policy]. This is how, in 2006, Diversité artistique Montréal (DAM) came into being, and has since promoted artistic diversity. And, believe it or not, a few years later, CAM awarded a subsidy for the first time to a gamelan ensemble! Once again, Maurice's determination, sense of justice and open-mindedness prevailed!
Maurice put these same character traits to use with several organizations over many years: Heritage Montreal, le Centre international d'art contemporain, the Darling Foundry, Stewart Hall Art Gallery and more recently the Guido Molinari Foundation have all benefited from his advice and his watchful attention. Maurice was also an invaluable advisor for agencies such as le Théâtre Porte-Parole, the Segal Centre, Blue Metropolis or Linda Leith Publishing. Many of these, as can be seen, were headed by anglophones – and it's not by chance that he had a particular interest in these, always careful about giving "anglos" their fair share. It should be noted that this interest arose from the fact that his mother was American and English was Maurice's maternal language.
I, too, was a recipient of Maurice Forget's great generosity. When I was with the 7 Fingers three years ago, to help the collective get private financing, I turned instinctively to Maurice, asking him to set up the necessary infrastructure. We needed to establish a foundation, obtain letters patent and so on to finally obtain charitable status for the organization. Tirelessly, Maurice encouraged me and dictated answers – all this pro bono, needless to say. When a positive answer finally came, he told me simply, "I told you not to worry."
On a human level, we could talk for hours about Maurice's great abilities. I'll be brief: his commitment, his loyalty to his friends, his friendliness, the sensitivity that he hid beneath his gruffness, and particularly his incredible sense of humour. I had so much fun with Maurice. Our work time would often be sprinkled with uncontrollable laughter. I am also aware, though, that this same sense of humour could disconcert more than one person. Members of the Conseil and staff sometimes bore the brunt and I had to repair the damage. It was the other side of the coin.
Let's not quibble over so little. Maurice Forget was an extraordinary Chair. And I was a fortunate Executive Director. He was by my side and encouraged me, giving my most daring initiatives free rein and guiding them with his sound advice. He was a Board Chair that made things happen and who committed completely, the dream of all cultural institutions!
Thank you, Maurice, for this exceptional contribution to Montreal's arts and culture. And thank you also for being such a true friend.
Translation by Karine Poznanski
This page is also available in / Cette page est également disponible en:

Francais (French)