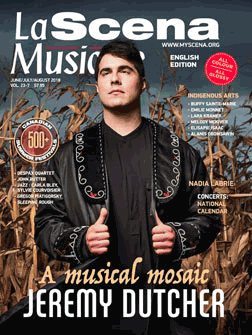 This page is also available in / Cette page est également disponible en:

Francais (French)
Earlier this year, when Ottawa's Music and Beyond festival announced that its 2018 roster would include a concert of works written and conducted by acclaimed British composer John Rutter, ticket-buying activity exploded across North America. Within 90 seconds, a two-ticket order from British Columbia augured the continent-wide deluge to come.
"We were selling tickets faster than anything else we ever released in our history," recalls the festival's founder and executive and artistic director, Julian Armour. "I thought, 'we'd better see if we can offer another performance.'" Armour quickly contacted Rutter, along with the three choruses involved, and members of his own Thirteen Strings Chamber Orchestra (Armour is the group's principal cellist). Happily, everyone, including Rutter, was glad to add a second date.
But what accounts for so intense and abiding a public affection for the music of John Rutter – a man Armour designates "clearly the world's most performed living composer"? Conversations with three artists involved in 2018's Music and Beyond offer compelling insight.
Lydia Adams, artistic director of the Toronto-based Elmer Iseler Singers, who will be participating in the Rutter programs, has known the composer since her postgraduate days at London's Royal College of Music. "I've always had a very joyful relationship with him," she says.
When they met, Rutter was at Clare College, Cambridge, and brought Adams on as one of the auxiliary voices for his choir's then-upcoming performance tour of Venice. "We were singing in these incredible churches, including St. Mark's Basilica, up in the galleries, right next to those golden mosaics," Adams recalls. "We could touch them! It was a wonderful tour, and a wonderful opportunity to get to know John, and sing with him."
Asked to reflect on Rutter's enduring popularity, Adams emphasizes the composer's joyfulness and humane affirmation of life.
"He has some magical way of finding the good and the optimistic in life," Adams muses. "I think he writes something people are craving to hear. The texts he chooses are texts that people relate to. There's so much in the world that is negative. I don't see the problem with singing about beauty and hope."
Indeed, the July concerts will open with Look at the World, an anthem with a melody that flows with the unhurried grandeur of an English Midlands river, and lyrics equal to softening the stoniest heart: "Look at the world and marvel every day…so many miracles along the way."
Adams is quick to add that Rutter's joy is no anodyne pretense, nor was it easily won. "He's undergone some incredible challenges," Adams says. "Someone who has lost a child and comes back and writes something as incredibly optimistic as Visions – that brings an even more profound beauty."
Rutter's oldest son, Christopher, perished in 2001 while a student at Cambridge, the victim of a car accident.
Visions is among the most recent of Rutter's major works, and its Canadian premiere will be a highlight of the July concerts. It's a unique piece – "the only violin concerto in history with a part for boys' choir," as Rutter himself describes it.
For Music and Beyond, that choir will have an enhanced high-voice sound, sung not only by the Ottawa Children's Choir, but also the 10 female voices of Adams's Elmer Iseler Singers and the women of the Ottawa-based Capital Chamber Choir. It was an idea that Armour "kind of threw out there" to Rutter. "And he embraced it immediately."
Structured in four movements, with texts from Latin chant and from the Bible, the work is a series of dramatically contrasting visions of Jerusalem, both as site of temporal strife and as an ultimate state of transcendence. Rutter wrote it on the invitation of the famed Yehudi Menuhin Competition specifically for young Ottawa-based violin virtuoso Kerson Leong, who had won first prize in the competition's junior division in 2010, at the age of 13.
"It's a pleasure to play a piece like Visions," says Leong, now 21. "To share the stage with a choir and express the same material. In a way, I'm also singing. It's a beautiful piece."
Leong premiered Visions under Rutter's baton in London in 2016, and has subsequently performed it several times with the composer, including at its North American premiere in New York's Carnegie Hall in May. But Leong is especially eager to offer Visions in Ottawa. "It's so cool to bring the piece back home."
Leong is effusive in describing his artistic and personal chemistry with Rutter. "There's so much energy when it comes to his approach to making music," Leong says. "He's just a really fun, warm, bubbly sort of person. I was put at ease from the very first instance. There's a very youthful vibe about him – a certain wonder in his eyes."
Armour corroborates the evident camaraderie between the mature maestro and the young virtuoso. "They both thoroughly enjoy working together," Armour says. "Whenever I hear either of them talk about that association, it's in the most glowing terms. They're genuinely happy. And the sound is gorgeous."
Also on the July concert bill are Rutter's 1979 Suite Antique, a neo-Baroque instrumental work structured and scored in conscious emulation of Bach's Brandenburg Concertos, and his lavish and brilliant Magnificat.
The two-night Rutter celebration is set for July 15 and 16 at Ottawa's Dominion-Chalmers United Church.
Information and tickets are available at
www.musicandbeyond.ca
This page is also available in / Cette page est également disponible en:

Francais (French)