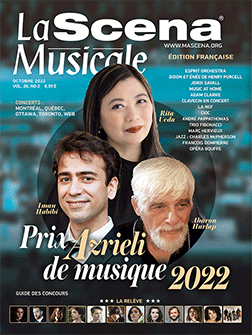 This page is also available in / Cette page est également disponible en:

Francais (French)
The Isidore, none of whose members is older than 23, has only been together since 2021 before winning the Banff International String Quartet Competition (BISQC) on Sept. 4. The Juilliard students did play together a little in 2019, before the pandemic, but violist Devin Moore said at first there was little chemistry. The musicians were still focused on their individual career directions. String ­quartets were not yet a priority.
"We were the right people at the wrong time," said Moore. "But when we decided to try it again, everything sort of clicked."
In the summer of 2021, the four players attended the Kneisel Hall Chamber Music Festival in Maine, where they played Bartók's String Quartet No. 1 together and saw the potential of a longer-term ­collaboration. Between 2019 and 2021, they'd only played Brahms's String Quartet in C Minor at a virtual festival.
BISQC was their first competition—and likely their last, they said, given what winning BISQC will mean to their learning and playing ­opportunities for the next two years. BISCQ winners receive a $25,000 cash prize (Isidore also won $4,000 for its performance of Haydn's String Quartet in C Major, Op. 20, No. 2), but that's the least of it. Besides a packed concert tour schedule in Europe and North ­America, supported by the Banff Centre, the group has a two-year residency ­appointment at Southern Methodist University in Dallas (worth $200,000), several other residencies, and studio recording sessions.
BISQC director Barry Shiffman is always looking for new ways to showcase the competing ensembles. This year, for the Haydn round—which has, in the past, required groups to choose from a wide array of 20th-century repertoire (Bartok has always been popular in this round)—quartets were obliged to choose a work written in the 21st ­century. Isidore chose American Billy Childs's String Quartet No. 2: Awakening. Moore knows Childs personally and saw a resonance in his quartet that worked with the Haydn that Isidore chose.
"Not only were we able to use Billy as a resource as a living ­composer, but his string quartet has an interesting juxtaposition to the C Major Haydn quartet. It's like a natural fit," Moore said.
Because Isidore hadn't mapped out its career plan to include the ­almost compulsory competition grind, the quartet came to Banff ­feeling relatively unapprehensive.
"We had no expectations on what we were going to do over the ­summer," Moore said. "I think the mentality of putting in the work and having the time to just enjoy ourselves set us up to do well. It sort of eliminated the unnecessary anxiety."
This page is also available in / Cette page est également disponible en:

Francais (French)