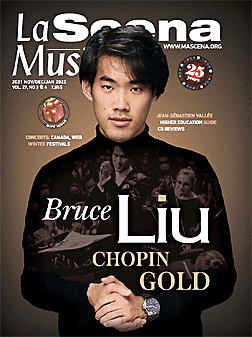 This page is also available in / Cette page est également disponible en:

Francais (French)
Retro Americana/Vintage Americana
Christina Petrowska Quilico, piano – Navona Records NV6384
★★★☆☆
The Canadian pianist Christina Petrowska Quilico has released two new albums dedicated to music in America in various genres. Hence their titles: Retro Americana and Vintage Americana. The first begins with a troubling atmosphere where the music moves like a disjointed puppet. It's not square and fixed in form. The second track plunges us into a race that nothing can stop, the piano spinning as if toward infinity. Then comes a return to a quieter atmosphere, but also more frightening, with certain melodic features more assertive than in the previous pieces. Track by track, the musical character changes from day to night, from introspection to madness. 
These first compositions are by Henry Cowell. In Winnsboro Cotton Mill Blues by Frederic Rzewski, we arrive at something longer in terms of duration, something that also seeks influences beyond the pure, hard contemporary style of Cowell. There is a bit of Gershwin and the sound of American cabaret. A Gershwin suite takes up most of the rest of the album. The listener finds something more charming and sensual than in the previous arid music. Another suite, by Bill Westcott, more contemporary, takes over. It is followed by pieces by Meredith Monk and Art Tatum which conclude this first album. 
In Vintage Americana, the second part of this tribute to American composers, Petrowska Quilico offers five others. Rzewski returns with a piece called The Turtle and the Crane. The same obstinate introduction on the same repeated note results in the same modern appeal. A work in four movements entitled Apparitions by Lowell Liebermann opens this second album. It is animated by a certain anguish, not without recalling the first pieces of Retro, but remains nevertheless accessible for an audience not initiated to contemporary music. Fantasy Pieces by David del Tredici as well as three pieces by David Jaeger, Mario Davidovsky and Paul Huebner complete the selection.
This page is also available in / Cette page est également disponible en:

Francais (French)