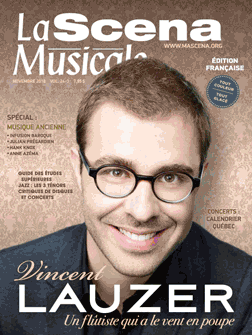 In a career spanning 30 years, soprano Anne Azéma has been one of the most significant figures in medieval music. As artistic director of the Boston Camerata, this singer and musicologist brings passion and rigour to her mission of promoting medieval music.
Oct. 13: In the intimacy of Westmount Park United Church, Azéma shares a special moment with the audience. Alone, she sings stories of a past that resonates within us like the echo of renewed universal emotion. La Dolce chose plunges us into songs from 1200 to 1400, focusing on feminine figures.
"We find the usual themes of medieval secular monody," she says. "Namely, love in all its facets: the wonderful dream of trouvères, experiences in mythical gardens with mockingbirds and benevolent lovers, but also more dramatic, tragic love, the desire that reaches towards things that will never flourish."
Yet what seems like a dream touches something deep within. With the strength of a thousand years we feel loneliness or tragic destiny brought back to life by a voice. It is perhaps this very strength that has prompted Azéma to devote herself to the repertoire of Early Music.
"I discovered music in an environment of enlightened amateurs and in a setting where it was still in use," Azéma says. "In Alsace, there were cantatas every Sunday at church, the organs and choirs were very vibrant."
Azéma grew up singing Bach, Schein or Schütz while cultivating an interest in medieval literature, notably Chrétien de Troyes and Marie de France.
"After high school, when I discovered that there was music linked to these texts, I could never be without it," she says. "This has been a deep wave that has carried me ever since." This wave has led her to record a vast segment of the medieval repertoire with the most prestigious record companies: Harmonia Mundi, Erato, Calliope, ATMA and Warner.
The interpretation of the medieval repertoire raises a host of questions, first because it is very diverse in time, place and social context. Then, in the absence of conventions codifying vocal technique, the singer is faced with a world where "everything is a matter of taste."
"What is important in my opinion is to bring to life the word, the poetic structure and its relationship with the musical structure," Azéma explains. "The listener's understanding is also paramount."
Having entered this fascinating universe, a singer can taste all its subtlety and timeliness.
"It's a generous and very demanding repertoire for an interpreter, much like Schubert and Goethe," she says. "It is the childhood and core of what has produced all subsequent repertoires."
Despite these magical origins, the medieval scene remains very marginal, a situation for which Azéma offers several explanations. The first is historical.
"In the 1970s and 80s, it was necessary to clean the slate and remove layers of varnish to find truer colours and a more complete picture of what the music could have been," she says. "We brought a new vision of what music was in general and not one that was specific to each era, and in this we were mistaken. This conversation was necessary but insufficient."
To this she adds the matter of aesthetic notation: "Our societies like things written down, stated, reflecting the composer's clear thought. In the medieval repertoire, this notion does not exist."
Finally, and more generally, Azéma lamets that "classical music and culture are under assault in our society. Education has changed and music is being left behind. We will pay the price for this later."
For 10 years, Azéma has been artistic director of the Boston Camerata. In this position she pursues four major dossiers: music of the medieval and Renaissance periods; American music from 1790 to 1860 which remains largely unknown; stage productions such as the new project Jeu de Daniel, a 12th-century drama in Latin; and interaction with music from beyond Europe for mutual understanding of musical cultures.
Although she often travels to Europe for concerts or conferences, Azéma is rarely seen in Quebec. In its 64 years, the Boston Camerata (which has just returned from a concert at the Philharmonie de Paris) has only once visited Montreal, in 2017. Azéma has nevertheless, in the past, collaborated with Les Idées Heureuses and Constantinople. She was a hit in this year's Les Journées médiévales in Montreal, Quebec City and Lévis.
We hope to see Azéma more often in our latitudes, perhaps in the context of Jeu de Daniel, and hope she will continue to shed light on our links with our medieval origins.
Translation by Margaret Britt
Medieval music in Quebec
If the medieval scene in Quebec remains marginal, it continues to live and draw an audience. Among active groups we find Ensemble Scholastica, founded in 2008 by musicologist Pascale Duhamel and directed today by singer and medieval specialist Rebecca Bain. Ensemble Scholastica is dedicated to the interpretation of monophonic and polyphonic medieval liturgical song. The mission of the Reverdies de Montréal is to promote medieval music. The ensemble organizes the annual Les Journées médiévales, which feature concerts, conferences, workshops and even a banquet. Ensembles that make incursions into the Middle Ages include La Nef, Constantinople, Strada Productions and La Mandragore. Finally, several amateur ensembles, including J'ay pris amours in Quebec City, contribute to the vitality of this scene.