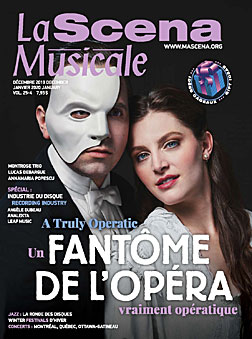 This page is also available in / Cette page est également disponible en:

Francais (French)
Already prophesied at the end of the last century, the decline of physical media and the concomitant rise of digital broadcasting platforms have brought about a profound change in music consumption habits. Increased accessibility to an almost limitless catalogue of works alters the listening context and the very means by which one discovers music. That said, criteria are far from being common to all music listeners, with different needs inevitably emerging, in terms of both supply and distribution. It is precisely in this area that classical music fans have been left behind in the music industry's digital shift. Fortunately, the tide is turning, with recent years witnessing the arrival of streaming services designed specifically for classical music.
The Usual Suspects
If the creation of the RealPlayer multimedia player in 1997 laid the foundations for the concept, MySpace can take the credit for truly making streaming popular six years later. Primarily identified as a social network for musicians, from its very beginnings MySpace proved a great success in offering creators, in a manner similar to what SoundCloud did a few years later, the means to publish and freely distribute their music without going through record companies. However, it took until 2007 to see the arrival of the first true streaming music platform: the French company Deezer quickly offered its users a catalogues of several million titles and helped gradually to establish the supremacy of streaming to the detriment of physical media such as the CD.
In 2019, Deezer, American Apple Music and Swedish Spotify are the three giants dominating the market. All very similar, these platforms offer their users access to catalogues of tens of millions of songs accessible from different devices (computers, phones and tablets). Available free with limited features and advertising, or by paid subscription, Spotify is indisputably the most popular of the three with its 240 million active users. While the Spotify and Apple Music catalogues list many recordings of classical music, the audio files on offer are of low quality, especially for customers with a fondness for high fidelity. Ranging from 96 kbps to 320 kbps, the sampling rate is significantly lower than the audiophile standards of Free Lossless Audio Codec (FLAC) files offered by Deezer and some of its competitors, like Tidal. Another major problem for lovers of classical music: searching and sorting works. Streaming platforms typically offer only three search criteria: title, artist and album. Although sufficient for pop songs, these criteria prove inadequate when applied to classical works. It becomes impossible to target a particular movement, performer, orchestra or conductor without drowning out the search results. Fortunately, there exist solutions specifically designed to meet the needs of listeners while respecting the unique cataloging criteria of classical music.
Specialized Services
Founded in 2015, the German IDAGIO platform prides itself on providing the best search tools, superior sound quality and a catalogue of recordings from the most prestigious classical music labels. As a result, users can access the entire Deutsche Grammophon, Sony Classical, Decca, Philips, Warner Classics, Erato, ECM and Harmonia Mundi catalogues from their phones, and can listen to them in high fidelity using lossless FLAC files. Just like mainstream platforms, algorithms offer suggestions based on listeners' habits. Surprisingly, the monthly subscription fee remains remarkably similar to that of Spotify, at about $10 a month. American-Dutch company Primephonic offers a service similar to IDAGIO for a similar price, in addition to offering a wide variety of playlist types. The catalogue of recordings is more limited, however, as it is composed uniquely of Sony Classical recordings.
The Naxos digital music library, for its part, offers an entirely different kind of experience. More focused on academic and professional circles than its rivals, Naxos offers more than two million recordings by Naxos Records, as well as catalogues from several independent labels, including Bis, Chandos and Hänssler. Although classical music represents the largest part of the catalogue on the platform, it does not limit itself to that genre: it also includes jazz, world music and even rock and roll, all accompanied by exhaustive texts, biographies, booklets and other essential documents. For those wishing to watch music, the Mezzo.tv channel offers an impressive lineup of classical, opera and jazz concerts, all broadcast live and in high definition from the world's leading concert halls. Available on subscription via cable service providers, Mezzo.tv is not a streaming service itself, but it is still an interesting platform for any aficionado of classical music.
While the options are still limited, a specialized offering is gradually being established, proving to skeptics that even within a music industry governed by commercial imperatives, classical music can find its audience. Still to be developed are the resources to support it.
Translation by Margaret Britt
This page is also available in / Cette page est également disponible en:

Francais (French)