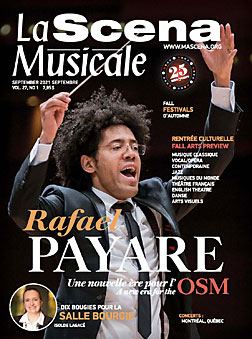 This page is also available in / Cette page est également disponible en:

Francais (French)
SMCQ
The Société de musique contemporaine du Québec, the preeminent Quebec organization dedicated to contemporary music, will open its 56th season on Sept. 26 with In auditorium – Portrait of André Hamel. This concert dedicated to spatial pieces by composer André Hamel will feature Sixtrum, Quasar and the Ensemble de la SMCQ. The presentation of Triptyque – Mécénat Musica Prix 3 Femmes, three mini-operas composed and written by the laureates of the second Mécénat Musica Prix 3 Femmes, follows on Oct. 10. From Dec. 13 to 15, SMCQ will celebrate its 55th anniversary by presenting a selection of outstanding works from the last decades and a premiere. www.smcq.qc.ca
Le Vivier
Le Vivier is launching an impressive fall season with a number of events being presented live and online. Si le temps […], l'espace… starts things on Sept. 16 with four premiers for sextet (including the the Ensemble Paramirabo) and electronics, followed on Sept. 28 by d'Explosion sonore!. The latter will see the Quatuor Molinari perform works by Éric Champagne, Keiko Devaux and Walter Boudreau. The 30th anniversary of the Festival Akousma takes place on Oct. 12 with works by nine artists from the vibrant electronic music scene.
Résonance croisée, an ambitious series of premieres and residencies bringing together Quebec and European artists, will take place Oct. 7-9 and feature 28 works, 11 artists and the Sixtrum and Novuramori ensembles as well as the Duo Airs. www.levivier.ca
Chants Libres / NEM
From Oct. 19 to 21 the Chants Libres company presents the opera L'orangeraie at the Monument-National in Montreal. Adapted from the eponymous novel by Larry Tremblay, this moving story about childhood and war is set to music by Zad Moultaka and will feature eight singers accompanied by the Nouvel Ensemble Moderne (NEM) in a production by Pauline Vaillancourt. www.chantslibres.org
Codes d'accès
Always on the lookout for new trends in music, Codes d´accès will open its season on Oct. 6 with Cod'a. The public will be invited to discover three works by emerging composers through the exploration of the spaces of Livart. The season continues on Nov. 18 with Masse, an annual event dedicated to electronic and electro-acoustic music, which this year will welcome composers David Ledoux, Pierre-Luc Sénéchal and yecto. www.codesdacces.org
ECM +
L'Ensemble contemporain de Montréal on Sept. 9 presents the large-scale show L'Outre-rêve at Salle Pierre-Mercure. Under the direction of Véronique Lacroix, the musicians of the ensemble and four guest soloists will perform four multidisciplinary premieres borrowing the form of a coming-of-age story written by the poet and composer Symon Henry and set to music by Annesley Black, Myriam Boucher, Snežana Nešić and Henry. www.ecm.qc.ca
This page is also available in / Cette page est également disponible en:

Francais (French)