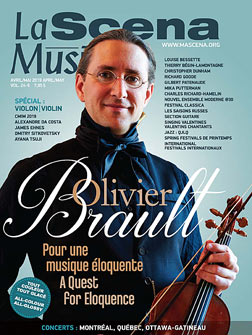 This page is also available in / Cette page est également disponible en:

Francais (French)
From May 24 to 26, the 17th edition of the Montreal Classical Guitar Festival and Competition (FCIGCM) will surely be a must-see celebration for fans of this instrument, and many others as well. Aside from the performances, there will be educational activities, various talks and several instrument makers on hand.
The brainchild of Patrick Kearney, a music teacher and classical guitarist, the FCIGCM has now earned its spot on the international circuit of classical guitar competitions. When asked about the motivations leading him to undertake this endeavour in 2002, Kearney says that classical guitarists back then had to leave to pursue their studies elsewhere simply because there were no real outlets for them here. Competitions, in his view, are essential as incentives, as they force young musicians to go beyond their limitations and aim higher all the time. By the same token, they are ideal settings to rub shoulders with established performers and various people involved in the music business. From a local perspective, the event shines the spotlight on an instrument much overlooked in the classical field while enabling increased exposure to its leading figures.
This year's competition will be divided, once again, in two categories. The first, focused on rising local talents and open to the public, is slated for the final day, all contestants vying for a grand prize awarded by the Montreal Guitar Society. The other, the international competition, runs over its entire duration, with three prizes up for grabs. The festival component, for its part, unfolds over the first two evenings at the Saint-Jax Church. Concert headliners will be Antonio Duro and Giovanni Grano from Europe, Canadian counterparts Louis Trépanier and Emma Rush, with last year's laureates Brent Crawford and Robert Wang added to the bill.
Festival attendees will surely make a point of checking out the educational activities, with masterclasses and talks given by a host of prominent foreign guests. As an early day opener, the music fair is well worth a visit, with more than a handful of instrument makers and luthiers showing off their wares.
By the looks of it, Kearney's efforts to get the FCIGCM up and running have paid off. Nowadays, the instrument and its performers are enjoying more visibility, not just in the community but beyond. In 2018, three of its past winners reached the final round of the prestigious Guitar Foundation of America competition.
This page is also available in / Cette page est également disponible en:

Francais (French)