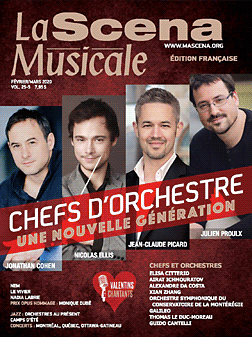 This page is also available in / Cette page est également disponible en:

Francais (French)
CAMMAC
Jun 28 – Aug. 16 (Harrington, Qc)
Held annually in mid-summer on the shores of Lac McDonald in the Laurentians, the Canadian Amateur Musicians Camp (CAMMAC) welcomes the U.K.-based vocal ensemble Gesualdo Six. Also coming is the Utrecht String Quartet, which will host a chamber music workshop. Of the programs offered, there will be intensives for beginners in voice and piano, composition, songwriting, recording techniques and jazz improvisation. Attendees will have the opportunity of witnessing a full-blown production of the Fairy Queen by Henry Purcell. Lest we forget, Beethoven's spirit will hover over the proceedings in one concert or another.
Music at Port Milford
July 19 – Aug. 16 (Ontario)
Port Milford, Ontario, has played host to a summer chamber music camp for over three decades. This year's edition, its 33rd, will be entrusted to a handful of solid performers. Among them: Angela Park, Allison Gagnon and singers from the Canadian Opera Company; instructors at the Phil and Eli Taylor Dance Company; a pair of top-notch chamber ensembles (Tokai Quartet and Saguenay Quartet, previously known as the Alcan String Quartet); all rounded out by some TSO principal players.
Tutti Music Camp
June 28, July 5 (Lennoxville, Qc)
Housed at Bishop's University in the Eastern Townships, the Tutti Music Camp celebrates its first quarter century. Over a one-week period in early summer, the camp opens its doors to all levels and age groups and provides instruction in three languages. The camp accommodates students in need of more flexible schedules. Programs offered range from private lessons for piano, strings, voice, winds, drums and guitar, allotments for individual and choir practice, staging of masterclasses for chamber and orchestral music and workshops in other media such as visual arts, theatre and outdoor activities. Participants are given several opportunities to share the stage with their teachers, all of which lead to a closing gala concert that cements new relationships between students and their mentors. On April 16, the not-for-profit camp holds a special benefit concert at the Bourgie Hall of the MMFA, with star pianist Dang Thai Son headlining.
Great Lakes International Summer Music Institute
July 19 – Aug. 1 (Ontario)
The Summer Music Institute at Algoma University in the Great Lakes region provides training for string players and pianists of collegiate and university levels. Its two-week intensive program has been devised to offer rewarding educational experiences to students with potentially lasting effects on their future careers. Lessons are taught by highly skilled professionals who are available to oversee rehearsals on a daily basis, to get involved in workshops, masterclasses, special presentations, conferences and recitals given by teachers and First Nation communities alike. Last but not least, nature buffs and campers simply have to hit the trails of the National Park at Lake Superior in their spare time and take full advantage of all the sightseeing and on-site recreational activities.
Interprovincial Music Camp
Aug. 23 – Sept. 6 (Ontario)
Conceived with the young musician in mind, the Interprovincial Music Camp (IMC) marks its 60th anniversary this summer. Workshops are offered in an array of disciplines, from orchestral and choral music all the way to jazz, rock, musicals and songwriting. Instructors guide students through a process that encourages them to develop their own projects.
Vancouver Symphony Orchestral Institute
June 27, July 6 (B.C.)
Based at the campus of UBC., the Vancouver Symphony Orchestral Institute immerses its participants in its in-house orchestra staffed by members of the VSO and its renowned conductor Otto Tausk. Masterclasses and chamber music workshops are part and parcel of the curriculum. Applicants to the UBC chamber music festival are given the chance to extend their stay so as to acquire further experience, either in performing within the intimate setting of a high-calibre chamber orchestra, or by following intensives in the art of conducting. www.vancouversymphony.ca
Kingsway Music Conservatory
June 29 – July 3 (Ontario)
Now in its 25th season, the Kingsway Summer Music Conservatory is an ideal outlet for grade schoolers and high schoolers to intensify their musical training or to simply explore new avenues. The camp introduces the very young (ages 4 to 10) to a range of individual training routines based on the Suzuki method in which both individual and group teachings are dispensed. Kinsgway offers, on request, added instruction in chamber music for piano and strings to the more advanced. Concerts are also scheduled, with special guests dropping in. www.kingswayconservatory.ca
Université de Sherbrooke Voice School
June 27 – July 5 (Sherbrooke/Longueuil,Qc)
For the past 20 summers, choirmasters and singers of intermediate to advanced levels have trekked to Sherbrooke to spend a week sharing their passion in the friendly confines of its university. There is no better opportunity for each and every one to compare notes at different stages of their respective careers, its invited instructors and top-drawer performers notwithstanding. Worth noting is that the choral music school returns to the university's Longueuil campus this year. Music camp director Robert Ingari will provide instruction to chorus masters during a week of rehearsals that come to a close on July 5 with a gala concert at the Abbey in Saint-Benoît-du-Lac. www.usherbrooke.ca/musique
National Music Camp
Aug. 15 – 30 (Ontario)
Ontario's National Music Camp was spawned on the shores of Lake Couchiching in Simcoe County in 1965 and rapidly became a breeding ground for aspiring talents. Half a century later, youthful musical campers are drawn to the area to experience that perfect balance between rigorous training and stimulating camp activities. The camp's 2020 prospectus goes so far to claim that their young charges improve as much in a week than in six months of private lessons or a whole semester at school. The program is divided in two levels, the first for juniors (Grades 3 to 8, running from Aug. 15 to 22), the second for seniors (Grades 8 to 12, running from Aug. 23 to 30).
Translation by Marc Chénard
This page is also available in / Cette page est également disponible en:

Francais (French)