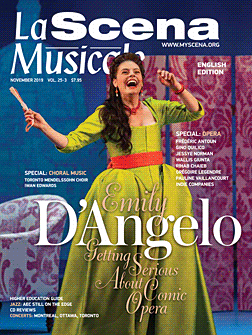 This page is also available in / Cette page est également disponible en:

Francais (French)
Performances by the Tunisian-Canadian Rihab Chaieb are characterized by their dramatic and visceral intensity. She is a graduate of McGill University, the Canadian Opera Company Ensemble Studio and the Metropolitan Opera's Lindemann Young Artist Development Program. She is also winner of the 2016 Gerda Lissner Foundation vocal competition and winner of the third prize at the 2018 Operalia Competition.
In October, the fiery mezzo-soprano was in rehearsals for her debut on Nov. 10 in the title role of Carmen at the Cologne Opera in Germany. It is surprising that she hasn't performed this role before, as she has all the required attributes: A lyrical and dark mezzo-soprano voice with ease in the chest register and access to high notes, a strong physical presence and a bewitching appearance.
"Carmen is a dream role for a mezzo-soprano," Chaieb says, "so for me it was very important to choose carefully when and where I would do it. Cologne is perfect because it's an important house in Germany and in the world, but still a smaller house in terms of seat numbers. It's manageable and something I'm comfortable with for my first Carmen. I also like the fact that it's a totally new production, which allows me to work with the director closely and take more time."
Chaieb said that singing the role is not too difficult, but that she has to pace herself because her character is always on stage – particularly in this production. What is her personal interpretation of Carmen? "I'm not a stage director," she asserted. "But we are all still in the mentality that Carmen is this femme fatale, always flirting and over the top. I see Carmen instead as a regular woman of 2019 who is stuck in the 1800's. She is living her life and her sexuality on her own terms, and that kind of freedom for a woman was outrageous at the time the opera was composed, and sadly it still is for some people.
"Carmen is a contemporary Instagram and Tinder girl. She could even be someone like me. Like Gypsies, I have no home, I go where work is, that's what Gypsies did, I'm not that different. I think it would be interesting to portray Carmen as someone who is more relatable." She added that Carmen is the perfect example of what some women still go through nowadays: dealing with jealous boyfriends and trying to be independent and free, even when this is not well regarded by everybody.
Success at operalia
Chaieb has fared well in competitions. In 2018 she won third prize at Operalia. However, just months before she walked away almost empty-handed from her home-town competition Concours musical international de Montréal. What changed? After all, the competitions took place just months apart. She explained that the main difference was the choice of repertoire. "In Operalia, I sang more of the what I call big-lady repertoire: Carmen, Dalila, Octavian. In Montreal I sang Carmen but I also experimented with some lighter repertoire and maybe too high of a tessitura in pieces like the composer's aria from Ariadne auf Naxos. Maybe I shouldn't have sung that, but I also wanted to make a statement. Many people disagreed, but I see competitions as an opportunity to try new repertoire. Sometimes it pays off but sometimes it doesn't. However, that was definitely the last time I sing the composer's aria". She added that in Montreal, the judges were not trying to 'cast' anybody. They were much more art-song inclined, which might not have favoured her.
"After the CMIM I took two months off," she said. "I just needed to relieve the pressure, but I came back with a fresher idea of my technique and the kind of singer I wanted to be."
Talent shows and ageism
"There is this trend in mass media nowadays to discover the new star: "She is only thirteen and she can sing this." I ask myself, can we just give it a break and hire an exceptional inspiring artist? I wish they would have a less sensationalistic approach and present people in a more humane way. I think this kind of mentality puts a lot of stress on young people. I remember being 23 and thinking: 'Oh my god I don't have a contract at the Met. Oh my god, I haven't won any competitions!'" Instead, she believes she should have been focusing on learning proper technique and taking the time to do so.
As she explained, there are usually two narratives for the public: either the young prodigy or the underdog who finds glory. "People love the underdog," she says. "It's like a movie. And you know what people don't like? Normal human beings. That's not cool."
Although the opera business has been influenced indirectly by these phenomena, many contemporary opera stars did not find success at a young age. "Really good opera singers like tenor Piotr Beczala had to wait and pay their dues. The same for Sondra Radvanovsky and Christine Goerke."
Chaieb will perform often in Canada next year. She will be in Montreal on Jan. 14 to perform with the OSM; Vancouver Feb. 7 and 8 with the Vancouver Symphony Orchestra; Quebec City on April 16 with the Orchestre symphonique de Québec; and back in Montreal on April 12 for a recital at the Société d'art vocale.
This page is also available in / Cette page est également disponible en:

Francais (French)