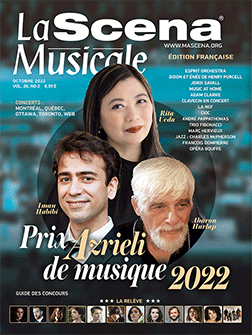 This page is also available in / Cette page est également disponible en:

Francais (French)
La Scena discovered American soprano Meredith Wohlgemuth's crystalline soprano and soaring high notes when our panel prepared our predictions for the CMIM 2022 (see the April/May 2022 issue). We predicted that she would win first prize in the Art Song division.
Fast-forward to June 2022, when Wohlgemuth was clearly the jury's unanimous choice for First Prize in the Art Song Division as well as the Joseph Rouleau Career Development Grant ($50,000), Normand Beauchamp Winner's Tour Grant ($15,000) and the French Mélodie Art Song Award with her duo partner, Jinhee Park who took home the $5,000 John Newmark Prize for Best Collaborative Pianist.
While in Montreal, Wohlgemuth came to the studio for a live taping of the La Scena Tête à Tête podcast available on YouTube. She provided some insight about her preparation and her artistic struggles. "One has to remember that we all have our own path," said Wohlgemuth. "There are so many distractions with social media … but one has to be in the moment and … stay true to what we know we want to do, regardless of the successes or failures of others."
She admitted that, "literally, I have had (a) 95-per-cent failure rate when applying for auditions," adding: "The CMIM was one of the best weeks of our lives. It felt like magic and it was a great validation for me and my pianist's talent.  We are still on a high. Everyone seems to know who we are now; it's crazy."
In January 2023, the dynamic duo of Wohlgemuth and Park will be doing the "tour grant" organized with the support of the CMIM. It will have dates in Toronto, Chicago, New York and, one hopes, Montreal. Two dates have been announced at this writing: a recital for the Free Concert Series at the Richard Bradshaw Amphitheatre in Toronto on Jan. 17 at noon; and a full-length redial, live from the studio of WFMT in Chicago on Jan. 30 at 8 p.m. (central time). Broadcast live and streamed at WFMT.com.
Wohlgemuth completed her master of music in vocal arts at The Juilliard School in 2020 and continues to study with Marlena Malas.
www.merwohlgemuth.com
This page is also available in / Cette page est également disponible en:

Francais (French)