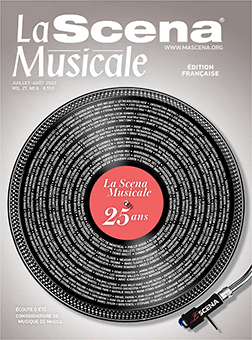 This page is also available in / Cette page est également disponible en:

Francais (French)
Akashic Entertainment Recordings

4.5

User Ratings (

0

Votes)

0
Journey Through Night: Canadian Music for String Quartet
Alex Toskov, Laurence Schaufele and Tanya Charles Iveniuk, violin; Samuel Bisson, cello
Akashic Entertainment Recordings, 2021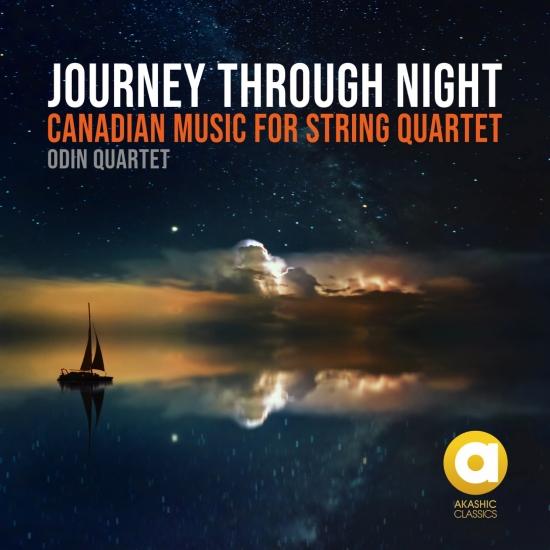 The Odin Quartet's conductor and cellist, Samuel Bisson, has an affinity for atmospheric chamber music: his work as a film-score composer has brought him onboard such projects as Yan Ma's Up We Soar (2020) and Kacey Kox's Finding Manny (2020). But Journey Through Night poses a different challenge for him—with no visuals to complement, Bisson must generate ambience through music alone, while also showcasing contemporary Canadian composers in an accessible way.
Though this is only the Odin Quartet's debut album, the ensemble demonstrates that it is not one to shy away from such a challenge. Victims of Eagles (composed by Elizabeth Raum) opens on a calm note, but it quickly becomes distorted and sorrowful, evoking the image of a person's battle and eventual triumph over sinister thoughts. But the chilling eeriness of the following work, Dialectics (composed by Daniel Mehdizadeh), suggests that such a battle will have to be waged in perpetuity—the war against evil is never over. From the uplifting energy of Bisson's for Mor to the relaxing and comforting tunes of Ronald Royer's Mistico, to the creepy dissonance of Alex Eddington's gibbons vs. Gibbons, Bisson's careful ordering of works and Odin Quartet's wide expressive range combine to make the album feel like a grand, magical adventure filled with introspection and self-discovery.
This page is also available in / Cette page est également disponible en:

Francais (French)