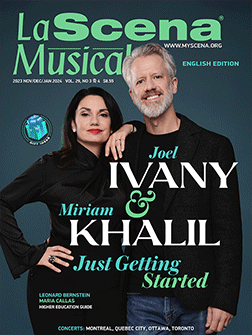 This page is also available in / Cette page est également disponible en:

Francais (French)
Welcome to the 2023 November/December/January 2024 national issue of La Scena Musicale, which features our annual special on Higher Education.

This issue is possible thanks to advertising support for our annual Higher Arts Education special and guide, which includes news and articles on Vanier College, The Royal Conservatory of Music, the Conservatoire de musique de Montréal, and the recent tuition-increase announcement that is sure to affect university music programs in Quebec. In the coming weeks, we will publish interviews with faculty members at the schools most impacted by this development. We meet with two of Canada's top music educators, Michael McMahon and Francis Perron, who give us a look inside the McGill/UdeM collaborative piano residency program.
Our cover story shines the spotlight on soprano Miriam Khalil and director Joel Ivany, an operatic power couple, for a conversation following Ivany's departure from Against the Grain Theatre. We sat down with trumpet player Adam Zinatelli, the Hermitage Piano Trio, and conductors Kathleen Allan and David Briskin. La Scena also takes a look back, remembering the lives and work of Maria Callas and Leonard Berstein in special features on both musicians.
The arts remain challenged by a lack of funding and mounting instability. The Canadian classical music scene continues to mourn the loss of the Kitchener-Waterloo Symphony Orchestra, which declared bankruptcy in October. We sat down with two of the orchestra's members to hear their thoughts on this shocking news. La Scena will continue covering this story as it evolves, and publish more artist profiles on our website in the coming weeks. This issue also includes our 2023-24 Holiday Gift Guide, as well as a special holiday concert previews section. As always, we offer reviews of interesting recordings and concerts.
2023-24 Season
Our 28th season (2023-24) of publishing includes six full-colour issues (three in the fall and three in the winter and summer) of La Scena Musicale.
All six issues will be national issues, with separate English and French editions, which asserts our position as the largest bilingual arts media in Canada. We may also publish special issues during the year for our paying subscribers. Additionally, we will continue to offer personalized serenades and online virtual concerts for both Valentine's Day and Mother's Day. We are currently recruiting singers for this project. Please email [email protected] if you are interested.
We look forward to providing new, innovative content—and more of it—both in print and online. Be sure to check out our weekly Highlights column, available on our website.
La Scena Radio: we will be launching our own streaming La Scena radio station in February 2024 and will be conducting tests in November. Visit myscena.org/radio to be an early adopter.
SUBSCRIPTION AND DONATION DRIVE
La Scena has evolved with changing consumer habits in media consumption, while also maintaining its core mission: to promote music and the arts. Our print magazine will continue to provide quality curated articles and interviews in both English and French, while our website will focus on news and events.
As we look ahead to the 2023-24 season, we aim to increase both digital and print content. As this issue demonstrates, we have many talented writers and we wish to give space for their voices. Frequent increases in the price of magazine paper, however, are cause for concern. We hope you will consider supporting our magazine through a donation and/or join our fundraising committee by contacting us at [email protected].
Another way to support the magazine is through the LSM Boutique at mySCENA.org, where greeting cards and tickets to our partners' events are available for purchase.
As a result of the pandemic, we have changed from street distribution to home delivery. We invite our readers to purchase subscriptions so as to ensure they continue to receive all of our annual issues. Subscriptions can also be purchased for others, and make an ideal gift for parents or artists. As the virus appears to be making a comeback, we urge readers to stay safe, masking when necessary, and getting their flu shots and COVID-19 booster vaccines.
As always, La Scena Musicale maintains a vigorous presence on Facebook, Twitter and Instagram. The website offers new resources almost daily. The live performing arts are back, and La Scena Musicale is here to support them.
Wishing a musical and artistic holiday season to all!
PDF version (Download)


Contents

6 Editorial
8 Industry News
10 Azrieli Foundation
10 Review: Caravaggio's Shadow
12 Hermitage Piano Trio
13 Temps Fort Honours Max Reger
14 Amadeus Choir of Greater Toronto
15 Winter Festivals Guide
16 Conductor David Briskin
17 Adam Zinatelli
18 KWS Artist Profiles
19 Ute Lemper
20 Miriam Khalil & Joel Ivany
23 Maria Callas Remembered
24 Reflections on Callas
26 Leonard Bernstein
28 Winter News
28 N'essuie jamais de larmes sans gants
29 Philippe Cyr
29 Projet Polytechnique
30 Higher Education News
32 Conservatoire de Montréal
34 Higher Education Guide
37 McGill and Université de Montréal
38 Jazz
40 Holiday Gift Guide
42 CD Reviews
46 New Releases
47 Upcoming Messiah Performances
48 National Calendar
This page is also available in / Cette page est également disponible en:

Francais (French)