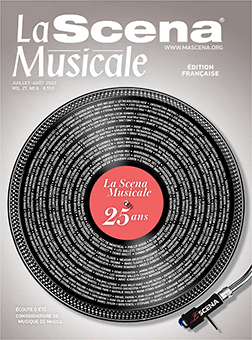 This page is also available in / Cette page est également disponible en:

Francais (French)
Welcome to the July/August 2022 issue of La Scena Musicale, a special on summer listening with CD reviews and news.
Due to COVID uncertainties, we have already published six issues in the 2021-22 season, and we wanted to publish this seventh issue to fulfil the number of issues we promised our subscribers. This special one is printed and mailed exclusively to 3,000 subscribers, donors and clients.
The cover of this issue is an homage to the artists featured in the first 25 years of La Scena Musicale as a way to kick off our 25th anniversary celebrations.
Our news column lists the winners of recent competitions, including the CMIM in Voice which Adrian, Justin and I followed online and the Cliburn which Paul Robinson followed. Visit www.mySCENA.org to read the reports.
On June 20, in a press release signed by outgoing Dean Brenda Ravenscroft and incoming Dean Sean Ferguson, the McGill Schulich School of Music announced the closure of the 118-year-old McGill Conservatory, citing decreasing enrolment and financial reasons. We reprint Zenith Wolfe's online interview with the Conservatory's teachers and students who were shocked by the announcement. This is a story we will continue to follow both online and in our print magazine.
COVID UPDATE
Since our June issue came out, COVID restrictions have almost all been lifted and we have pretty much returned to normalcy. As we go to press, however, the Quebec government has announced that we have entered the seventh wave of the pandemic with deaths and hospitalizations rising. Although no new restrictions have been introduced, we at La Scena Musicale, suggest you be prudent by continuing to wear masks when out in public spaces and that you take the fourth dose or next booster vaccine when available.
DEATH IN THE FAMILY
On a personal note, two weeks ago, my 99-year-old father suddenly died (not related to COVID), months short of his 100th birthday and the 50th anniversary of our family's arrival in Canada. At the viewing, I sang "Ingemisco" from Verdi's Requiem, and although my mother didn't understand it, the emotional power of the music gave her the chance to cry.
2022-23 SEASON
We have also been planning our upcoming season. With the hopeful resumption of normalcy, our 2022-23 season will include the return of our annual Arts Resource Guide (Montreal Edition) and six national issues with separate English and French editions, which reinforces our position as the largest bilingual arts media in Canada. We also will continue our personalized serenades and our online virtual concerts for Valentine's Day and Mother's Day (our 2022 Mother's Day Concert is still available until Aug. 6. Get your free ticket at bit.ly/MDConcert22).
25th ANNIVERSARY CELEBRATION
With this issue, we conclude La Scena's 25th full season of publishing. In the fall, we hope to finally celebrate the 25th anniversary of La Scena Musicale, albeit a year late due to COVID uncertainties.
On July 6, to kick off our 25th anniversary celebrations, I gave Simeon Morrow and the show Vienna Live a 60-minute online interview, highlighting how La Scena was started. You can find a link to view the show on our website.
Do you have suggestions on how we should celebrate our first 25 years? Let us know, and also share with us your favourite memories of La Scena Musicale.
SUBSCRIPTION AND DONATION DRIVE
With changing consumer habits in media consumption, La Scena has evolved while also maintaining our core mission to promote music and the arts. Our print magazine will continue to provide quality curated articles and interviews in both English and French, while our website will focus on news and events.
In 2022, we aim for more content, and we will be introducing a new column, Highlights, on our website to curate interesting feature articles and interviews. We also plan to publish more national issues in 2022-23, but the frequent increases in prices of magazine paper is a cause for concern. We hope you will consider supporting our magazine through a donation and/or join our fundraising committee by contacting us at [email protected].
Because of the pandemic, we changed from street distribution to home delivery. To make sure you continue to receive the magazine at home, please become a subscriber or give a subscription to someone special. It makes an ideal gift for parents or for an artist in your family or circle of friends.
As always, La Scena Musicale maintains a vigorous presence on Facebook, Twitter and Instagram. The website offers new resources almost daily. Pandemic or no pandemic, the arts will thrive. As will La Scena Musicale.
Have a great musical and artistic summer!
Contents

5    Editorial
6    Industry News
8    Conservatory of Music Closure
10  CD Reviews



PDF Download
This page is also available in / Cette page est également disponible en:

Francais (French)