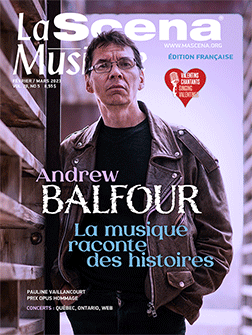 This page is also available in / Cette page est également disponible en:

Francais (French)
Welcome to the February/March 2023 national issue of La Scena Musicale, our third of five national issues in our six-issue 27th season (2022-23) of publishing.
This season continues the all-colour, all-glossy format the magazine adopted in November 2017. With our separate ­English and French editions, we are proud to be the largest bilingual arts media in Canada. We may also publish special issues during the year for our paying subscribers. And we will continue our perso­nalized serenades for Valentine's Day and Mother's Day.
Book magazines became popular in the magazine industry during the COVID pandemic and we plan to introduce some issues for the fall of 2023, including a special on composer Giacomo Puccini for the ­centenary of his death. You can pre-order your copy today at a ­discounted price of $15 (instead of $20) in the subscription coupon on Page 35.
We begin 2023 with the help of four new interns in the calendar, fundraising, website and sales departments, thanks to a partnership with Katimavik.
CURRENT ISSUE
The Conseil Québécois de la musique will be returning to in-person attendance for their ­annual Opus Awards Gala on Sunday, Feb. 5. In honour of the Prix Opus Hommage going to Chants Libres's founder, Pauline Vaillancourt, we are republishing our cover story from 2007.
This issue's cover story is devoted to Indigenous composer Andrew Balfour, who appears in concert at the 13th biennial Montreal/New ­Musics Festival at the end of February. 
Our other interviews with the Toronto Mendelssohn Choir, La Nef, St. Lawrence Choir, Pentaèdre, Bourgie Hall, Lucas Geniušas, Marc-André Hamelin and Jean-Marie Zeitouni show that concerts are still ­exciting experiences. And our national calendar shows that concert ­offerings are still strong and varied (see Page 40). 
And what's a music magazine without a bit of musicology, as Justin Bernard looks at Jules Massenet's art songs through the new box set from ATMA. As always, we offer reviews of interesting recordings in both classical and jazz. 
This issue also includes an interview with Sharon Azrieli, looking back at the start of the Azrieli Music Prize which is launching a new call for submissions in time for their 10th anniversary in 2024. We also meet with Jean Dupré, whose unexpected career change to arts ­administration 10 years ago turned around the fortunes of Montreal's other orchestra: Orchestre Métropolitain.
CELEBRATION OF LOVE
February is also La Scena Musicale's annual month to celebrate love. See our staff's valentines' gift guide on Page 20. We also begin our 13th Singing Valentines fundraiser with the aim of sharing the joy of ­personalized serenades with more people by offering at least 100 free Singing Valentines to seniors. All you would need to do is to go to our website and fill out the order form, and we'll choose the singer and song for you. To thank our roster of singers for their generosity, we will offer them 100 per cent of the donations for personalized ­serenades ordered for specific singers and songs.
COVID
We at La Scena Musicale recommend you be prudent by continuing to wear masks when out in public spaces and that you take the next booster vaccine.
SUBSCRIPTION AND DONATION DRIVE
With changing consumer habits in media consumption, La Scena has evolved while also maintaining its core mission to promote music and the arts. Our print magazine will continue to provide quality curated articles and interviews in both English and French, while our website will focus on news and events.
In 2023, we aim for more content in both our print and online ­publications. We also plan to publish more national issues, but the ­frequent increases in the price of magazine paper is a cause for ­concern. We hope you will consider supporting our magazine through a donation and/or join our fundraising committee by contacting us at [email protected]
Another way to support the magazine is through the LSM Boutique at mySCENA.org, which includes greeting cards and tickets to our partners.
La Scena is also hiring: through Emploi-Québec we can hire a full-time administrative ­assistant (calendar and subscriptions) and a full-time writer. Please send your resumé and cover letter to ­[email protected] Because of the pandemic, we changed from street ­distribution to home delivery. To make sure you continue to receive the magazine at home, please become a subscriber or give a subscription to someone special. It makes an ideal gift for parents or artists.
As always, La Scena Musicale maintains a vigorous presence on Facebook, Twitter and Instagram. The website offers new resources almost daily. The arts are hoping for a rebound, and La Scena ­Musicale will be there to support them.         
We wish you a happy spring season and a musical, artistic new year!
Contents

6    Editorial
8    Industry News
10  Pauline Vaillancourt
12  Toronto Mendelssohn Choir
12  La Nef
13  St. Lawrence Choir
14  Mathieu Lussier and Pentaèdre
14  Bourgie Hall
16  Lukas Geniušas
16  Marc-André Hamelin
17  Prix d'Europe
17  Orchestre du Conservatoire
18 Massenet
20  Valentine's Day Gift Ideas
21  2023 Singing Valentines
25  Montreal/New Musics 2023
26  Azrieli Music Prizes
27  Jean Dupré
28 Le Futur
29  Theatrical agenda
30  Microphones in the Opera House!?
31  New Releases
32  CD Reviews
38  Jazz: Ladies First                                           
40  National Calendar


PDF Download
This page is also available in / Cette page est également disponible en:

Francais (French)