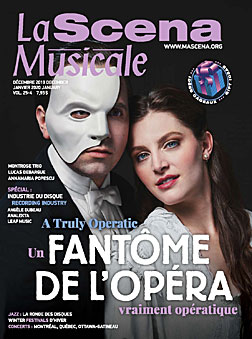 "I'm not retiring," emphasized the violinist Angèle Dubeau, who after 40 years of touring away from home seven months a year – over 20 with La Pietà – has decided to try a more moderate tempo. "I want to change my way of life, and now I want a little more time for me," she says. Dubeau will continue to perform, however, in Montreal, Quebec City and as part of her end-of-summer La Fête de la musique festival in Mont-Tremblant over Labour Day weekend.
More home time allows her to continue adding to her impressive discography of 40 recordings on Analekta, the label founded by her husband, François Mario Labbé. Her latest release, Pulsations, comprises 13 modern compositions in the style of Avro Pärt, hand-picked to her tastes. The program begins with the Olafur Arnalds's inviting Happiness Does not Wait, a piece that borders on addictive. Most of the works were originally composed for piano. With the exception of two, they were arranged for La Pietà by Dubeau and her regular partner François Vallières.
"The most time-consuming thing for me is to choose which pieces to go in the recording," she says. "I would choose the theme that goes with the violin part, and then I give indication of the structure (cadenzas, arcs and phrasing) to François. Since we've been working together for years, it's easy. He's also a string player and he knows the orchestra." After two to three months, Vaillières then brings the printed score to Dubeau, and there is back-and-forth three times before it's finalized.
From there, Dubeau takes the score to the ensemble to work out the phrasing. Dubeau is the leader of the ensemble, and from her first violin chair, she conducts the ensemble with a look here or a shrug there. When I asked if she has ever considered conducting an orchestra, she quickly replies that she already has one in La Pièta, the all-female group she founded in 1997.
She can do more things with her own ensemble. "I always dream of music, to be able to go into the details of the texture of colour," she says. "You don't have time to do that in a regular orchestra. With La Pietà, it's a gift that I gave to myself a long time ago.
"And if a piece needs to be played each note one by one, I will do it because the musicians know me, and know that I'm not doing this to be a teacher or to be on a power trip. It's more like osmosis. And they know the results."
Over the last 22 years, the group has remained largely intact, but invariably there are changes. Dubeau doesn't audition in the strictest sense, relying rather on word of mouth and firsthand experience. "What I do first is ask their pedigree," she explains. "Then I listen to recordings of their playing. It doesn't have to be professionally recorded. And if these two steps go well, I ask them to play beside me, so I can feel them.
"Of course, I look for virtuosity, but I also want them to have an antenna, to move with me. With every performance, I can change, I can go slower or faster. And they'll go with me because we all feel the same way. It's important to have a good human quality."
One would think that with more home time, Dubeau might turn to teaching, but this is not for her. "I've done many masterclasses, but you have to be dedicated to teach. I had a great teacher. Raymond Dessaints was always there for me when I needed him. I feel I can bring more to music and give more to music by doing other things."
Angèle Dubeau is the recipient of the Denise-Pelletier 2019 Award of the Prix du Québec. www.angeledubeau.com