This page is also available in / Cette page est également disponible en:

Francais (French)
Debussy: C'est l'extase/La Mer
Vannina Santoni, soprano; Orchestre Philharmonique de Radio France, Mikko Franck, conductor
Alpha, 2023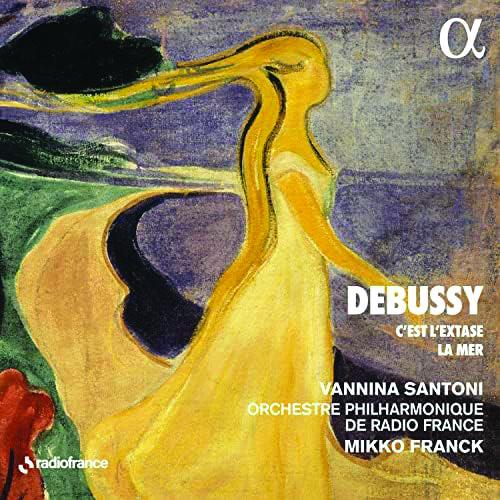 Soprano Vannina Santoni joins Mikko Franck and the Radio France Philharmonic Orchestra for an album dedicated to the works of Debussy. One of the recording's most notable characteristics is its exceptionally high quality, which emphasizes the truly remarkable timbre of the orchestra.
The album opens with C'est l'extase, a set of songs written on texts by Verlaine, presented here in Robin Holloway's arrangement for soprano and orchestra. The work, originally written for soprano and piano, was commissioned by the San Francisco Symphony Orchestra for soprano Renée Fleming, who also gave the British première with the BBC Symphony Orchestra. Santoni's voice is very suitable for this repertoire, and her linguistic control and vocal mastery are impressive. Paired with the sound of the orchestra, this results in a sound paste of great tonal softness. This success is to be attributed to Mikko Franck, who draws a seductive sound from the orchestra, perfect for creating the mysterious, nebulous sound so vital to Debussy's music.
The moments of ecstasy in C'est l'extase langoureuse, the yearning of Il pleure dans mon coeur, and the mystery rendered rhythmically of L'échelonnement des haies are all effectively portrayed. The orchestra's sound is vaporous (in the absolutely positive sense of the term), bringing a flexibility and mutability to La Mer so as to allow for effective flashes of sound. The interpretation of Franck and the Radio France orchestra is excellent, kaleidoscopic and pictorial, and well-suited to repertoire that is so highly evocative. A successful voyage to France.
This page is also available in / Cette page est également disponible en:

Francais (French)