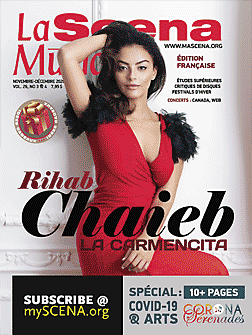 This page is also available in / Cette page est également disponible en:

Francais (French)
With major renovations to its facilities now complete and following an overhaul of its teaching programs, Université de Sherbrooke's music school has devised a whole new curriculum grounded in the concepts of versatility and creativity. The school also claims to be innovative by adopting an approach developed at MIT (Massachusetts Institute of Technology).
Jean-François Desrosby, professor in charge of studies in performance and composition, explains: "We redesigned our program from scratch, first by examining the very foundations on which the pursuit of a musical career rests, then by considering the most suitable means towards that goal. We therefore used what I would call a 'program approach,' one where courses crosscut each other so as to form an integrated whole."
All learning materials are conceived with the view of stimulating a sense of entrepreneurship among young musicians; given the rapid evolution of the profession and the steadily changing norms, it is important to have them measure up to real-life situations. Not only do they receive a solid training in the arts of performance and composition, but they also learn about recording, production and all business-related matters. Students are given the chance to acquaint themselves with the demands of a music career by simulating day-to-day-situations encountered by professionals. The trainees are required to build specific projects and acquaint themselves with various means to make them happen, be it the definition of an identity and their goals to the writing of grant proposals, to the creation of press kits and use of demos, all of which are part and parcel of an overall business plan. Whatever the area of study may be — performance, composition or audio-visuals — students have to work on tight schedules and seek out students in disciplines others than their own.
Because everything hinges on creativity, concerts and recitals must be conceived in a completely different way. "Students are in charge of all projects," Desrosby says. "Being good performers with plenty of technique is not enough in today's musical world; they have to create added value in everything they do. There is more to it now than just playing the music; one has to be a producer and a marketer. But there is no one way to go about that. It's up to every individual to put his or her best foot forward."
To best achieve this, a multidisciplinary approach is needed, one where individuals are encouraged to perform with practitioners of other styles. In light of the current pandemic and the challenges that have arisen, students and teachers of all stripes are more creatively motivated than ever. "We view the situation as an opportunity to develop new ways of thinking and doing," says Desrosby. "And I believe our students are well equipped to meet this reality head on."
Université de Sherbrooke is also determined to offer in situ learning with added psychological counselling for those in need of it. "Studies in the psychology of performance are part of the first-year program offered to all musicians," notes Desrosby. "That is a definite asset for them, even more so now."
Translation by Marc Chénard
This page is also available in / Cette page est également disponible en:

Francais (French)