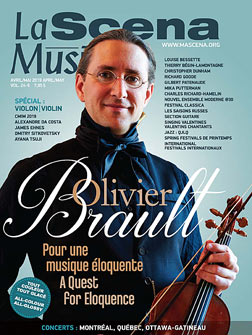 This page is also available in / Cette page est également disponible en:

Francais (French)
Light-hearted humour will be in the spotlight at the Soirée à l'Opérette, the closing concert of the Grands Concert series of the Orchestre symphonique de Longueuil (OSDL), given in in collaboration with Atelier lyrique of the Opéra de Montréal. "In recent years, we have started working with the Atelier lyrique for one-off events and we have established an interesting relationship with the singers," says Marc David, artistic director and head of the OSDL. "We wanted to push this collaboration a little further by presenting a large-scale event to end the year in style."
The OSDL will present famous operetta arias in the context of a new story written by Pascal Blanchet, a director and scriptwriter for Atelier lyrique. "A troupe of singers gets together to put on an operetta performance," David explains. "Some know each other, others are total strangers. To feel more comfortable, they decide to have a drink. As the evening progresses, the alcohol intake has its effect and the party takes off!"
Several songs and scenes of alcohol-induced exhilaration will be performed by six young Atelier artists: Florence Bourget, Spencer Britten, Sebastian Haboczki, Rose Naggar-Tremblay, Elizabeth Polese and Pierre Rancourt. "It's a win-win," David says. "These young singers will be coached by the Atelier lyrique and have the opportunity to perform with a professional orchestra, something that is not so common in the emerging career of an artist. It also allows the audience to discover promising opera artists in a staged setting." Alain Gauthier and Pierre-Luc Boudreau, regular Atelier collaborators, are responsible, respectively, for direction and sets.
Offenbach, undisputed master of operetta, whose 200th birthday falls in 2019, will be featured in excerpts from La Vie Parisienne, Orpheus in the Underworld, The Tales of Hoffman and La Périchole, among others. There will also be selections by contemporaries of Offenbach: Messager, Hahn, Ganne and Lehár, to name only a few. "People who know a little about operetta will probably recognize many of the melodies on the program."
OSDL musicians will be accompanied by Les Mélodistes de Brossard, conducted by Marlène Arsenault-Gaudet. With 127 voices, this choir has been collaborating regularly with the orchestra in recent seasons. More than 180 musicians and singers will gather on the same stage to give the Montérégie public a concert dedicated to celebration and joie de vivre!
—-
Soirée à l'Opérette will be presented by the Orchestre symphonique de Longueuil, the choir Les Mélodistes and the Atelier lyrique de l'Opéra de Montréal on May 2 at 7:30 pm, at the Pratt & Whitney Canada Hall of the Théâtre de la Ville in Longueuil. www.osdl.ca
Translation by Andréanne Venne
This page is also available in / Cette page est également disponible en:

Francais (French)