This page is also available in / Cette page est également disponible en:

Francais (French)
Orchestre national de jazz de Montréal — Under the Influence Suite
Justin Time JTR 8597-2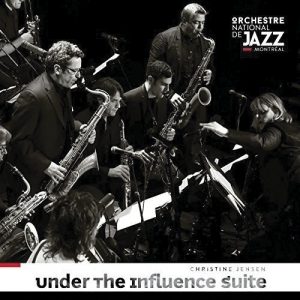 Two years after its debut release on the ATMA label, Montreal's premiere jazz orchestra, the ONJ, has finally released its second effort, this one on Justin Time. Its move from a classical label to a jazz one certainly makes sense. The presence of saxophonist and composer Christine Jensen may explain this, because Justin Time has already produced two albums of her own big band. The title of this latest disc pretty well tells the story, as it is a programmatic work that pays tribute to five of her musical mentors: Kenny Wheeler, Jan Jarczyk, John Coltrane, Lee Konitz and Wayne Shorter. Like its predecessors, this album is characterized by very transparent harmonies and whatever dissonances there are, they are left to the soloists' discretion. Overall the music has a contemplative feel to it, evoking wide-open spaces, like those of the Canadian West Coast where the saxophonist grew up. By and large, lyricism is the keyword here, and vocalist Sienna Dahlen contributes much to that mood, in both her wordless vocalizing and interpretation of lyrics.
Jean Derome — Résistances
Ambiances Magnétiques AM-235
Four years ago, multi-reedman Jean Derome received a lifetime award for his achievements from the provincial arts funding body. This enabled him to put together a year's worth of special projects, which he kicked off in the spring of 2015 with a large orchestra project, now documented on this record. Listeners are well advised to first read the artist's liner notes to understand the concept. In a nutshell, Derome claims that electricity was the inspiration for his work, more specifically the 60-Hz frequency that keeps the North-American power grid pulsing in lock-step. In musical terms, that frequency becomes the underlying tone of the whole piece, its pitch falling somewhere between the notes B flat and B natural. For those unaccustomed to microtonality, this might require some ear adjustment. Some 20 musicians are in for the ride, playing a host of acoustic instruments, a couple of synthesizers, and even some turntables. Clocking a mere second shy from the 60-minute mark, this continuous work has been divided into sixteen fairly short tracks. The first half evolves very slowly and in a very minimalistic way, with an unexpected Ellington-like ostinato bass groove surfacing oddly along the way. In the second half, however, there is more orchestral activity, with what sounds like a series of conducted improvisational games leading to the most clearly composed statement in the final minutes. On record this conceptual work is a little too static in places, but it's possible that those on hand for the recording last spring may have enjoyed a higher live current.
John Korsrud's Hard Rubber Orchestra — Crush
rubberhard 04
Vancouver trumpeter and composer John Korsrud is one who likes to pack a punch in his music. Proof of that was the intense set he delivered in Montreal last September at the helm of the ONJ. Influenced early by the energy of hard rock, this former student of famed Dutch composer Louis Andriessen was then drawn into the sophisticated stylings of contemporary music. In his home town, Korsrud has spearheaded the Hard Rubber Orchestra for over two decades. In this document, he offers two variants of his ensemble, his customary big-band formation and a chamber ensemble including strings and various woodwinds. This division yields some unusual results, the first group blaring rambunctiously, the second playing in a very contained and miniature-like way. Thus this rather short album — just over 40 minutes — seems like a collection of assorted pieces and not a unified work with an overarching theme or structure. If only for variety's sake, this album warrants a few listens.
Film in Music — Tell Tale
Drip Audio DA01207
While the octet who made this record goes under the name Film in Music, it is actually led by Peggy Lee, a cellist, and not by the singer. As heard on this album Tell Tale, this long-time Vancouver resident has put together a top-notch roster of players active in that city's creative music scene. There are twelve fairly concise cuts on this side, where freely improvised parts dovetail naturally into the written parts, all composed by the leader. The music is impressed with a certain moodiness, suggesting images of barren prairie landscapes, and the emphasis on stringed instruments (violin, cello, guitar and two basses) does much to enhance that effect. Last September this band was on tour in Eastern Canada, including a Montreal stopover. Their live performance underscored the virtues of this satisfying recording.
Matt Herskowitz Trio — Forget Me Not (Homage to Lou Soloff)
Justin Time JTR 8601
Unlike the other discs under review, this one is a reissue of a 2005 album by the trio of pianist Matt Herskowitz. On that occasion the group welcomed a special guest, the late trumpeter Lou Soloff, whose sudden passing in 2016 certainly inspired this repackaged item. A first-call player in New York, the trumpeter was adept in jazz and pop settings, even in classical. His playing here on four of the ten tracks is nothing less than impeccable, with flashes of technical brilliance and inspired musical moments, likewise for the trio. Herskowitz is a pianist known for heavy-duty classical chops and occasional displays of fireworks, a good example of that heard in the final cut Brazil. But there are more reflective moments (tracks 3 and 7) that allow the listener to catch a breath before the next roller-coaster ride. Much to the leader's credit, the repertoire covers a wide range of musical styles, ranging from blues and latin to Jewish melodies and thoughtful ballads, all deftly executed and in places with much feeling. Twelve years later this album stands up very well and remains a most befitting homage to the departed.
Dave Douglas — Little Giant Still Life
Greenleaf GRE-CD-1058
A leading figure in today's contemporary jazz scene, trumpeter Dave Douglas is an unabashed post-modernist. Unlike modernists, who stick to one thing, he is one of those artists who thrive on contrast and change, some times at the risk of dispersing himself in his eclectic pursuits. Once the object of a 1990s debate pitting him against Wynton Marsalis, he has weathered that storm, so he is not so much in the hot seat nowadays. The present album is another example of his diverse output: he is joined by a brass quartet (the Westerlies, an unusual two-trumpet and two-trombone ensemble) as well as an added drummer (Anwar Marshall). Twelve originals by Douglas are performed here, all of which are inspired, so we are told, by works of the American painter Stuart Davis — none of which are reproduced in the package! Within the musician's considerable discography this work stands somewhat apart from the rest, not only by virtue of its unique instrumentation, but also by its more thoroughly written scores. The improvised component plays a much smaller role here, and it is mostly left to the headliner. Brass players will certainly want to check this one out. For those who aren't, the album might grow on you, if you give it a couple of listens.
PJ Perry Quartet — Alto Gusto
Cellar Live CL051315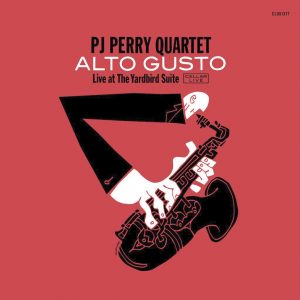 At 76, Edmonton-based alto saxophonist P.J. Perry is among the deans of Canadian jazz. This home-town live performance caught at the Yardbird Suite, surely one of the oldest jazz dens in the country, shows the saxman in true bebop form. In a little over an hour he breezes through six standards, including Bloomdido from his musical mentor Charlie Parker. All is played by the book here: the melodies stated at the top, a string of solos, and back to the heads to close off each number. What's more, the horn is backed by a standard piano trio, with bass and drums holding down the time and the pianist acting as the other main soloist. In a blindfold test, this recording could easily be thought of as a live session from the sixties or seventies. Back then, jazz like this was labelled "modern", yet it could well be called "classic" now, just as swing era music was classic in those years.
Tom Rainey Obbligato — Float Upstream
Intakt CD 292
There are few drummers in New York who rival Tom Rainey in terms of versatility. Like hand in glove, he fits into any context, be it mainstream or more freely improvised situations. Sought after as an accompanist, he rarely assumes leadership duties. In this album, however, he has found a perfect showcase for his abilities. On the one hand, he enjoys the company of four cutting-edge talents in New York City, one of these being his life partner, German saxophonist and American resident Ingrid Laubrock. On the other, his ensemble tackles a program of six jazz evergreens, including "Stella by Starlight", "What's New" and "There's No Greater Love", and one collective improvisation, "Float Upstream", as an aside. If the repertoire is well worn, the interpretations are anything but, because no one sticks to the rules here, unlike those strictly adhered to in the previous album under review. Most notably the tunes can surface anywhere, sometimes explicitly, elsewhere more obliquely, even fleetingly; solos are not consistently strung one after the other but can occur simultaneously; more importantly, chord changes are discarded outright to allow free-form interplay. Such standards were once the bread and butter of mainstream players alone and were dismissed outright by more experimental musicians. Fortunately there have been some attempts at bridging that gap, and this group is proof-positive that it can be done, and very convincingly too.
White Desert Orchestra — Les Deux Versants Se Regardent
Clean Feed CF399-CD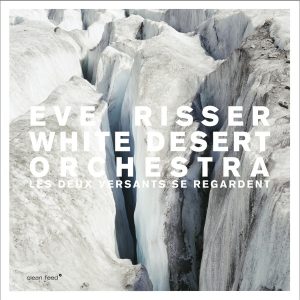 Bandleader Eve Risser is a promising French pianist who assembled some ten compatriots to perform an impressionistic suite-like work stemming from her travel experiences in remote areas of the United States. During an hour of playing time, electronic and acoustic sounds meld together in a somewhat austere way (as in the lengthy opening track and the title track), in which orchestral textures reminiscent of Gil Evans intertwine with electroacoustic soundscapes. The music is therefore sombre in tone, like peering into the dark abyss of a canyon, with passing moments of lyricism and sudden flights of fancy from the soloists. Thanks to the Portuguese label Clean Feed — one of the rare companies truly committed to documenting creative music projects of this ilk — the recording affords us a glimpse into the musical world of a pianist and composer of significant potential.
Die Enttäuschung — Lavaman
Intakt CD 289
The name of this group may be translated two ways into English, "the deception" and "the disappointment". Yet this Berlin quartet is anything but disappointing, rather it's quite surprising, albeit a bit deceiving in concept. For over 20 years the group has straddled the line between free improvised music and more traditional jazz. In 2005 it made quite a splash with the release of Monk's Casino, its sprawling 3-CD set on Intakt Records. The band was joined by the iconic German pianist Alexander von Schlippenbach to perform all of Thelonious Monk's 70-some pieces in a marathon three-hour concert. Minus that guest, the band has sallied forth since and issued four albums, including this brand new one. Here the front line of Axel Dörner (trumpet) and Rudi Mahall (clarinet) is bolstered by a new guest, trombonist Christof Thewes (rhymes with Davis). This three-man front line reminds us in a way of the vintage combination of instruments embodied by the New Orleans jazz tradition. Backed by their trusted bassist, but with a new drummer, these horn players mix it up nicely for a little over an hour, keeping themselves and listeners on their toes with a program of sixteen originals, composed mostly by members of the band. Incidentally, the tune titles are harmless little German wordplays, many of which would fit nicely into the three-minute playing time of old 78 RPM records. While there is much to remind us of another era, their music is of today, and they use all of the devices of improvised music to avoid sounding hackneyed. What's more, this rough-and-tumble approach sets them apart from much of today's jazz, so intent on squeaky-clean playing. This group hits the mark in its attempt to carry the past into the present — and with no hint of nostalgia either!
This page is also available in / Cette page est également disponible en:

Francais (French)