This page is also available in / Cette page est également disponible en:

Francais (French)
In pre-pandemic days, the Canadian summer music festival scene was so well entrenched in the nation's cultural fabric that nothing could stand in its way. Yet, who could have ever imagined in late 2019 that a biological time bomb invisible to the naked eye would rear its ugly spikes and grind everything to a halt?
From one day to the next, all events had no choice but to scratch their live programs, though some tried to make up for this absence of in-person shows by staging a handful of concerts for exclusive online broadcast.
Now, two years and some down the road, there is light finally shining at the end of the tunnel. Festivals are back in business, with full slates of indoor and outdoor performances in the offing. In times past, Canada's jazz scene had a national touring circuit going for it, spearheaded by an umbrella organization known as Jazz Festivals Canada. Dotting the landscape from coast to coast are 19 partner events, most situated in its major cities. This arrangement has given leverage to the programmers to draw American headliners north of the border while attracting a wide range of acts from more distant shores and a host of homegrown talent supported by publicly funded travel grants, What follows is a mere overview of the participants, both national and foreign, to hit the Canadian festival trail this summer.
Ladies of Song
Cécile McLorin Salvant
Raised stateside by Haitian and French parents, Cécile McLorin Salvant is one of, if not the, most talked-about vocalists in jazz these days. Before 2020, her reputation was already on the rise, so her coming to Canada was almost like a no-brainer for festival organizers. She will surely capture audiences with her unique and appealing voice based on the music found on her new album Ghost Song, her fifth and first for the prestigious Nonesuch label.
Ottawa: 24/6; Vancouver: 27/6; Edmonton: 29/6; Victoria: 30/6; Montreal: 2/7.
Amanda Tosoff and Emilie-Claire Barlow: Earth Voices
The former tickles the ivories, the latter our fancies, and together this pair of Toronto jazz women have pursued their shared interests since their debut recording of 2016 Words. Just last year, their sophomore effort Earth Voices was issued, which was shortlisted for the current round of Juno Awards. With bass, drums and saxophone behind them, these co-leaders have set into music words penned by Walt Whitman, Edgar Allan Poe and Pablo Neruda, with an existing composition by Joni Mitchell. What results is a repertoire laying somewhere between art and jazz songs, a recipe bound to please those with a poetic streak in them.
Regina: 18/7; Ottawa: 25/6; Vancouver: 27/6; Edmonton: 30/6; Saskatoon: 1/7; Montreal: 5–6/7 (opening act for Pink Martini); Halifax: 13/7.
Laila Biali
Toronto pianist and vocalist Laila Biali does not claim to be strictly a jazz singer, but one who also draws on pop music. With a new eponymously titled recording to her credit, this singer-songwriter was featured just weeks ago in a gala concert staged by the international showcase jazzahead! in Germany. A past recipient of a Juno Award, this Canadian songstress takes to the road in June and July, poised to charm listeners with her whistful musings and jazzy pianisms.
Victoria: 24/6; Vancouver: 29/6; Edmonton: 2/7; Ottawa: 3/7; Montreal: 4/7; Saskatoon: 6/7.
Malika Tirolien
Hailing from the French Guadeloupe, Malika Tirolien arrived in Montreal a decade ago and has been steadily building her career ever since. Splitting the bill with Biali at the aforementioned concert in Germany, Tirolien proved her mettle there with her wide-ranging resonant voice. Over the years, she has earned her stripes by working in top-notch outfits such as the highly popular band Snarky Puppy, the Metropole Orkest in Holland, and BOKANTE, an Afro-groove combo that she now fronts as lead singer. Like most artists featured in this survey, she, too, will deliver music from her latest album Higher, a potent mix of R&B, soul and hip hop, with some dashes of jazz as well.
Winnipeg: 15/6; Regina: 19/6; Victoria: 26/6; Montreal: 9/7.
Vocal chords and guitar strings
ES: MO
ES:MO is a voice-and-guitar duo out of Toronto whose moniker stems from the initials of partners Elisabeth Shepherd and Michael Occhipinti (in case you wondered). Paired down to its essentials, this unit delivers a very intimate kind of music that straddles the line between folk and jazz. Both Shepherd and Occhipinti have worked in various contexts before, all of these leading eventually to this joint project that first came about in 2019. In spite of the lockdowns that put their collaboration on hold, they managed to get enough material together via home studio exchanges to produce their debut album The Weight of Hope, released a mere month before their cross-Canada tour. A most pleasant and laid-back musical experience awaits.
Winnipeg: 16/6; Regina: 18/6; Medicine Hat: 21–22/6; Ottawa: 24/6; Victoria: 27-28-29/6; Vancouver: 1/7; Calgary: 2/7; Edmonton: 3/7.
Julian Lage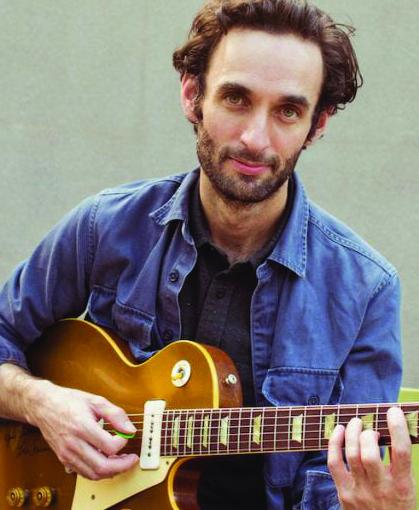 If you like unadulterated guitar playing, this plectrist is for you. Chances are you will come away impressed, like so many others, by his solid chops and savvy music-making abilities. Among the hordes of youthful guitar whizzes, Julian Lage is clearly one of its front-runners, his reputation reinforced by the issuing of Squint, his first outing on the legendary Blue Note imprint. True to the label's esthetic, Lage's contribution expounds on a long tradition dating all the way back to Grant Green and Kenny Burrell. For the tour, he will be backed by a pair of stalwart sidemen : the celebrated drummer Dave King of Bad Plus fame and the consummate bassist Scotty Colley. For those into modern mainstream jazz guitar, you simply can't go wrong with this one.
Victoria: 25/6; Vancouver: 26/6; Edmonton: 27/6; Ottawa: 28/7.
Jocelyn Gould
A dyed-in-the-wool jazzer in the best of traditions, Jocelyn Gould embraces the genre with her linear playing and clean sound that avoids all electronic gadgetry and special effects to which so many practitioners of that instrument are inclined. With a customary piano trio in tow, this Toronto-based musician and educator, who is in charge of the guitar performance class at Humber College, netted a Juno Award last year, a definite boon to her career and opportunity to get one of those coveted touring grants. Gould will be playing material off of her most recent album Golden Hour, one that also features her singing abilities on several tracks.
Regina: 20/6; Ottawa: 24/6; Vancouver: 25/6; Victoria: 27/7; Edmonton: 1/7; Montreal: 3/7; Halifax: 16/7.
Piano x 3
Andy Milne & Unison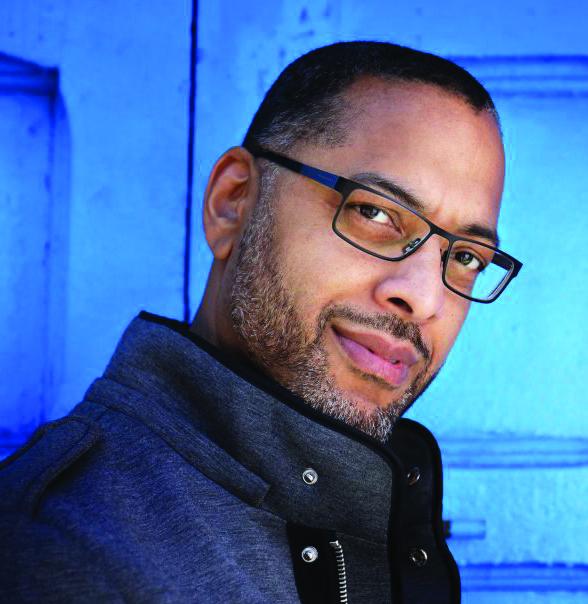 Also joining the fray of Juno award-winning musicians on tour this summer is native Canadian Andy Milne, whose album reMission on Sunnyside Records netted a Juno for best instrumental jazz recording a year ago. His band, comprised of bassist John Hebert and drummer Clarence Penn, will be heard in seven Canadian cities in late June and early July, and several more south of the border. Mentored in his youth by Oscar Peterson, Milne took off in the early 1990s for the States, and got his big break comping for Steve Coleman's Five Elements. From there on, he started his own groups, his first and most famous one being the Cosmic Dapp Theory. Nowadays, he works in a classic acoustic instrumental setting in which he incorporates a range of elements stemming from today's hippest trends in black music.
Toronto: 28/6; Ottawa: 29/6; Victoria: 30/6; Vancouver: 1/7; Calgary: 2/7; Edmonton: 3/7; Saskatoon: 4/7.
Tord Gustavsen
Any ECM aficionado knows of this Norwegian pianist as one of this German label's signature artists who have defined its hallmark Nordic Sound. With epithets like "ethereal," "introspective" or "impressionistic" appended to it, the jazz emanating from these upper latitudes has garnered a staunch following over the years. A bona fide member of this musical coterie, Gustavsen and his compatriots are no strangers to the Canadian circuit, and they will be back to perform the music cut for its latest release Opening, again on ECM.
Vancouver: 28/6; Québec City:Montreal: 30/6; 1/7; Ottawa: 2/7; Saskatoon: 3/7.
Sunna Gunnlaugs
Less known internationally than the preceding pianist, but certainly worth discovering, is Sunna Gunnlaugs from Iceland. At home, her reputation is well established, probably coming in second after a certain singer whose name starts by the letter B. While she has toured in Europe on a regular basis, she has not made it to our shores that often, so her three Canadian stops make it all the more worthwhile to catch her live, accompanied by her long-standing partners, bassist Þorgrimur Jónsson and drummer Scott McLemore. At once spacious like a Nordic landscape and swinging in a lithe way, Gunnlaugs meshes her wealth of ideas with just the right touch.
Vancouver: 27/6; Victoria: 28/6: Ottawa: 30/6.
Toronto Tubmen
Larnell Lewis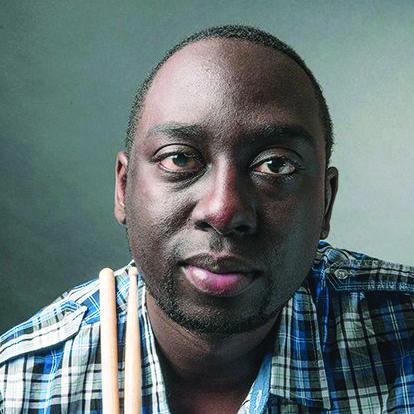 Sitting back in the driver's seat, Larnell Lewis can really motor along any band, most notably his own. Such was the case in April when he wowed audiences in Germany during the jazzahead! music fair. Over the years he has proven his versatility in a wide range of situations, accompanying a host of big names in the business, from Pat Metheny to Benny Golson. His wellspring of energy has fired up that grooving pop jazz outfit Snarky Puppy for the last decade or so. His sextet straddles the line between acoustic and electric jazz with some of his Afro-Caribbean roots to season the mixture. All of these ingredients are heard loud and clear in Relive The Moment, Lewis's second album as a leader, issued two years ago. Catch the vibe, if you can.
Victoria: 1/7; Edmonton: 3/7; Halifax: 15/7.
Ernesto Cervini and Tetrahedron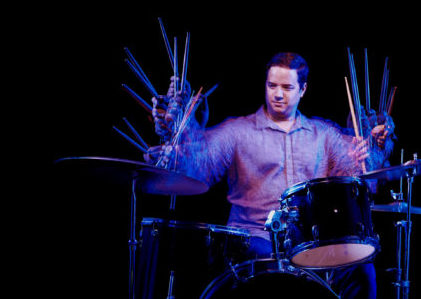 When not working hard at promoting new Canadian releases, Ernesto Cervini also manages his own label, Anzic Records, and finds the time to pursue his career as a drummer. This man of many musical hats will have the chance in the next couple of weeks to hit the circuit with a brand-new foursome including two Hog Town partners on bass and sax with a special guest from New York, the Israeli guitarist Nir Felder. Like so many others on tour, they will play music off the eponymously titled disc, just out in time for them to sell at their shows. If you dig your jazz on the modern side, check this one out, at a festival near you.
Winnipeg: 14/6; Toronto: 24/6; Victoria: 29/6; Calgary: 30/6; Edmonton: 2/7; Saskatoon: 3/7.
Exclusive Engagements
As much as festival organizers share acts, they also reserve the right to program some just for themselves. Montreal, for instance, has done this for a long time, mainly through its invitation series, split for years between two headliners. This summer, it so happens that two drummers will be in the spotlight : the first, Makaya McCraven (30/6,1-2/7), currently under scrutiny in the jazz press; the second, the more seasoned but equally talked about Terry Lyne Carrington (4–6/7). Not to be outdone, Ottawa also offers a pair of exclusives, one on June 25 by the wizened tenorman Charles Lloyd (still at it at 84!), another on the following day, with the Downtown New York sax warrior Tim Berne sparring with three partners in two different shows, one of mix-and-match duos, the other as a full quartet.
For more detailed info on the Canadian festival scene, go to: www.jazzfestivalscanada.ca
This page is also available in / Cette page est également disponible en:

Francais (French)