This page is also available in / Cette page est également disponible en:

Francais (French)
Topsy-Turvy Season for the Opéra de Montréal
Big changes have been announced for the 2020-21 OdM season. Abiding by the new health standards issued by the CNESST, the company has seen itself forced to postpone its two major productions, La Traviata by Verdi and Jenůfa by Janáček, because these require too many performers on stage, making it impossible to ensure the health and safety of the artists involved. Replacing these works in the fall program, Patrick Corrigan and his team have decided to present two works that had initially been planned for spring 2020. The first is La voix humaine by Francis Poulenc, a lyrical tragedy in one act, with soprano France Bellemare in the role of the Woman, accompanied on the piano by Esther Gonthier, who also provides musical direction. Then, L'hiver attend beaucoup de moi by Laurence Jobidon, with a libretto by Pascale St-Onge, presented in its world premiere. Soprano Vanessa Croome will play Léa with mezzo-soprano Florence Bourget as Madeleine. Jennifer Szeto is at the piano and provides musical direction. In accordance with health standards, these two productions will be presented to a limited audience. Details to follow.
THE OCM OPENS WITH AN OPERA
Another premiere on Quebec soil is scheduled for 2020: the chamber opera As One by American composer Laura Kaminsky, on a libretto by Kimberly Reed and Mark Campbell. This is how the l'Orchestre classique de Montréal, in a greatly scaled-back format, will open its season. A string quartet, to be exact, will accompany baritone Phillip Addis and mezzo Sarah Bissonnette, conducted by Geneviève Leclair and staged by Eda Holmes. Both singers will lend their voices to the very same transgender character, named Hannah. After the show, the OCM invites the audience to join in a discussion moderated by Tranna Wintour with a panel of guests, around the theme of identity and authenticity. This production will be given three performances, on Nov. 19, 20 and 21, at 7:30 p.m., at the Centaur Theatre.
At the end of the year, the OCM will revive a great tradition of the holiday season by performing Handel's Messiah under the direction of Boris Brott (chorus director Xavier Brossard-Ménard). The young soloists are Elizabeth Polese, soprano; Rihab Chaieb, mezzo; Marcel d'Entremont, tenor; and Hugo Laporte, baritone. The choir will consist of three vocal groups, namely, the Filles de l'île, the Chantres musiciens and the Société chorale de Saint-Lambert. This concert takes place on Dec. 8, at 7:30 p.m. in the basilica of Saint Joseph's Oratory. www.orchestre.ca
A Vocal Return for the MSO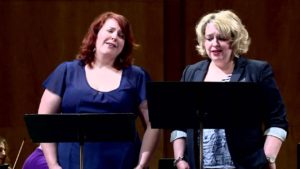 After many long months, the MSO announced its program at the end of August. We discover two concerts that showcase two prominent Quebec voices who are friends not only on stage but also in real life. Contralto Marie-Nicole Lemieux will perform two arias from Mozart's La Clemenza di Tito while soprano Karina Gauvin sings Beethoven's Ah! perfido. Accompanied by MSO musicians under the direction of Bernard Labadie, who knows these two opera singers very well, they will perform concert arias by the same composer in a second concert. At each of these concerts, Mozart will be paired with orchestral works by Beethoven, as part of the latter's 250th anniversary. The opening concert takes place on Sept. 11, at 8 p.m., both indoors and live on medici.tv; the second concert will be presented on Sept. 13, at 2:30 p.m., and will also be livestreamed on Sept. 29, at 7 p.m. www.osm.ca
LA BELLE DE CADIX BY OBQ
Traditionally presented in November, the annual production of the Opéra bouffe du Québec promises to make us laugh out loud. La Belle de Cadix, an operetta by Francis Lopez popularized by, among others, singer Luis Mariano, will be staged by Alain Zouvi, who continues his collaboration with the ObQ for a second consecutive year, after having staged Offenbach's La Fille du tambour-major. He will be assisted by Monik Vincent, who also choreographed this production. Details to come. www.operabouffe.org
The OM Substitutes Fauré for Mendelssohn
The Orchestre Métropolitain has had to revise the initial programming of its season. Among the notable changes is the increased presence of Yannick Nézet-Séguin, which is sure to delight both musicians and audiences, as well as the addition of two vocal events. The opening concert will feature mezzo-soprano Michèle Losier and tenor Frédéric Antoun in Mahler's lieder cycle Das Lied von der Erde (The Song of the Earth), on Sept. 20 at 1 p.m. and 4 p.m. at the Maison symphonique. In October, the OM presents Fauré's Requiem to replace Mendelssohn's oratorio Elias. For the occasion, Nézet-Séguin has called on two young singers, soprano Suzanne Taffot and baritone Philippe Sly, as well as a choir of 25 to 30 professional choristers. As of this writing, the identity of the tenor is not yet known. Oct. 16 at 5 p.m. and 8 p.m., still at the Maison symphonique.
www.orchestremetropolitain.com    
Translation by Margaret Britt
This page is also available in / Cette page est également disponible en:

Francais (French)