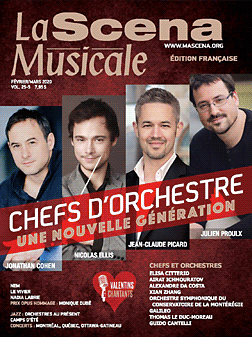 This page is also available in / Cette page est également disponible en:

Francais (French)
Nadia Labrie launches a new installment of her ongoing series of recordings entitled Flute Passion on Feb. 12. As a follow-up to her previous Analekta album devoted to Schubert, Labrie turns her attention to Bach, a composer she first fell in love with during her student days and whose music she wanted to dedicate a recording to someday.
"I had been thinking about doing Bach for my series almost as long as I did about Schubert," Labrie confides. "I first thought of it when I was 20, and it became an idée fixe. In my spare time, I'd go back to the works of both composers, they were my heartthrobs, so to speak. Two years ago, I decided to do Schubert first, the reason being my frame of mind. I was in the middle of a family crisis, and his music gave me some solace, it had a therapeutic effect on me. I was just pouring out my feelings into the album. Looking back on it, I made the right decision. Bach is better suited for me now, because I am at peace with myself. I'm willing to explore more substantial things, more profound if you will, which is exactly what Bach's music means to me."
A Deeper Connection
Programmed on this recording are two Sonatas for two instruments, one Trio Sonata and a solo Partita. The flutist shines in the latter by rising to the challenge of playing alone. "In a group situation, you can always hide a bit," Labrie states, "but not here. The upside, however, is that I can be totally myself, and even bare my soul to the listener in the hope of reaching him, or her, at a deeper level."
In order to achieve such intimacy in her rendition of the Partita in A Minor, Labrie once again turned to Carl Talbot as producer of this recording, the fifth of their ongoing collaboration. "By now we are so well acquainted to each other," Labrie says. "He can say things to my face, like setting my own standard and living up to it rather than aspiring to someone else's. In my view, that is what authenticity is about, and to be able to do that with confidence is worth its weight in gold."
In Perfect Harmony
Labrie has lucked out with her partners on the album, Luc Beauséjour, piano, and Camille Paquette-Roy, cello, two musicians she holds in high esteem. "Luc has been on my wish list for ages. Look, he has more than 35 recordings to his credit, that says something. He is much admired, so much so that it would be fair to call him a musical institution. I remember first hearing him on record when I was 18 or 19, in my final year at the Conservatoire. I was deeply impressed, not only by his playing, but also by the selections he chose to play."
As for the cellist, Labrie first met Paquette-Roy when both were working on a project for the Cirque Éloize. "We were part of a small orchestra providing accompaniment for dancers." Labrie recalls. "There are times when you meet someone and you know right there you will be working with them again someday, which is exactly what happened in our case. We simply connected that first night. We both revere Bach. Later on, when talking to Luc about having her on the record, he agreed with my pick. It went so smoothly, everything just clicked in the studio, and with both of them, too."
NEW RECORDING, NEW INSTRUMENT
In a previous Analekta release of Baroque music, Beauséjour set aside his harpsichord for the piano. Likewise on this album. Labrie, for her part, needed a new instrument, so she headed to Boston to purchase a flute at Powell's, a flute maker second to none.
"It is made of grenadilla wood," Labrie says. "A model with keywork. Its sound is softer, more velvety, not as bright as those made of metal alloys, the timbre closer to that of the baroque flute. I'm simply in love with it. Being made out of an organic material has made me aware of the need to be more careful with it. It is very sensitive to changes in temperature, hence the necessity of warming it up first before really pushing the air through. I see it as something of a godsend, because the sound has so many more shadings, all of which are totally suited to the music. I simply had to have it for this record."
Next Up
On April 5, Labrie has two shows earmarked for the Ponticello concert series in Gatineau, both with her sister Annie on guitar. "I'm so happy to play with her again," Labrie goes on, "Dare I say, the duo we once had, called Similia, is now back on track." Nadia will also share the bill with other musicians for three concerts programmed at the upcoming Festival Classica. Also on tap are several performances of her Schubert program with Mariane Patenaude on piano. By Labrie's own admission, she is smitten by Baroque music, and her passion for that era may well be a shaping force for her future projects, Powell flute and all.
Translation by Marc Chénard
Record launch and concert: Feb. 12 at the studios of the Cirque Éloize (a coproduction with Festival Classica). The performance of Flute Passion is planned as the first of a recurring annual concert event set around St. Valentine's Day. Purchase tickets.
www.analekta.com; www.nadialabrie.com
This page is also available in / Cette page est également disponible en:

Francais (French)