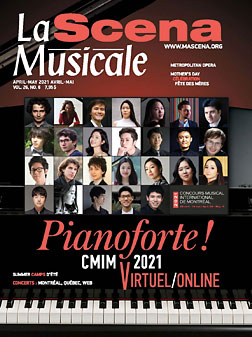 This page is also available in / Cette page est également disponible en:

Francais (French)
On Feb. 18, after a seven-month trek, Perseverance landed on Mars. Costing more than $2 billion, this is the fifth rover NASA has sent to the Red Planet. Of its predecessors, only Curiosity, launched in 2011, remains operational.
As images poured in, the very first sound recordings were being transmitted to mission control. Perseverance captured its landing as well, thanks to a breathtaking high-definition video that gives an eyewitness account of its slow and cautious descent. Needless to say, astrophysicists were elated, and many others, science buffs and laymen alike.
Long before Mars was the subject of media hype, it had captured the attention of many musical minds. Composers past and present have been inspired by it. Perhaps more will follow. To illustrate this connection, here are five musical examples.
Gustav Holst's The Planets
First Movement: "Mars, the Bringer of War"
Because Mars was the Roman deity of war, it is understandable that the famous opening movement of Holst's orchestral suite The Planets has something of a martial air to it. At the time of its writing, in 1910, filmmaking was still quite experimental, but the British composer was really ahead of the curve here with a score of cinematic proportions. The music is so highly evocative that it will certainly conjure strong visual associations in the mind's ear. Those hearing it today might consider it as suitable material for a Star Wars epic, though it was composed over a century ago.
In a way, it was a harbinger of things to come in the realm of motion picture scoring. The heavy use of percussion and brass instruments in this movement (written in 5/4 time) foreshadow a call to arms, while the insistent rhythms are signs of an imminent and ultimately deadly conflict. Beyond the orchestration, the underlying harmonic tension that runs through this movement clearly influenced John Williams, who is famous for his scores to these intergalactic sagas.
Denis Gougeon's Six Thèmes solaires
Fifth Movement: "Trompette-Mars"
In 1990, the Québécois composer Denis Gougeon put the final touches on an ambitious work in 10 movements for the Canadian Music Competition, one that drew inspiration from the planets and the solar system. Mars is the focus of the fifth movement. In the manner of Holst, Gougeon highlights the brass, and one instrument in particular, the trumpet. Much of the material he uses is drawn from the opening movement of the cycle (Piano-Soleil), conceived as a series of variations on a theme. The main compositional device applied throughout the entire work are the superimposed diminished scales (of alternating whole and half steps) that run in opposite directions. In his introductory program notes, written around the premiere, the composer explains that Piano-Soleil generates the music for all the other planets, and is a symbol for its raw energy, intense heat, glowing and way of projecting a different light on each one of them.
John Coltrane's Interstellar Space
In his final burst of creativity in the Winter of 1967, five months before his passing, jazz legend John Coltrane recorded Interstellar Space, a duo album with drummer Rashied Ali, a first of its kind. There are but four tracks in this release, with an alternate take added in a later CD reissue, each cut bearing the name of a planet, Venus, Jupiter, Saturn and…Mars. This last item is an unabashed example of the genre known as free jazz. And if one piece on this album embodies this aesthetic of no-holds barred improvisation it is this one, dedicated to that mythical God of War. Both tenor sax and drums go for the proverbial jugular, the latter oblivious to any melody line, the former dispensing with the beat. In accordance with the warrior myth, the two engage in outright combat, playing as if their lives hung by a thread. This is an exercise in pure energy playing, its tension building relentlessly until the drums take over and end it on an ecstatic solo.
David Bowie, with stars in his eyes
British pop icon David Bowie journeyed twice to outer space in his hit songs, one of them about Major Tom the astronaut, the other about the girl with the mousy hair. In both cases, these tunes are about people caught in a dead end and wanting out. The first, Space Oddity, was produced in 1969, a month prior to Neil Armstrong landing on the moon. Interestingly, Bowie later admitted that that landmark event was not the inspiration, but rather Stanley Kubrick's 2001: A Space Odyssey. In 1973, Bowie issued the second song, Life on Mars?, about a young girl losing her bearings and seeking refuge in a cinema. While it is something of a stretch to link this song to the planet in question, there is that sense of yearning to escape.
As a sidebar, Canadian astronaut Chris Hatfield sang that previous Bowie number some eight years ago when he was sent up for a mission to the International Space Station, strumming his acoustic guitar in the process. Fortunately, he made it back safe and sound, avoiding Major Tom's predicament of losing contact with earth.
Translation by Marc Chénard
This page is also available in / Cette page est également disponible en:

Francais (French)