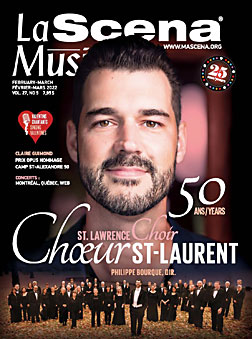 This page is also available in / Cette page est également disponible en:

Francais (French)
George Frideric Handel: Messiah
Ensemble Caprice, Ensemble Vocal Arts-Québec; Matthias Maute, conductor; Karina Gauvin, soprano
Leaf Music, 2021
The new recording by Ensemble Caprice jointly with the Ensemble vocal Arts-Québec, under the direction of Matthias Maute, was released on the Leaf Music label. A work by Jaap Nico Hamburger to start, one by Matthias Maute himself to conclude and, as a main course, several excerpts from Handel's Messiah.
The voice and voluptuous timbre of Karina Gauvin are first highlighted in Rejoice greatly, a piece full of lyricism and virtuosity. It is with these same assets that the singer then approaches I know that my Redeemer liveth.
As for the Arts-Québec Vocal Ensemble, each section of the sopranos, altos, tenors and basses is precise in the many melismas that run through Handel's oratorio, particularly in He shall purify. However, in Worthy is the lamb and the Amen, a tenor voice emerges insistently from the lot.
For the rest, talking about the Ensemble Caprice comes down to talking about the interpretation choices of Maute who, more than once, pleasantly surprises us with his originality. The famous Hallelujah, which has already been heard a thousand times before, benefits here from a somewhat different approach. The very articulation of the word differs from many other versions, placing particular emphasis on the third syllable. A certainly refreshing listen!
We also like O magnum mysterium by the same Matthias Maute, an interesting work that floods us with several waves of music and charms us with the roundness of the choir's voices.
This page is also available in / Cette page est également disponible en:

Francais (French)