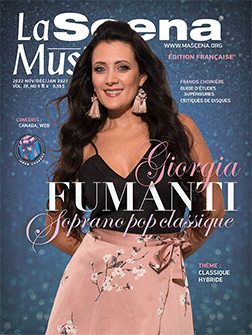 This page is also available in / Cette page est également disponible en:

Francais (French)
MONTREAL
ALLEGRA CHAMBER MUSIC
On Nov. 23, Allegra Chamber Music will present a program of works by Frank Bridge, Gustav Mahler, and Robert Schumann, performed by Dorothy Fieldman Fraiberg (piano), Simon Aldrich (clarinet), Alexander Lozowski (violin), Elvira Misbakhova (viola), and Sheila Hannigan (cello), as their last concert of 2022. They will kick off the new year on Jan. 19 with works by Clarke, Brahms, and Eggleston, performed by the same ensemble. Both events will take place at Redpath Hall. www.allegrachambermusic.com
LYRICO
The up-and-coming operatic pop trio Lyrico (Sam Champagne, Marco Bocchicchio, and Ian Sabourin) has two exciting concerts and three performances scheduled to round off 2022. On Nov. 4, they will be joined by pianist Anne-Marie Dubois for Passion Céline at the Salle Georges-Dor in Drummondville. On Dec. 4 (Salle Wilfrid-Pelletier, Montreal) and Dec. 11 (Grand Théâtre, Quebec City) the trio will be joined by l'Orchestre FILMharmonique (conducted by Francis Choinière) for a set of Christmas concerts titled, respectively, A Very Operatic Christmas and Noël à l'opéra. www.lyricoensemble.com
LMMC
On Nov. 13, LMMC (Ladies Morning Musical Club) will welcome the versatile violinist Rachel Barton Pine to Montreal, to perform a program of works by Mozart, Amanda Maier, Amy Marcy Cheney Beach, and Respighi, alongside pianist Matthew Hagle. Not long after, on Dec. 4, the Calidore String Quartet, founded in 2010 at the prestigious Colburn Conservatory of Music in Los Angeles, will perform works by Mozart, Jörg Widmann, and Bedřich Smetana. www.lmmc.ca
OCM
The Orchestre classique de Montréal will mark World AIDS Day on Dec. 1, with the world première of Unruly Sun, a theatrical song cycle inspired by Derek Jarman's memoir Modern Nature. The piece, with music by Matthew Ricketts and libretto by Mark Campbell, will be performed in English (with French subtitles) by tenor Karim Sulayman, the OCM String Quintet, and piano. The production has been guided by Rich Coburn (music director), Michel-Maxime Legault (stage director), and Anne-Catherine Simard-Deraspe (lighting designer). Less than two weeks later, on Dec. 13, OCM will fill the Crypt at Saint Joseph's Oratory with the sounds of Handel's Messiah. Conducted by Simon Rivard, the orchestra will welcome soloists Hélène Brunet, Rose Naggar-Tremblay, Zachary Rioux, Phillip Addis, and the Filles de l'île and Chantres musiciens choirs. www.orchestre.ca
OPÉRA DE MONTRÉAL
On Nov. 19, 22, 24 and 27, Opéra de Montréal will première La Beauté du Monde, a new opera by Julien Bilodeau, with libretto by renowned Quebec playwright Michel Marc Bouchard. This comes as Bouchard's second venture into the world of opera, following the highly successful 2016 première of his first opera, Les Feluettes. With stage direction by Florent Siaud, the piece is set in Paris during World War II, and tells the story of the epic rescue of artwork from the Louvre. As Hitler arrives in Paris and Nazis plan to raid the Louvre of its most prized works, Jacques Jaujard and Rose Valland conspire to stage the monumental rescue of these cultural artifacts. Among the cast are Damien Pass (Jacques Jaujard), Allyson McHardy (Rose Valland), Matthew Dalen (Hermann Goering), John Brancy (Franz Wolff-Metternich), Rocco Rupolo (Alexander Rosenberg), Layla Claire (Jeanne Boitel), Isaiah Bell (Dr. Bruno Lohse), France Bellemare (Esther), and Emile Schneider (Jacob). Jean-Marie Zeitouni conducts, joining forces with the Orchestre Métropolitain and Choeur de l'Opéra de Montréal. www.operademontreal.com
MUSICA CAMERATA
One of Canada's foremost chamber ensembles, Musica Camerata will present Vienna and Paris on Nov. 19 in the beautiful Chapelle historique du Bon-Pasteur. The program will feature such classics as Mozart's Quartet for piano and strings in G minor (K.478), Schubert's String Trio in B-flat Major (D. 471), and Saint-Saëns's Quartet for piano and strings op posth. www.cameratamontreal.com
ORCHESTRE SYMPHONIQUE DE MONTRÉAL
November promises to be an action-packed month for the Orchestre symphonique de Montréal. Not to be missed are performances of Beethoven's Triple Concerto, conducted by Laurence Equilbey (Nov. 9 and 10); as well as the OSM Competition Piano Category Final (Nov. 12); Kent Nagano's return to the orchestra in a concert of Mozart and Schubert, featuring soprano Jane Archibald (Nov. 22, 23, and 24); a concert of music for wind octet (Nov. 25); and Les Cowboys Fringants: Encore, featuring Dominique Côté and Karina Gauvin, conducted by Simon Leclerc (Nov. 28 and 29). www.osm.ca
ORCHESTRE MÉTROPOLITAIN
The Orchestre Métropolitain has three exciting programs on offer through November and December. First up is "Latin Waves," which will feature works by Gabriela Lena Frank, Rodgrigo, Alejandra Odgers, De Falla, and Márquez, with Lina Gonzáles-Granados conducting (Nov. 3-6). Soloists Mélissa Bédard and Kim Richardson will join both choir and orchestra under the baton of Yannick Nézet-Séguin in the OM's performance of "Holiday Melodies," which will include music by François Morel, Duke Ellington, Samuel Coleridge-Taylor, and arrangements of holiday classics (Dec. 2 and 3). Finally, Maestro Séguin will lead soloists Erika Baikoff, Karen Cargill, Werner Güra, and Nathan Berg in performances of Bach's inimitable Mass in B Minor (Dec. 18). www.orchestremetropolitain.com
PENTAÈDRE
There's no rest for the woodwinds this November and December. Straight off their British Columbia tour of the concert titled "Autour de Bach," players Ariane Brisson (flute), Élise Poulin (oboe), Martin Carpentier (clarinet), Louis-Philippe Marsolais (horn), and Mathieu Lussier (bassoon) will return to Quebec to offer not one but two programs to Montreal audiences. First, on Nov. 27, they will perform "Americas," featuring works by Canadian composer Carmen Braden, as well as works by Paquito D'Rivera, Heitor Villa-Lobos, and Dvořák. For this concert, the group will be joined by Félicia Lévesque, who will perform Eldin Burton's Sonatine for flute and piano, with Olivier Hébert-Bouchard at the piano. On Dec. 6, the group will present a benefit evening at the Cabaret Lion d'Or. "Tous à l'opéra," as it is titled, will feature guest artists Valérie Milot (harp), and Marianne Lambert (soprano). www.pentaedre.com
LES CHORALIES AT MUSÉE MARGUERITE-BOURGEOYS
Les Choralies will kick off in Montreal's Old Port on Dec. 1. Hosted and run by the Marguerite Bourgeoys Historic Site, the festival will begin with "A real family Christmas!," featuring Natalie Choquette and her daughters. Along with self-guided tours of the chapel, the festival will offer a number of organ concerts in the site's chapel, as well as free Christmas carol concerts with guest choirs Fous de gamme (Dec. 3), Choeur en Jazz Choir (Dec. 4), Groupe vocal Diverson (Dec. 11), Nev Renaissance (Dec. 17), and Musica Viva (Dec. 18). The festival's final concert, date to be confirmed, will feature Ensemble Da Capo, directed by Jean-Pierre Brunet. www.margueritebourgeoys.org
LES CHORISTES EN CONCERT
Les Choristes will take the stage at Montreal's Monument-National beginning on Dec. 28, with performances through Jan. 8, 2023. Directed by Serge Denoncourt, and based on the popular film of the same title, the production features François L'Écuyer, Henri Chassé, Michel-Olivier Girard, Gary Boudreault, Louise Cardinal, and the young Sacha Bolduc. www.hahaha.com
ONTARIO
TORONTO SYMPHONY ORCHESTRA
November will start off on a celestial note with the TSO, as they first welcome audiences to Roy Thomson Hall on Nov. 9-12 for a performance of Gustav Holst's The Planets, with Conductor Emeritus Peter Oundjian. Also on the program for this concert are Rossini's La gazza ladra, Mendelssohn's Concert Piece No. 2, and Coleridge-Taylor's Ballade in A Minor. On Nov. 13, another celestial perspective will be performed in complement with the Rossini, Mendelssohn, and Coleridge-Taylor selections, as Oundjian conducts the orchestra in Mozart's "Jupiter" Symphony No. 41 (K. 551). The concert will take place in the George Weston Recital Hall. Later that very week, the TSO will welcome the highly esteemed Augustin Hadelich to Roy Thomson Hall for a performance of Anna Thorvaldsdottir's Aeriality, Sibelius's Violin Concerto, R. Strauss's Suite from Der Rosenkavalier, and Ravel's La Valse. Gustavo Gimeno will conduct these concerts on Nov. 19 and 20. To round off the month, Conductor Dalia Stasevska will lead the orchestra, joined by Sergei Babayan at the piano, in their performance of Tchaikovsky's monumental Piano Concerto No. 1, and Symphony No. 6 "Pathétique." These performances, on Nov. 23-26, will also feature Andrea Tarrodi's Birds of Paradise II. www.tso.ca
AMADEUS CHOIR
In the wake of Amadeus Choir's exciting season kick-off performance of Carmina Burana, they will welcome audiences back to Eglinton St. George's United Church in Toronto on Dec. 17 for their holiday concert, titled "Let Us All Be Merry!" The concert, conducted by Kathleen Allan, will combine holiday favourites, contemporary arrangements, and opportunities for audience members to sing along and join in the fun. Amadeus's octet of professional singers, Emerging Canadian Voices, will be led in a set of their own by Associate Conductor Nila Rajagopal. www.amadeuschoir.com
NATIONAL ARTS CENTRE ORCHESTRA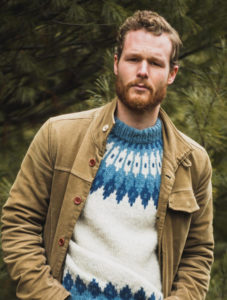 Ottawa audiences are in for a real treat this winter, as the NAC Orchestra presents robust masterworks by Mozart and Handel. First up is Mozart's beloved Requiem, conducted by Bernard Labadie, and featuring Philippe Sly (bass-baritone), Andrew Haji (tenor), Alex Hetherington (mezzo-soprano), and Jane Archibald (soprano). Performances at Southam Hall will take place Nov. 9 and 10. In addition to the Requiem, the orchestra will perform Mozart's Symphony No. 39 in E-flat Major. Labadie's own choir from La Chapelle de Québec will join the orchestra for this performance. Next month, audiences are invited to join the orchestra on Dec. 14 and 15 for performances of Handel's Messiah, featuring the Capital Chamber Choir, Cantata Singers of Ottawa, and soloists Mireille Asselin, Julie Boulianne, Lawrence Wiliford, and Norman Garrett. Patrick Dupré Quigley will conduct. A Celtic Family Christmas will round off the year, featuring Nathalie MacMaster and Donnell Leahy in an evening of cherished traditional fiddle music on Dec. 21 and 22. www.nac-cna.ca
CANADIAN OPERA COMPANY
Following a successful run of Carmen at the COC in November, the company will regroup in the new year for performances of W.A. Mozart's The Marriage of Figaro. Running from Jan. 27 through until Feb. 18 at the Four Seasons Centre for the Performing Arts, the production will be conducted by Harry Bicket and directed by Claus Guth. Originally conceived by the Salzburg Festival, this Canadian remount will star Luca Pisaroni in the role of Figaro, Johanni Van Oostrum as the Countess, Gordon Binter in the role of the Count, Emily Fons as Cherubino, Robert Pomakov as Dr. Bartolo, Helene Schneiderman as Marcellina, Doug MacNaughton as Antonio, and Uli Kirsch in the role of Cherumbim. www.coc.ca
ROYAL CONSERVATORY OF MUSIC
The Royal Conservatory's 21C Music Festival is set to run from Dec. 6 through Jan. 29, and will boast an incredible 10 concerts. Dedicated to presenting "newly-minted music by the world's foremost stars of independent musical thinking and innovation," this year's program of events has something for everyone. The Kronos String Quartet will perform with Sam Green (Dec. 6), the students of the Glenn Gould School (Dec. 8), and in a special performance with Indigenous singer and activist Tanya Tagaq (Dec. 9). In the new year, Jean-Michel Blais will take the stage (Jan. 20), followed the next day by flutist Susan Hoeppner and percussionist Beverley Johnston as well as Xin Wang (soprano), Andrea Ludwig (mezzo), Korin Thomas-Smith (baritone), Zachary Gassenheimer (clarinet), and Henry From (piano) in a performance titled After the Fires. That same day (Jan. 21) will feature a performance by Fred Hersch and Andrew McAnsh. On Jan. 22, Ian Cusson and Stewart Goodyear will present an afternoon of new works, followed on Jan. 25 by the highly anticipated third concert in Esprit Orchestra's 40th Anniversary Season, titled Taiko Live! On Jan. 28, contemporary cellist Alisa Weilerstein will perform "Fragments." The 21C Music Festival will end Jan. 29 with a performance of Unruly Sun, the dramatic song cycle composed by Matthew Ricketts, with libretto by Mark Campbell, and based on the memoir of filmmaker and queer activist Derek Jarman. www.rcmusic.com
VIDEO: The Kronos String Quartet will perform with Tanya Tagaq as part of this year's 21C Festival. Here they can be heard in performance together in 2016, at Koerner Hall – featuring a performance of Tagaq's commissioned work "Sivunittinni" (The Future Children).
This page is also available in / Cette page est également disponible en:

Francais (French)