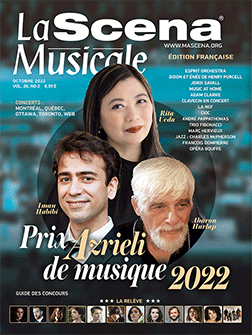 This page is also available in / Cette page est également disponible en:

Francais (French)
After two years of pandemic, La Nef is taking to the sea again this fall with a very eclectic program, between world and early music. Their 2022-23 season opens in October with Per violino e liuto, an intimate evening of baroque and popular repertoire from the 17th century, followed in November with a program  inspired by Nordic and Middle Eastern musical traditions.
For violin and lute
Presented on Oct. 16 at the Maison de la culture Maisonneuve, Per violino e liuto will feature two of the city's finest baroque music performers, multi-instrumentalist Sylvain Bergeron and rising violin star Marie Nadeau-Tremblay. Fascinated by the intense and flamboyant playing of the young virtuoso, Bergeron, master of the lute and the baroque guitar, sees in this duo a unique opportunity to highlight the richness and subtleties of the baroque repertoire for violin and lute.
Nadeau-Tremblay, named Radio-Canada's classical Révélation for 2021-22, will open the evening with the monumental Passacaglia by composer Heinrich Biber (1644-1704), a masterpiece of the baroque period for solo violin. The performers will then meet again for sonatas by Biago Marini  and Johann Heinrich Schmelzer, the latter contrasting with the impetuosity of Biber's Passacaglia. Baroque music also means improvisation. The evening will end with a series of folias that will give free rein to the unbridled creativity of the performers.
The road to oneself
Passing from early music to world music, La Nef will present Long Way Home on Nov. 25 at the Maison de la culture Ahuntsic-Cartierville. The evening, devoted to the creations of composer and multi-instrumentalist Andrew Wells-Oberegger, will present pieces from his first album, Long Way Home (2021). Wielding an arsenal of traditional instruments including the oud, bouzouki, bansuri and various percussion instruments, Wells-Oberegger invites us to embark on a fascinating musical journey across the globe.
Surrounded by six instrumentalists, he draws on Nordic and Middle Eastern folklore to deliver a musical proposal that is eminently personal and goes beyond the sum of his influences. The 12 pieces of Long Way Home seamlessly merge different styles and instrumental colours, creating a singular and abundant universe that the listener enjoys inhabiting.
La Nef will continue its season on Feb. 15, 2023, with Tout tourne, an astonishing program combining the virtuoso minimalism of the 20th and 19th centuries with baroque works built on obstinate basses. Seafaring songs will then be featured on March 30 with Red Sky At Night, and the season will conclude in May with the youthful musical tale Sous les eaux (Under the Waters).
This page is also available in / Cette page est également disponible en:

Francais (French)