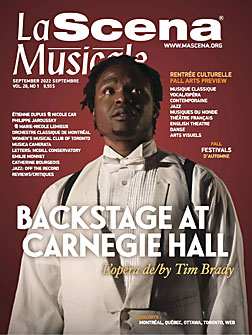 This page is also available in / Cette page est également disponible en:

Francais (French)
Le Vivier
Groupe Le Vivier will kick-start its new season on Sept. 23 and 24 with Tim Brady's new chamber opera (with booklet by Audrey Dwyer). Set in 1930s New York, Backstage at Carnegie Hall will see tenor Ruben Brutus in the role of legendary jazz guitarist Charlie Christian, who finds himself pushed into an adventure spanning the United States in the slaveholding era to Little Burgundy. The electric guitar quartet Instruments of Happiness will provide musical accompaniment.
On Sept. 30 and Oct. 1, the Orchestre de l'Agora and conductor Nicolas Ellis will interpret works from four standout Québécois artists: Francis Battah, Symon Henry, Alexandre David and Laurence Jobidon, in addition to Stravinsky's dynamic Concerto in E flat "Dumbarton Oaks." On Oct. 8, violinist Mark Fewer and pianist-composer Daniel Janke will present works from their album Celestial Blue (2016), an exploration of gospel and folk ­traditions from here and elsewhere through the prism of their unique collaborative voice.
On Nov. 5, saxophone quartet Quasar will plunge into the sonar ­universe of composer Thierry Tidrow with Entre nous. Combining ludic instrumental music with the vocal presentations of four comedians, Entre nous explores the common ground between brutism, ­expressive lyrics and pastiche. Using Ocular Score, a graphical score generator created by composer Linda Bouchard, Ensemble Triculair+ will interpret Live Structures/Structures vivantes, a series of works inspired by natural phenomena and complicated social phenomena.
2022 Azrieli Music Prize
At the Maison Symphonique on Oct. 20, Azrieli will present its annual gala to honour the works of three 2022 Music Prize laureates. First, Iman Habibi's Shāhīn-nāmeh will explore Jewish-Persian poetry from the 14th century and the close relationship between Jews and Persians over the centuries. Next, Rita Ueda's double concerto pulls together bird songs and the Canadian landscape to reflect the country's diversity and multiculturalism. Finally, the Canadian-born Israeli composer Aharon Harlap will present five psalms for soprano and orchestra to the public for a moving journey about hope and despair.
www.azrielifoundation.com
SMCQ
The oldest Canadian concert society dedicated to contemporary ­creation will present On stage… with the SMCQ on Sept. 25. During this afternoon filled with discovery that invites the public to take the stage, young and old people alike will take part in musical improvisation and choral singing workshops. Participants will be able to meet the Young Choir and join them in song for Ana Sokolović's Viva la musica! or for excerpts of François-Hugues Leclair's magnificent Chant boréal.
Molinari Quartet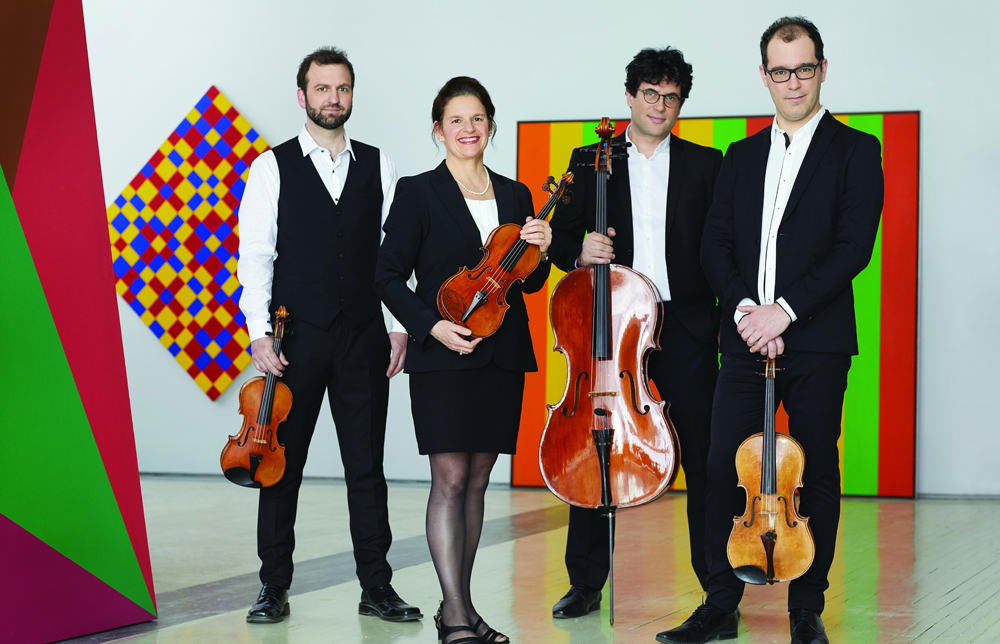 This fall, the renowned string quartet will celebrate 25 years of music with a new concert series, Twentieth and Beyond. The anniversary concert 25 Years of Molinari will kick-start the celebration on Oct. 14 with several major works, including Schnittke's String Quartet No. 2, Ligeti's String Quartet No. 1 and Penderecki's String Quartet No. 4, one of the Polish composer's last works. On Dec. 9, the Sound ­Exploration concert will highlight Xenakis's 100th anniversary with his work Ergma, alongside works by Iranian composer Showan Tavakol and Bartók's avant-garde String Quartet No. 3.
The quartet will also present a series of three Intimate Concerts, the first of which, Blue Music (Sept. 18) will showcase works by Nicolas Gilbert, John Rea, Jacques Hétu, Brian Cherney and Penderecki. The second, Sound Odyssey (Nov. 27), will explore the unusual sounds of works by Franghiz Ali-Zadeh, George Crumb, Penderecki, Scelsi and Showan Tavakol. Finally, on Dec. 18, the quartet and virtuosic oboist Vincent Boilard will present oboe quintets and quartets by Brian ­Cherney, Stuart Grant and Elizabeth Raum.
Innovations en concert
Innovations en concert is launching its new season on Sept. 6 with the Montreal première of Les doutes, a collection of electro-instrumental works by genius composer James O'Callaghan interpreted by flutist Jeffrey Stonehouse, violinist Geneviève Liboiron, percussionist Ryan Scott and counterbassist Adam Scime. On Oct. 15, pianist and Artistic Director Isak Goldschneider and Jean-François Laporte (who ­introduced the multi-instrument Babel Table in 2012) will interpret Palais de Mari, the last work for solo piano by Morton Feldman, and Nacht, created by Pierre-Luc Senécal.
Translation by Zenith Wolfe
This page is also available in / Cette page est également disponible en:

Francais (French)