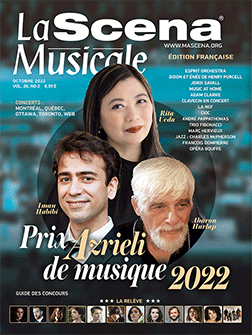 This page is also available in / Cette page est également disponible en:

Francais (French)
There are trajectories of life that strike the imagination and seem to indicate that beyond the vicissitudes of fate, nothing is left to chance. The life of the young Canadian composer Adam Vincent Clarke is one of those, from his modest childhood in Nova Scotia to the great European concert halls where his works are presented today. Whether by chance or by providence, it is the result of a succession of choices, trials and chance encounters that will see him return to Canada this fall, nearly seven years after his departure for the Old Continent, as part of his fascinating East-West project.
From bagpipes to classical studies
Growing up in Greenwood, N.S., a small town about 100 kilometres northwest of Halifax, young Clarke did not come to music through the traditional paths associated with great musical careers. Far from the big schools and conservatories, his love affair with music began at the age of 9  when he discovered the original storyline of the historical drama Braveheart, which sparked a passion for the bagpipes. Captivated by the power of the instrument, Clarke began to learn the bagpipes and gradually developed a fascination for the folk music of the East Coast of Canada that continues to this day.
Cultivating a taste for powerful and aggressive sounds, Clarke then turned—like many young people of his generation—to the electric guitar, discovering in the impetuosity of heavy metal a beauty and honesty that would eventually become central to his musical universe and his artistic approach. The young musician then went to Acadia University to study classical guitar and composition under Dinuk Wijeratne and Derek Charke. Alongside his mentors, Clarke channelled his folk, popular and classical influences into a singular musical universe that exploited rich nuances of language, instrumentation and performance style.
The German adventure
Returning to Nova Scotia in 2015 after a stay in Germany where he had been studying composition and language, tragedy struck when his mother died after a long illness. Deeply shaken by this loss—which, in his own words, seriously challenged his attachments—Clarke felt it was the right time to pack up and try his luck in Europe. Attracted by the vast cultural and artistic heritage of the land of Bach and Beethoven, he bought a one-way ticket to Freiburg im Breisgau, a university town in southwest Germany. Reclusive and inspired by the majestic beauty of the Black Forest, Clarke began a year-long period of intensive creation. It wasn't long before the stars aligned for the budding composer, as he met the members of the Belgian guitar quartet Four Aces Guitar Quartet, who immediately commissioned him and invited him to Antwerp to record their 2016 album Three Memories.
Seduced by the Belgian city, Clarke moved again to undertake a master's degree at the Royal Conservatory of Antwerp where, after discovering folk music, the second great epiphany of his young career occurred. Paired with dancers and choreographers as part of his study program, Clarke was introduced to dance composition and found in this music the same narrative dimension that had so fascinated him in folk music. The love at first sight is instantaneous, and the impact on his creation, major. In his own words, "everything just clicked." As proof, the composer is currently collaborating with the English dancer and choreographer John-William Watson for the creation of Hang in there, Baby— a performance that will take place on Oct. 26 at the famous Sadler's Wells Theatre in London.
From East to West
Inspired by the meeting of the folk traditions of Canada and Bulgaria, the East-West project was born in 2018 in the context of a trip by Clarke to Sofia. Invited to the Bulgarian capital by the Ensemble Silakbo for the première of his piece Still Life, the composer discovered the rich Bulgarian musical tradition and noticed, to his great surprise, many similarities with the Canadian folklore of his childhood. He was immediately inspired to connect the two musical worlds—to explore their differences and similarities, whether melodically, rhythmically, lyrically, instrumentally, or in dance steps, while respecting the heritage and traditions involved.
In order to do this, Clarke called upon two composers from different cultures and musical backgrounds, drawing on contrasting esthetic visions. Canadian composer Liam Elliot, a longtime friend of Clarke's, joined the adventure, as well as Bulgarian composer Svetlin Hristov, each basing their writing on the musical traditions of the other country while combining contemporary language with their different perspectives of Canadian and Bulgarian folklore. With the support of the Canada Council for the Arts, the trio created three works for the Ensemble Silakbo, a Belgian-Bulgarian "Messiaen" quartet composed of Angelina Gotcheva (clarinet), Edgar Gomes (violin), Bogdan Ivanov (piano) and Mikko Pablo (cello), with the addition of soprano Yoanna Bozhkova and Clarke himself on gaida. Reunited under the East-West banner, the musicians presented the fruits of their collaboration in 2019 as part of a European tour culminating at the Bulgarian National Radio Studio Hall in Sofia.
Grains, Images and Balkan Dance
Drawing on three classics from the Bulgarian folk repertoire, Elliot composed Grains as a result of a process of exploration that aims to reveal the hidden sounds within them. His experience with a Balkan folk dance group was a revelation to the young composer, who discovered Bulgarian music and dance that deeply shapes his concept of rhythm. The result is a piece of a thousand colours, where dark, slow and elusive passages follow cheerful dances carried by soprano Bozhkova. With Images, composer Hristov took a completely different direction by juxtaposing contrasting sections, alternating between resolutely contemporary writing and folkloric impulses whose influence on Acadian reels is felt.
While Clarke's Balkan Dance also drew on Bulgarian rhythms, it is more literal and systematized in its use, even evoking at times the jerky patterns of The Rite of Spring. The composer seems to be perfectly in his element, skilfully playing with the codes of Bulgarian folklore without pastiching them. The music is both limpid and intense, with a particular attention paid to the vocal lines that captivate the listener with their finesse and expressiveness.
East-West on tour
Presented with the support of the Canada Council for the Arts and co-produced with Bogdan Ivanov and Angelina Gotcheva, the Canadian tour of East-West will be launched on Nov. 1 in Montreal at Jeunesses Musicales Canada's Joseph-Rouleau Hall. The musicians will then head to Ottawa on Nov. 3, and Toronto on Nov. 5 and 7, before finishing their tour in Nova Scotia on Nov. 10 in Wolfville and Nov. 13 in Halifax. These last two concerts have a special symbolic meaning for Clarke who, back in his native province, completes in some ways a long journey of initiation at the end of which the composer seems to have truly found his way to Damascus.
This page is also available in / Cette page est également disponible en:

Francais (French)