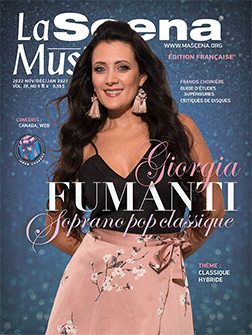 Taking Five
Catherine Little, cello; Gregory Myra, piano
Label: independent (services provided by Leaf Music, 2022)
Cellist and educator Catherine Little has released Taking Five, a CD which was recorded at St. Andrew's Church in Halifax, Nova Scotia (a province which is becoming a centre of first-rate music-making in Canada) and distributed by Naxos in  CD format with streaming and download rights.
Little's expert playing is elegant and well supported by a fine collaborative pianist, Gregory Myra. Technically proficient, both performers are in sync throughout their selection, which pleasingly displays their common conceptual approach. Little learned from good teachers (including noted doyenne of cello, Johanne Perron) and followed through with performances as an orchestral musician, soloist, and chamber musician. Pitch and rhythm are reliable without sounding mechanical—a delicate balance to achieve. Subtle nuances in dynamics mark their phrasing.
The musical selections are recognizable nuggets, serious classical within reach. Opening with Rimsky-Korsakov's Serenade, their heartfelt playing displays a delightful melodic exchange between cellist and pianist. Listeners may be tempted to sing along, if not tap their feet (albeit softly). Next follow two touching lyrical selections, the Après un rêve, Op. 7, No. 1, leading to the next, a beautiful lento chromaticism which is recognizable in Dvořák's Silent Woods. Little's measured careful cello vibrato and shading is well matched by light, clear ripples of piano. The Mélodie on a Theme by Rachmaninoff highlights the cellist's gifts for musical storytelling, while the compilation aptly ends with Songs without words for Cello and Piano, Op. 109, by Mendelssohn. Here, as throughout, the duo retain their rhythmic pace, eloquently balancing graceful repetition and magical moments, without sacrificing the flow to an ethereal conclusion.
What a pleasure to experience homegrown Canadian talented musicians who bring first-rate music-making into private venues. They have chosen classical repertoire that spans centuries. By reaching into various styles, they make the point that they are comfortable in many genres and the listener can be, too. One is left with the message that music is to be enjoyed by everyone, everywhere, without boundaries of any kind.