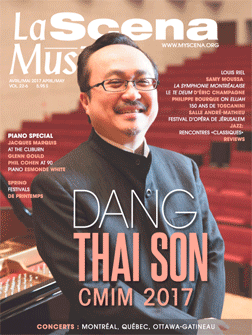 This page is also available in / Cette page est également disponible en:

Francais (French)
Samy Moussa, a young Montreal composer, will see his work premiered on the occasion of the 375th anniversary of the city of Montreal by the Orchestre symphonique de Montréal. At 32 years old, Moussa has just won the 2017 Hindemith Prize, given to a contemporary composer and accompanied by an award of 20,000 euros. This is not the composer's first collaboration with the OSM, since the soberly-titled Symphonie is his fifth orchestral commission. It is, however, his longest and most ambitious work. In a brief interview, Moussa spoke to us about the circumstances of the creation of the work and his creative process.
Symphonie
Even before the idea of a work to celebrate Montreal, Kent Nagano had a large-scale symphonic commission in mind for Moussa. It was in 2015 that the order was clarified and that the idea of making its premiere coincide with Montreal's anniversary was realized. "There was at the same time a desire for a longer work, but also a birthday to commemorate," recalls Moussa. Later, the multimedia art company Moment Factory was added to the project and will add visual elements to the concert. Although Samy Moussa worked with the studio, he thinks the music will take primacy: "I insist that the music will precede the music, that images will serve the music. That does not prevent us from having discussions [between the images and the music]. I am not a composer of film music." He simply wishes that his work can be recreated without depending on another variable and that music retains its autonomy.
"It is always hard for me to talk of inspiration," confesses Moussa. He admits to being obsessed with the context of the order, by Montreal, and that, in the end, it has hurt his creative process since he was not used to writing for a specific context. "I do not ordinarily compose incidental works. I have done it before, it was for organ, but it was a purely musical project." Indeed, to make references and analogies in his writing is not really in his blood, since he does not consider that the role of concert music: in his words, "I do not do that, I do not believe in that." For Moussa, inspiration is unconscious and abstract and cannot be translated into words. "Otherwise we are not making music. I would write a book that describes Montreal if I could put my inspiration into words. The young composer recognizes, however, that the way the city inspires him is subjective. According to him, listeners will not hear the city, but Montreal according to his perspective, his lived experience, and the period during which he composed the Symphonie. Thus, far from his mind was the idea of evoking the city's celebrations with drums and trumpets. He asserts that his desire for the evening is to celebrate with a deeper meaning, and that is why, according to him, he turned to the artists, in this case, himself and Moment Factory. However, the city of Montreal at the same time inspired the composer in a very abstract way. Necessarily, it does not seem to be a programmatic and descriptive work: "It does not describe things in a romantic way, it is not film music." It is rather the notion of territory that inspires Moussa, an object that he describes in a very concrete way, as the geographical area of the city, but he is inspired in a purely abstract way.
The Spirit of Universality
"Of course, my inspiration surpasses the notion of territory." Indeed, Samy Moussa hopes that his music is independent and autonomous, that a listener does not need to be famillar with Montreal to understand and appreciate his work. It is for this reason that he wishes that his Symphony can live and be recreated without the visual elements. That is not to say that Montreal is excluded from the creative process.
He wishes, he says, to approach a certain universality. This statement is hardly surprising, echoing another interview given by Moussa in which he stated that he wanted to compose works accessible to both enthusiasts of Haydn's String Quartets and fans of Beethoven's Symphonies. This seems in opposition to his very subjective view of the interpretation of music, an apparent paradox he solves by recalling that "the universal is possible only when it can be adapted to several realities." Creating a universal music is not a new goal for Western composers: the biggest have ventured into it and only posterity can make a judgment. This is undoubtedly a challenging task to be tackled with much modesty and humility.
---
Symphonie Montréalaise: Closing of the 2016–2017 season/Special Event for the 375th anniversary of Montreal, Orchestre symphonique de Montréal, Kent Nagano, conductor. Moment Factory, multimedia studio May 31 to June 2, 2017, www.osm.ca
This page is also available in / Cette page est également disponible en:

Francais (French)