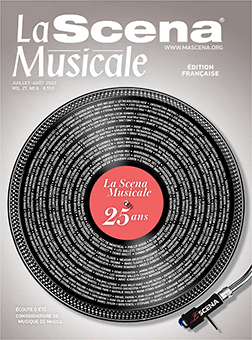 This page is also available in / Cette page est également disponible en:

Francais (French)
User Ratings (

3

Votes)

3.5
Beethoven: Violin Sonatas Nos. 4, 9 & 10
Andrew Wan, violin; Charles Richard-Hamelin, piano
Analekta, 2021

What more can be said about Beethoven's music that hasn't already been heard a thousand times? According to violinist Andrew Wan and pianist Charles Richard-Hamelin, quite a lot.
This album is the third and final entry in the pair's series of Beethoven violin sonatas, which began in 2018. Much like its predecessors, this album demonstrates the pair's distinguishable technical prowess regarding the interweaving of string and piano melodies. The Allegro molto movement of Sonata No. 4 is by far the best example of this, as Wan and Richard-Hamelin effortlessly and repeatedly trade places as lead musician. Listeners can tell that these musicians have spent years perfecting these works, as their performances sound robust and effortless.
Although it is not a big issue, their recording hardware is sensitive enough to pick up the tiniest of ambient noises. The musicians can often be heard sharply inhaling or shuffling around, most notably in the soft and quiet Andante con variazioni movement of Sonata No. 9. This detail draws the listener out of the otherwise enchanting performance, though it's a small price to pay to hear the beautiful reverb of the piano and violin.
This page is also available in / Cette page est également disponible en:

Francais (French)