This page is also available in / Cette page est également disponible en:

Francais (French)
User Ratings (

1

Votes)

4.6
Bach and Bartok
Karl Stobbe, violin
Leaf music, 2022
J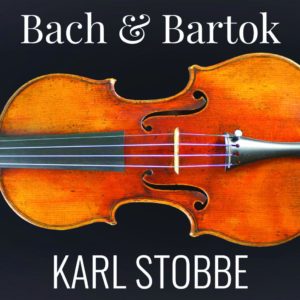 uno Award winner and violin soloist Karl Stobbe has released the album Bach and Bartok to illustrate the profound influence of Bach's sonatas on the world of classical music. In the first half of the album, Stobbe presents his rendition of Bach's Sonata No. 3 in C Major for Solo Violin, BMV 1005, which is both serendipitously calm and dramatically tense. Listeners are often left longing for a resolving note, and when they finally reach it, they're dragged back into a melody whose syncopations masterfully re-establish the anxiety of waiting. Listeners are rewarded for their patience in the last part of Bach's sonata, whose incessantly quick pace demonstrates Stobbe's fine control over his instrument.
Two-hundred years after the sonata's debut, Bartok, in ill health near the end of his life, composed Sonata for Solo Violin, sz. 117. Stobbe's rendition of this haunting work wonderfully portrays the uncertainty and desperation Bartok faced in his musical career: the strength with which the violinist occasionally plucks the instrument's strings throughout the first two movements generates a forceful sound that communicates Bartok's dedication in the face of his impending death. By emphasizing this motif amidst the sonata's near lack of resolution, the anxiety of waiting evoked by Bach's sonata is transformed into Bartok's anxiety of conclusion. This album doesn't provide the kind of performance one listens to casually, but rather a highly emotional and illustrative experience that packs a punch.
This page is also available in / Cette page est également disponible en:

Francais (French)