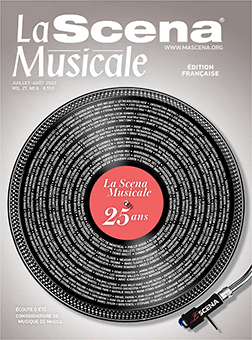 This page is also available in / Cette page est également disponible en:

Francais (French)
User Ratings (

2

Votes)

3.3
À ses derniers pas, entrant dans la boue
Aleks Schürmer, piano; Grégoire Blanc, theremin
Centrediscs, 2022
There's something to the theremin, a no-contact electromagnetic instrument invented in the early 20th century, that makes it impossible not to smile upon hearing one, and composer Aleks Schürmer is acutely aware of this in his album À ses derniers pas, entrant dans la boue. By contrasting the goofiness of the theremin against a grim piano performance, Schürmer squares 20th-century peoples' visions of a utopic technological future against our dystopic 21st-century reality.
In Ils se sont trouvés sur Tinder, Blanc reaches into the depths of the theremin's range to call upon a disturbing gravely texture, not unlike that of a contrabassoon, before jumping up a few octaves to emulate the quick and sharp playing style of a violin. The theremin seems to mock these two instruments with a melancholic undertone, as if to suggest that modern generations' mockery of their predecessors comes from a desire to remain sane amid global chaos.
When the theremin wants to be serious, it either remains low in volume, as in [Vertex], or completely silent. This is both Schürmer's way of ensuring the listener is never overwhelmed by the absurdity of it all, and his way of acknowledging the modern individual's self-perception of powerlessness.
The result is a unique fusion of classical piano customs and experimental contemporary tones that is as fun musically as it is harrowing thematically.
This page is also available in / Cette page est également disponible en:

Francais (French)