Ten years ago visionary teacher and ­organist John Grew of McGill University gathered together several interested businessmen, headed by E. Noël Spinelli, to establish the Canadian International Organ Competition (CIOC). It was the first ­international organ competition in the ­Americas, and it was also the first international organ competition to screen live ­performances. This year the CIOC celebrates its 10th anniversary. "We have 56 applicants from 21 countries, representing a 40% ­increase over the previous edition," says Thomas Leslie, Executive Director.
The CIOC has grown to become a competition, a festival, and a celebration that allows patrons to discover the marvels of the organ. The 2017 triennial edition in Montreal ­(October 6–21) follows swiftly after the Montreal Organ Festival in July, where the CIOC hosted no fewer than 800 organists.
In addition to the competition, the 2017 CIOC presents an opening discovery concert called "Alternative Organ", featuring international organists Leif Vollebekk, Jean-Willy Kunz and Christian Lane. Vollebekk premieres a new work for the occasion. (Maison Symphonique de Montreal, October 6, 7:00 pm).
Other highlights include the filming of the ­feature-length documentary Pipe Dreams by Stacey Tenenbaum (H2L Productions). ­Tenenbaum has followed a number of ­competitors in their home countries as they prepare for the CIOC. Her film will be released in late 2018.
Another innovation this year is CIOC ­Biergarten! Teaming up with local brewers and a local gin distillery, the CIOC plans to ­install tents at various competition venues to serve distinctive refreshments.
Open to all organists under 35 years of age, the organ virtuosos perform for a jury of nine ­international experts and compete for major awards. As well as a cash prize, the winner ­receives a contract for career development, a CD recording with ATMA Classique, and recitals.
Founder Grew believes the level of the ­competitors this year is exceptional. "Almost all of them are already prize-winners from major competitions such as St. Albans and Chartres. I have served on juries for over fourteen European competitions, and I can say that these young ­organists are among the very best. They will ­provide a real feast of fine music-making," he said.
Canadian International Organ Competition Festival 2017, October 6–21 2017. www.ciocm.org
CIOC 2011 Winner Profile Christian Lane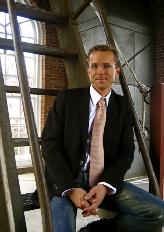 Since winning the CIOC 2011, 36-year-old American organist Christian Lane has established a successful career as a soloist, teacher, mentor and advocate. Based in Boston, Lane is Vice-President of the American Guild of Organists (AGO) and currently serves as Director of Music and Organist of All Saints Episcopal Parish in Brookline. During 2008–2014 he was Associate Organist and Choirmaster at Harvard University.
"I first participated in 2008, expecting that year would be my last competition ­regardless of outcome, but the experience was so worthwhile that I returned in 2011," he says. "The competition affords time and opportunity to build relationships with ­fellow competitors — who become future colleagues, jurors and mentors — to a degree most competitions can't."
Lane considers the CIOC as a unique ­experience not only for its generous prize pool — this year's first prize is $25,000 — but also because "It aspires to be the beginning, rather than the culmination, of a relationship. And it lives up to this very actively. I've had incredible opportunities, including a concert tour to China this month, as a result of my CIOC investment."
Lane is an enthusiastic commissioner of new works, including from such prominent composers as New York's Nico Muhly. "I see it as our responsibility as organists to help ­cultivate knowledge of the instrument amongst composers, to encourage composition, and to showcase new works," he says.
Despite his success as a performer and a recording artist, Lane feels his greatest strength is as a teacher. "I will continue to ­perform, but I am increasingly invested in my teaching. I've built up a unique organ studio in Boston and will soon be doing much more teaching in Montreal."
Lane will perform at the opening concert of the CIOC, October 6, Maison Symphonique de Montreal, at 7.00 pm.
CIOC 2014 Winner Profile David Baskeyfield
The winner of the 2014 CIOC edition, British organist David Baskeyfield, is currently preparing his second CD. The recording ­features music by Marcel Dupré on what Baskeyfield describes as an "incredible instrument, the Aeolian-Skinner organ at St. Mary the Virgin in Times Square."
Baskeyfield has earned a reputation as both an organist and a scholar. His doctoral ­research at the Eastman School of Music ­explored the boundary between written ­composition and improvisation among the Parisian organist-composers taught by Louis Vierne and Marcel Dupré.
The recipient of an impressive number of premier awards, Baskeyfield won both first prize and the audience prize at the CIOC and has also won prizes at St Albans, Miami, Mader and the AGO National Competition in Organ Improvisation.
Baskeyfield says the CIOC is different ­"because you are judged not just on the ­standard of your playing but also on ­constructing a program. The final round is an hour-long recital, with no restrictions on repertoire. It has the atmosphere of a gala concert, and I can honestly say it was the only competition round I've ever really enjoyed playing."
Baskeyfield's concert schedule reflects his creative programming and wide repertoire. His recent and forthcoming engagements ­include prestigious venues in the US, Canada, Britain, and Europe. He has made teaching presentations at the Calgary Organ Festival and the East Texas Pipe Organ Festival, where he returns this year. He will play his first four-hand-four-feet recital with his partner and ­fellow virtuoso Thomas Gaynor, winner of the 2017 St Albans competition.
"In 2017," he says, "a competition win is not necessary to build a career, nor is it a ­guarantee of a career, but it can be an ­enormous help. Certain competitions provide you with great opportunities, a measure of publicity, and a calling card, but you still have a lot of work to do to stay on the performing circuit." Clearly Baskeyfield is working hard.