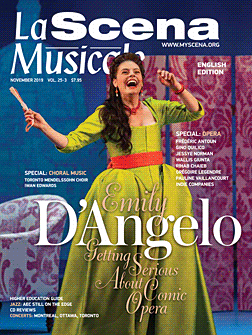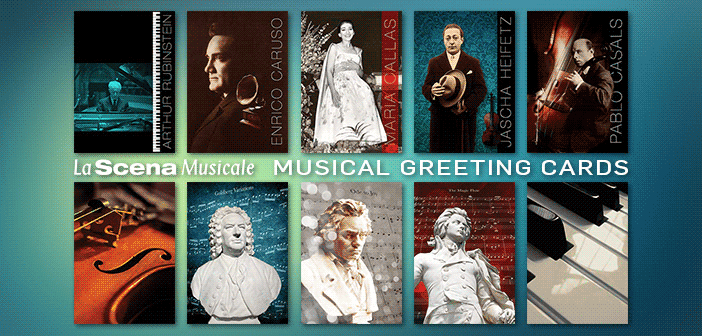 This page is also available in / Cette page est également disponible en:

Francais (French)
OPERA SPECIAL
Back in November 2013, our survey of new Indie opera companies found eight fledgling organizations. Most have survived and are still thriving, but their example has inspired more young singers to band together. This year's survey lists 36.
Forty is the number of years Toronto's Tapestry Opera has championed contemporary opera, and they are fledgling and Indie no more, as Arthur Kaptainis found out. Perhaps the only new organization shedding the fledgling adjective is 10-year-old Against the Grain (AtG), which has made recent news with a national tour of their La Bohème sung in today's English that was live-streamed by CBC Gem. In September 2018, in our special on Art Song, I proposed to revitalize the art form; art songs should be sung in the language of the audience. I'll now say the same, that opera should be sung in the local language as well, as was done in the early 1900s. AtG co-founder Joel Ivany tells us about his process in translating six operas.
The crisis in opera attendance is a recurring concern. Opéra de Montréal's answer this season is to promote international talent and to switch the second Saturday evening for a Sunday matinee. I'm not sure the latter move makes much of a difference judging by the first Sunday matinee (Onegin), but great voices and singing definitely got the crowd buzzing. It seems the buzz at the COC is the renaming of Ping, Pang and Pong to Jim, Bob and Bill at the suggestion of the COC's Equity, Diversity, and Inclusivity Committee. Indeed, Ping, Pang and Pong is racist; I heard "Ding, Dang, Dong" growing up in Canada. But my reaction is a shrug; we Chinese are used to smiling through adversity. Globally, opinions are mixed on bad tenor behaviour from Plácido Domingo and Vitorio Grigolo, whereas there was unanimous sorrow over the passing of American soprano Jessye Norman. We asked Canadian mezzo-soprano Susan Platts for a tribute.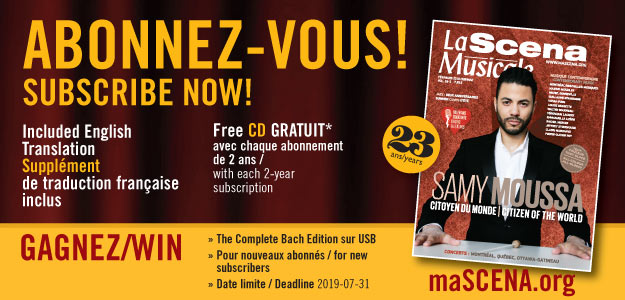 Our French cover features Montreal's Frédéric Antoun, who is one of a few Canadian tenors making an international career; Adrian Rodriguez sat down with him to discuss a new trajectory to his voice and career. Ten years ago, the list of international-calibre Canadian mezzo-sopranos included Marie-Nicole Lemieux, Michèle Losier and Julie Boulianne, who are still shining abroad. However, Canada is enjoying a new renaissance for the mezzo. Toronto's Emily D'Angelo, featured on the English cover, is part of a trio making waves, including Ottawa native Wallis Giunta and Montrealer Rihab Chaieb, whom we also meet in an interview. The topic of #MeToo was not overlooked.
We visit with Opéra de Québec's Grégoire Legendre, who recently announced his retirement next year; Alain Nonat, whose Jeunes Ambassadeurs Lyriques provide opportunity for young singers, and revisit Pauline Vaillancourt, who recently won a Prix du Québec. Finally, I visit with Gino Quilico, who shares his six rules of singing. 
Choral Music
The end of November is also the time for choral music, as many choirs celebrate the holidays with their fall concerts. Our guest writer Iwan Edwards shares his career trajectory from Wales to a vibrant career in choral music in Canada, including a sidebar on preparing choirs for the Montreal Symphony Orchestra. We also celebrate the 125th anniversary of Canada's oldest choir, the Toronto Mendelssohn Choir, and the 100th anniversary of Quebec's oldest, the St. Lambert Choral Society. Choral singing was a lifelong passion of La Scena's late board member Holly Higgins Jonas and, as a tribute, we publish an excerpt from her book In Their Own Words: Canadian Choral Conductors, to celebrate the 20th anniversary of the Nathaniel Dett Chorale.
Visual Arts
La SCENA arts magazine continues in the November issue with a mini-special on visual arts. We meet the Montreal Museum of Fine Arts's leader Nathalie Bondil, who has revitalized the museum. Other features include the sculpture of the late Dr. Harry Rosen, Luc Courchesne who won a Prix du Québec and Stéphane Marceau.
November is also La Scena Musicale's month for Higher Education and our 20th annual Higher Education Guide. Finally, check out our regular features – music coverage, CD reviews, jazz column, regional calendar, and concerts picks.
Subscription Drive & NEW Discovery Box
It's no secret that the Internet is reshaping the media landscape. Advertising budgets are shifting. This impacts negatively our advertising receipts, which have traditionally accounted for 80% of La Scena's revenues but have now decreased to 70%. Furthermore, a change in Quebec's Mécénat Placements-Culture program mean that our three-year grant under Volet 2 will not be renewed, leading to a shortfall in this year's budget.
We hope that our efforts to present more high-quality content will win your support in the form of a subscription or donation. La Scena has always operated on the non-profit model – a model to which many commercial media are now turning.
La Scena is the only arts magazine in Canada that is fully bilingual and dedicated to serving Canadians across the country. If you subscribe, you receive each issue by mail (we also have an option for weekend Montreal home delivery) with supplementary translations in your preferred language. Every two-year subscription comes with a free commercial CD.
Furthermore, we are launching the NEW La Scena Discovery Box, which will allow customers to discover concerts/events and recordings three times a year; it comes in a $99 package or a premium version at $299. See the article on p. 35 for more details. Any form of contribution is greatly appreciated and will go far in promoting artists here and abroad.
LSM Boutique
Thanks to our partners we have acquired tickets to select classical performances, including those of the Opéra de Montréal, Les Violons du Roy, the acclaimed French pianist Lucas Debargue and many others. We sell these tickets to raise funds; LSM subscribers get a 15% discount. See www.mySCENA.org or sign up for our e-newsletter at [email protected]
Have a great November full of music and the arts!
This page is also available in / Cette page est également disponible en:

Francais (French)