This page is also available in / Cette page est également disponible en:

Francais (French)
La Scena Musicale's October issue continues in a bilingual format and puts a spotlight on chamber music. On the cover, we celebrate with Boris Brott the 80th anniversary of the newly branded Orchestre Classique de Montréal.
In this issue, we continue our profiles of winners of recent Canadian competitions. The 2019 Banff International String Quartet Competition crowned its winners on Sept. 1 and for the first time, it was a tie, between the British Marmen Quartet and the American/Canadian Viano Quartet. La Scena's Bill Rankin reported daily (see mySCENA.org) and profiled both winners in this issue. Arthur Kaptainis meets flutist Lara Deutsch, who received the $125,000 Prix Goyer. Our annual Competition Guide informs our readers of upcoming deadlines. Our Fall Social Calendar lists Montreal fundraising events and galas with a music or arts theme.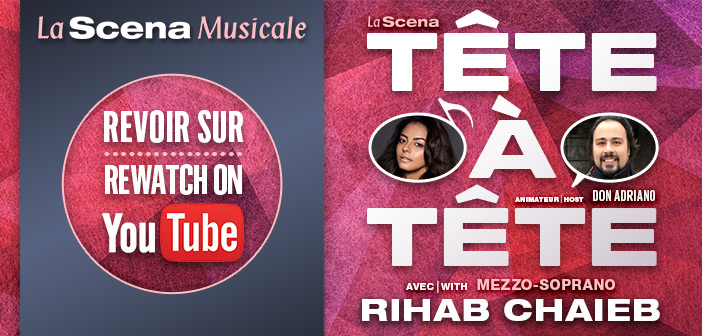 Other profiles and interviews include cellist Victor Julien-Laferrière, Pentaèdre, Clavecin en concert, Quasar and Trio ­Dell'aria. Ahead of the Federal Election, we take a look at the arts policies of the rival parties.
Marc Chénard's jazz section looks at the Off Jazz Festival and remembers the late Vic Vogel. Vasyl Pawlowsky looks at Canada's national anthem through his review of Robert Harris's book Song of a Nation. Our CD section offers dynamic reviews by the experienced team of Arthur Kaptainis and Norman Lebrecht.
Following the success of the special "Women in Theatre" in 2018, and the theatre special last year, the La SCENA Arts magazine returns with a special issue on theatre and particularly the theme of feminism in theatre. A renewed interest in feminist themes is playing out on Quebec's theatrical scenes. Features on 2019-20 highlights include Lorraine Pintal: the Prosperous Year (by Nathalie de Han); Blue Stocking Blues (by Pat Donnelly), Lessons for a Better World: Interview with Rébecca Déraspe (by Olivier Dumas); Alice in the Land of Love and Mourning (by Susan Gray); Plural Americas: Interview with Julie Vincent (by Olivier Dumas).
2019-20 Season
This season, our 24th publishing year, consists of seven issues of La Scena Musicale (four bilingual and three national editions) and the 11th annual La Scena Arts Resource Guide. Each issue will have a different musical theme; five will also be paired with the La SCENA arts magazine with special arts themes (see list below).
SEPTEMBER Theme: Youth
OCTOBER Theme: Chamber Music, Theatre
NOVEMBER National Edition, separate English and French editions; Theme: Opera and Choir, Visual Arts
DECEMBER/JANUARY Theme: Recording Industry, Dance
FEBRUARY/MARCH Theme: Orchestras and Conductors, Film
APRIL/MAY Theme: Piano, Creativity
JUNE/JULY/AUGUST National Edition, separate English and French editions
The 24th season will continue the all-colour, all-glossy format La Scena adopted in November 2017 and will feature more pages with a target of 80 to 96 pages, hopefully more than the previous year.
Our print magazine will focus on feature articles and long-form essays, while our website will publish timely concert and product reviews. Would you like to contribute an essay or review concerts? Please contact us at [email protected]
Subscription Drive & NEW Discovery Box
It's no secret that the media landscape is changing owing to the Internet. Advertising budgets are shifting. This impacts negatively our advertising receipts, which have traditionally accounted for 80% of La Scena's revenues but have now decreased to 70%. Furthermore, a change in Quebec's Mécénat Placements-Culture program will mean that our three-year grant under Volet 2 will not be renewed, leading to a shortfall in this year's budget.
We hope that our efforts to present more quality content will win your support in the form of a subscription or donation. La Scena has always operated on the non-profit model – a model to which many commercial media are turning.
La Scena is the only arts magazine in Canada that is fully bilingual and dedicated to serving Canadians across the country. If you subscribe, you receive each issue by mail (we also have an option for weekend Montreal home delivery) with supplementary translations in your preferred language. Every two-year subscription comes with a free commercial CD.
Furthermore, we are launching the NEW La Scena Discovery Box, which will allow customers to discovery concerts/events and recordings three times a year; it comes in a $99 package or a premium version at $299. See the article on p. 35 for more details. Any form of contribution is greatly appreciated and will go far in promoting artists here and abroad.
LSM Boutique
Thanks to our partners we have acquired tickets to select classical performances, including those of the Opéra de Montréal, Les Violons du Roy, the acclaimed French pianist Lucas Debargue and many others. We sell these tickets to raise funds; LSM subscribers get a 15% discount. See www.mySCENA.org or sign up for our e-newsletter at [email protected]
Have a great October full of music and the arts!
This page is also available in / Cette page est également disponible en:

Francais (French)