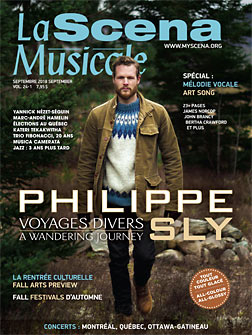 This page is also available in / Cette page est également disponible en:

Francais (French)
Let's get this out of the way: singer and songwriter Lewis Furey has a style like Rufus Wainwright ­– you either like his timbre and affected singing style or you don't. When the evening of Furey's Brahms Lieder concert began, I have to admit that I didn't. His sforzando word play and sporadic British-like accent sapped the melody out of the opening song Wie Melodien zieht es mir, which he translated as Just a Feeling. But after the second song, I started to forget about his voice – the 67 year old Furey doesn't pretend to be a virtuoso – and began to appreciate the songs for their lyrics, Furey's translations. When I interviewed Furey two months ago (see Crystal Chan's article, published in the ­October issue of La Scena Musicale), he said that he ­updated the English translations to include contemporary linguistic and social references. Citing T.S. Elliot, he says that every generation must come up with their own translation of the great works. How appropriate.
Since Furey was singing in English, the words flowed with ease and were easily ­received. The English text displayed on the digital screen behind the piano for the 16-song concert was helpful, especially for the ­predominant francophone crowd. It was like a conversation in a salon between Furey and the audience. I had two thoughts: Furey should take the show to English North America; and I wonder what a trained classical singer could do with this material.
The friendly home-town audience lapped up tangential moments when Furey sang parts of the Beatles or pop songs to draw parallels to his lyrics. As the evening progressed, Furey's voice warmed up, and by the end, he closed the show with a reprise of Just a Feeling, this time, he sang with legato and without the hint of the accent he displayed at the ­beginning, and the melody came through.
Furey is right, we have to adapt to today's technology and audiences to connect the arts to the public. I'll go on record to say that the best way to save the Art Song recital is to sing in the language of the audience, and to use a microphone when needed.
After leaving the concert, I heard the news of the passing of poet and singer Leonard Cohen, and my reaction to the lost just reinforces my takeaway from the concert, how words matter, especially in the language of the audience.
---
Next Issue: A look at Leonard Cohen's most enduring song.
A version of this review was published on mySCENA.org on Nov. 12, 2016.
Lewis Furey Brahms Lieder was reviewed on Nov. 10, and has been extended twice including a performance on Feb. 2, 2017. Outremont Theatre. theatreoutremont.ca
This page is also available in / Cette page est également disponible en:

Francais (French)