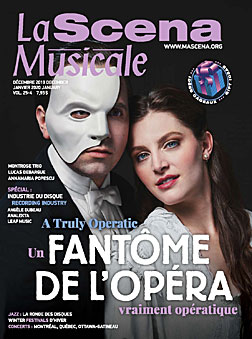 This page is also available in / Cette page est également disponible en:

Francais (French)
In 2012, Jeremy VanSlyke was part-way through a master's in sound recording at McGill's Schulich School of Music when he started Leaf Music. "Having grown up in Fredericton, New Brunswick, I realized that classical artists and composers in Atlantic Canada were left without a label to champion their music," said VanSlyke, who moved to Halifax in 2013 to teach at the Maritime Conservatory and set up the base for the label.
Since then, the little independent label has produced over 35 recordings, many with a cast of promising young Canadian musicians, including the November 2018 La Scena cover artists Infusion Baroque. Leaf Music has also expanded outside of the Maritimes, working with VanSlyke's connections at McGill.
These include the American cellist Christine Walevska, who was formerly on the Phillips Classics label and worked with Professor Martha de Francisco in earlier days. Signing the Los Angeles Philharmonic's principal cellist, Robert deMaine, was a coup. This artist was introduced to Leaf Music by his recording producer John D.S. Adams of Mahone Bay, Nova Scotia, who knew deMaine through James Ehnes.  He recently recorded the complete Beethoven Cello Sonatas (produced by Adams) with pianist Peter Takács for release next year as part of the Beethoven 250 celebrations.
To date, Leaf's bestsellers are Chinese Treasures from New Brunswick pianist Roger Lord and Goddess of the Cello from Walevska, which sold close to 2,000 CDs mainly through successful tours in Asia. "More recently, Kreüsser: Six Quintettos, Op. 10 from Infusion Baroque has sold over 500 copies, putting it in the top 10% of independent classical releases in Canada, thanks in part to La Scena Musicale and Archambault," said VanSlyke, who also sees successes in streaming. Music from the 2017 Mark Fewer and Hank Knox release J.S. Bach: Sonatas for Violin and Harpsichord BWV 1014-1019 has been streamed over 180,000 times on Spotify alone. They will be releasing a follow-up called Vivaldi: Manchester Violin Sonatas on Jan. 17.
Currently, 50% of Leaf revenues come from CDs, while downloads, at 30%, are decreasing. Although streaming revenues continue to rise, rates are extremely low. "In many cases, it's around $0.01 per stream [i.e. of one track or movement]," VanSlyke says. "However, there are free or ad-supported services that pay us much less – sometimes of 1/10th of a penny or less, per stream."
VanSlyke nevertheless regards streaming as the future. "The fate of the CD will be sealed by the eventual phaseout of CD players in cars. With continued advances in streaming audio technology and inexpensive cellular data, it's likely that most listeners will be streaming classical recordings almost exclusively in the years to come."
VanSlyke feels that recordings give performers almost full control of their musical interpretation, and it's an opportunity to hear them at their best. "Recordings help raise musicians' profiles and help generate other career opportunities," said VanSlyke. "Our role is to be a curator for classical music recordings and to help artists reach their audiences."
This page is also available in / Cette page est également disponible en:

Francais (French)