Advertisement / Publicité
Photo: Filipe Estrela (c) La Scena Musicale
Natural, warm, genuine, sincere and captivating are words that are commonly used to described the voice and artistry of Armenian-Canadian soprano Isabel Bayrakdarian. High praise for a 27-year-old. As vocal coach Stuart Hamilton told La Scena Musicale, "In 60 years, I have never worked with anyone with so much innate talent. Maureen Forrester had the ability to make you feel that she had a direct line to the composer; so does Isabel." Other champions of La Bayrakdarian include Marilyn Horne, Placido Domingo and now new manager Ronald Wilford of Columbia Arts Management (CAMI), whose list includes the likes of Rostropovich and Argerich.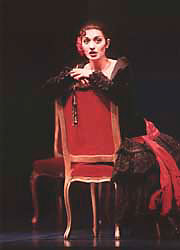 When La Scena Musicale first met Bayrakdarian, she had just graduated from the University of Toronto in biomedical engineering and was about to drive to Glimmerglass Opera for their summer Young Artist Program. Four years of rapid successes later, she is a bonafide star, beginning to conquer the world.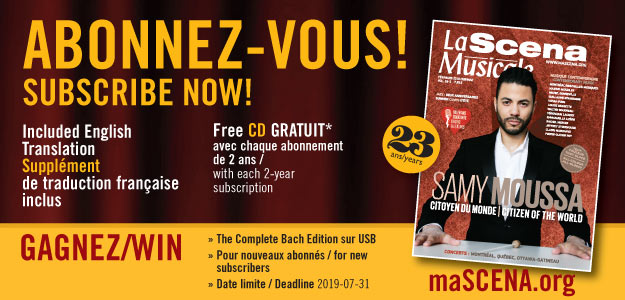 The distinction of being one of 10 winners of the annual Metropolitain Opera National Auditions is a noteworthy accomplishment in itself. The media was captivated, however, by the cinderella-like manner in which she came about the victory, and that this was accomplished after only three and a half years of vocal training while studying engineering. The potential has been realized into an accomplished artist backed by an inner confidence and a keen sense of her capabilities. It's that confidence which spurred Bayrakdarian to enter the Met Audition over the cautious advice of her teacher and coach. "I was surprised she was focused on it—she had a vision," said Jean Macphail, her first and only voice teacher.
From the start, it was clear that Bayrakdarian was a quick study—years of singing in the Armenian church, next to her mom Lalig, honed her musicality and ability to sing coloratura passages. "In the early years, I was surprised how quickly she picked things up," said Macphail. "To work her range, I assigned her 'Parto, parto' from Mozart's La Clemenza di Tito, one of the hardest arias in the repertoire. When she came back a week later, she had learned it perfectly, just by humming it in the lab, she told me. I never have to say things twice. She can pick up on ideas midway." Stuart Hamilton describes Bayrakdarian glowingly, "Isabel is one of the most brilliant intellectuals I've ever known."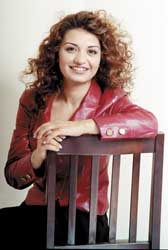 Bayrakdarian is somewhat matter of fact about her abilities to learn. "I do my research by listening to as many recordings and interpretations as possible. I try to get the rhythm down pat and mark the score with a pencil. I go to the piano to match the rhythm with the notes. Then I go to the coaching session and sight read through it. Then something mysterious happens. After the second or third time singing it through, I have it all memorized. I hum a lot. The mind is doing the work and it's gentle on the chords. There are two paths to the end result. The pathways in the brain to learn words (left is logical) are different than pathways to learn music (right is creative). When you forget words, by making up words to the music, we quickly remember. There are bridges and the pathways are interconnected. But this is the first time I am thinking about this. Art should be felt. It's magic."
Bayrakdarian's innate ability has been put to the test several times. In the summer of 1998, Bayrakdarian studied at Marilyn Horne's Academy of the West in Santa Barbara. With one day's notice, she replaced the original Pamina in the student production of Mozart's The Magic Flute. "I was feeling very guilty to be taking over someone else's role. It changes your karma. We train to perform. I just tried to make the best of it," said Bayrakdarian. "It was a complete success," said Macphail who, as usual, was there to lend her support and be Bayrakdarian's ear. Horne was impressed and subsequently invited Bayrakdarian to perform at her January 2000 Carnegie Hall birthday bash with the likes of Renée Fleming, Frederica von Stade and Sam Ramey.
Richard Bradshaw, artistic director of the Canadian Opera Company (COC), gave Bayrakdarian the last two performances of the run of Rossini's Barber of Seville after she had spent her first professional year with the COC Ensemble Studio. When the original Rosina took sick during rehearsals, Bayrakdarian sang the opening night performance. "I am really thankful to Richard Bradshaw," said Bayrakdarian. "As starting artists, we need people to believe in us."
Nine months later, when soprano Juliana Rambaldi announced her pregnancy ten days before rehearsals began, Bayrakdarian was called by the Lyric Opera of Chicago to cover the role of Catherine in the world premiere of William Bolcolm's A View from the Bridge. She sang the last three performances to acclaim. "I had a chance to work with and observe Catherine Malfitano. The way she commits to a role makes you look at your role in a different way," said Bayrakdarian. "I admire her artistry and it just grips you and doesn't let go. She is a very generous human being. I went to her for interpretations of Kurt Weill's cabaret music. How she approaches it is so real and immediate."
Bayrakdarian is quite philosophical about her meteoric progress. "It was one day at a time, with a vision of your future. You have to work hard in the beginning. You cannot belittle any performance. One thing leads to another. You learn from your mistakes. It's better to do it at a smaller venue than a bigger. Give a wonderful first impression. Work hard. Leave no stone unturned. You have to know what you are capable of early on, have good sense of self but be flexible enough to learn, to move, and to adapt."
Listen to and Watch some of her work
Bayrakdarian's talent has won over the support of many people. Her signing with CAMI came about indirectly through her friendship with Marilyn Horne. Her victory in September 2000 at Placido Domingo's Operalia allowed her to sing with the tenor. "They are great human beings who like and support young talent," said Bayrakdarian of Horne and Domingo. "You can tell how generous they are by the way they perform. They are so down to earth, and both have a great sense of humour." What has Bayrakdarian learned from these two great singers? "Marilyn Horne has wonderful career experiences. How to decide on repertoire, how to experiment in different stages of your development. My [then]manager Karen Ashly asked her once about Mimi, and she said I should wait, and it confirmed what I instinctively knew at the time. At an age when most singers have retired, Placido Domingo is so active, still learning new repertoire. It just inspires you to be at your best and be committed to art."
Repertoire is something Bayrakdarian is very careful about. "I am always interested in the kind of repertoire others want to hear me in. But for now, I will stick with Mozart, baroque, and the bel canto. I don't want to perform the Italian verissimo repertoire until I'm ready." The warmth in her voice suggests that she would be an ideal Mimi. "Eventually, she will be able to encompass the more lyric repertoire, like La Traviata," said Hamilton.
From the start, Bayrakdarian has been a commanding recitalist. Her Glenn Gould Studio Spanish concert last December was another watershed moment. "It was the work of a 'complete artist'—a poised, elegant, sophisticated stage presence, with a sense of mystery about her," said Joseph So, La Scena Musicale's Toronto correspondent, who has been following Bayrakdarian from the beginning. "And of course the voice—it has a richness and opulence that is outstanding among lyric sopranos. The musicality is never in doubt. Her voice must be considered one of the most beautiful in front of the public today." That recital was broadcast on CBC Radio Two and the Villa-Lobos' Bachianas Brasileiras No. 5 was televised on CBC's Opening Night. The response was overwhelming and prompted CBC Records to plan a studio recording of the program. The Villa-Lobos has somehow become a signature piece for Bayrakdarian. Two weeks ago, she performed the work with Yo-Yo Ma at the NAC Gala, an invitation following her first Messiah in Ottawa last December, where she dazzled the audience.
La Scena Musicale visited Bayrakdarian in September during the second week of her first recording sessions for two different CDs to be issued on CBC Records. On stage, she was wearing sneakers and casual wear, a departure from her normal formal attire. The first week of recording was devoted to the disc of Spanish program. "Last week we did two intense days of recording; my knees were hurting but my voice was fine," explained Bayrakdarian of her footwear following the session. "The first day, we recorded for 6 hours and the second 9 hours. It reinforced my confidence in my technique. I realize that someday, I could teach voice. I was able to correct what my ear did not like by using solid technique. I was tapping into so much of what I've learned—how to modify vowels, to approach a note, what to do with a sustain. It was a wonderful experience."
In the second week, Bayrakdarian's focus turned to a program of Armenian sacred music, the kind of music she has sung every Sunday since age 4. Never one to miss a Sunday mass while away from home, Bayrakdarian has been known to seek out the nearest Armenian Church to sing in the choir. To celebrate the 1700th Anniversary of Armenian Christianity, the Church has asked her to make the recording, and sing at a benefit gala. Quite an honour for the young singer. She hopes the disc of haunting sacred melodies, both a cappella and accompanied by an orchestra directed by Raffi Armenian, will attract non-Armenians. Bayrakdarian has always enjoyed tremendous family and Armenian community support. Recently, through an Armenian contact, Bayrakdarian has begun to be dressed by Chanel, although mother Lalig still continues to design some of her evening gowns.
With her numerous successes, Bayrakdarian has constantly been in the public eye. When she won Operalia in September 2000, the multimedia website GMN.com was preparing to webcast her in Handel's Xerxes from the Dresden Music Festival videotaped in the spring. Happy coincidence meant that she became a featured artist on the internet for GMN.com alongside Domingo and Gergiev. Both the Xerxes and the Operalia Winners' Gala are still available on GMN.com on rotation.
The demands on La Bayrakdarian now mean that she needs a publicist and a website manager, so that she can focus on the music. Fitness is an important part of her regime since she got a personal trainer a year ago. She has had to be more cautious about revealing future engagements after almost losing a contract when details leaked out. She will make her Met debut in the Fall of 2002, but she cannot give official details, nor talk about a possible engagement in 2005. Stay tuned. It only gets better.
Future engagements: Adina in Donizetti's L'Elisir d'amore, October 13, 18, 20, 26, Opera Ontario 1-800-575-1381. Handel's Messiah on tour with Les violons du Roy, Dec. 6, 8, 9, 11. (418) 643-8131. Cleopatra in Handel's Giulio Cesare, April 6, 10, 12, 16, 18, and 21, 2002, Canadian Opera Company 416-363-8231 (Purchase tickets IN ADVANCE of the general public by mentioning La Scena Musicale when ordering – telephone sales only – Regular on-sale date: February 18, 2002). Visit < bayrakdarian.com > for more engagements.