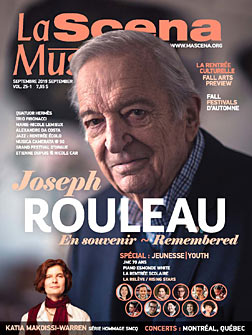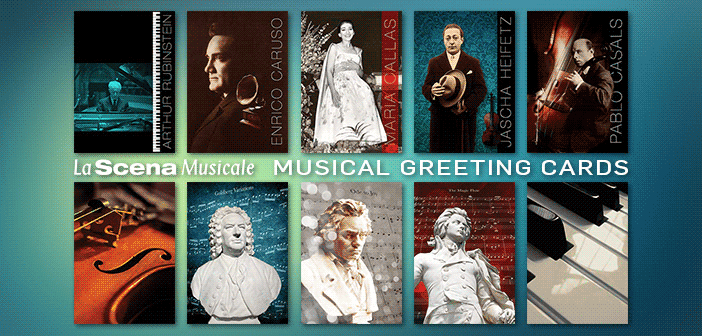 This page is also available in / Cette page est également disponible en:

Francais (French)
by Wah Keung Chan
April 1st 2015
It's been a tough year for Joseph Rouleau. Health problems had sidelined the renowned 86-year-old Canadian bass since last September when he retired after 25 years as the president of the board of the Jeunesses Musicales Canada (JMC). But he's better now. Although his international singing career is well documented, Rouleau's accomplishments in arts administration are equally stellar.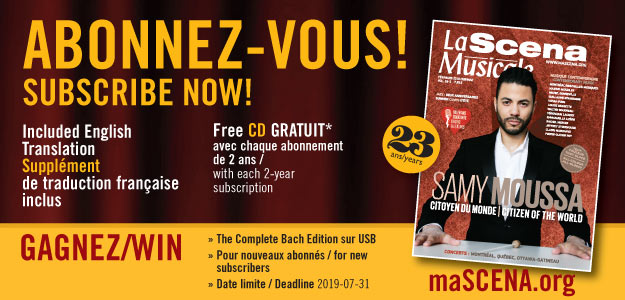 In 1976, while still based in London, he founded the Movement d'action pour l'art lyrique du Quebec (MAALQ) with 10 others, including Robert Savoie and Pierre Roland, with three objectives: to create an opera company in Montreal, one in Quebec City, and an opera academy. In 1979, he convinced Jacques Parizeau, then Quebec finance minister, to provide $2 million towards the creation of the Opéra de Montréal (OdM). For the 10 years Rouleau sat on the board of OdM, he remembered interesting times, when the company was able to put on seven productions per year. In 1990, when general and artistic director Jean-Paul Jeannotte retired, Rouleau quit the board over the hiring of American Bernard Uzan. "I felt we were mature enough to hire a Canadian," said Rouleau.
In 1977, Rouleau returned to Canada and, in 1980, became professor of voice at UQÀM, a position he held until retiring in 1998; he chose this over other offers as the school allowed him flexibility to reschedule classes so he could continue his career, particularly at the Metropolitan Opera. He soon became active on the UQÀM board (10 years) and its executive committee (five years). The famous story of Rouleau walking into magnate Pierre Péladeau's office and in five minutes obtaining a $1 million donation for UQÀM is true. "I went there with UQÀM's vice-rector, Florence Adenot-Juncas and Jacques Hétu, chairman of the music department, and I opened the conversation with the plan to build a concert hall for UQÀM, and if he donated $1million, the hall would bear his name," said Rouleau. "And that's how it became the Centre Pierre-Péladeau, housing also the department and the music library." Afterward, Rouleau invited federal minister Marcel Masse, who gave $3 million; the remaining $3 million came from the Quebec government.
Also in 1980, Rouleau co-founded the Orchestre Métropolitain with Robert Savoie and several others. "We suffered martyrdom; for the first five years, we didn't have funds to pay the musicians. Finally, when Pierre Péladeau became president, we were able to revive the orchestra and pay the musicians. Now, it's the second Montreal orchestra of top quality."
Perhaps Rouleau's biggest challenge came in 1989, when he was elected president of the board of the Jeunesses Musicales Canada. "I didn't realize that it was in such bad shape. There was a $200,000 accumulated debt and lots of other problems." When the JMC was founded in 1949 by Gilles Lefebvre, the goal was to help young musicians like Rouleau, who participated in its first tour in 1950. "I gave 44 concerts, accompanied by John Newmark, and the JMC paid me $50 per concert, and this helped fund my studies in Italy."
That gratitude has been repaid many times over. "I started working with my colleagues and my board. I did my best to improve the JMC's reputation with the funding agencies, who were starting to abandon us. I succeeded in getting everyone on the same plan. We hired as executive director Nicolas Desjardins for seven years, Jacques Boucher for three years and Jacques Marquis for 10 years, and now Danièle LeBlanc." Rouleau also took on the presidency of the JMC Foundation (FJMC), which was down to two members. With phone in hand, it took him two years before he convinced André Lesage, president of Deloitte Touche, to take over the presidency of the FJMC, a position he held for six years. After about four years, the deficit was eliminated.
Rouleau's best recruit was former Quebec finance minister André Bourbeau. "André's sister was a member of the foundation, and he was invited to a fundraiser where he won a bidding war with Pierre Péladeau for a private performance by soprano Dominique Blier for $5000. Afterward, he came over and asked if I wanted to raise more money, and that's how his annual concert at Dunham was born," said Rouleau. Bourbeau took on the presidency of the JMC Foundation in 1997 and the Dunham concert ran for 21 years, raising $12,000 and in subsequent years raising substantial funds to help both the JMC and the MIMC.
The Rouleau-Bourbeau duo has been a force to reckon with. The foundation and the JMC organize an impressive list of annual fundraisers including a golf tournament, an art auction and a wine auction. The most significant project has been the 14-year-old Concours musical international de Montréal (CMIM). Originally started in 1993 as the Joseph Rouleau vocal competition, it grew from a Quebec event to a national competition within five years, with first prize increasing from $1500 to $15,000. By 2000, Rouleau and Bourbeau wanted to develop this into an international competition, to replace the defunct Montreal International Music Competition. When Marie-Nicole Lemieux won the Joseph Rouleau competition in 2000 before taking first prize at the Queen
Elisabeth International Competition in Belgium that same summer, Rouleau and Bourbeau accompanied her there and the idea was solidified. "We decided in 2001 to create the international competition in 2002, but had no money. We met Quebec premier Lucien Bouchard and finance minister Agnes Maltais. After presenting the idea, I asked if we should ask the federal government to finance the competition or would it be funded by the provincial government? Bouchard looked at Maltais, and said, 'We will take care of it.' We worked hard at fundraising. The competition now has Christiane Leblanc as executive director, and its own foundation."
Most impressive is that Rouleau has done this as a volunteer, though he has a small stipend for his work with the FJMC and the CMIM.
What drives him? "The JMC's mission to educate youth in classical music and to develop the careers of the best Canadian artists," said Rouleau. "It's extraordinary. I don't want it to die."
This page is also available in / Cette page est également disponible en:

Francais (French)