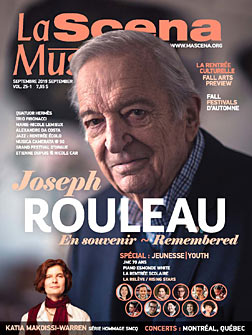 This page is also available in / Cette page est également disponible en:

Francais (French)
by Wah Keung Chan
February 1st 2009
Upon hearing the profoundly resonant voice of Canadian bass Joseph Rouleau, it's hard to believe he is turning 80 on Feb. 28, 2009. His speaking voice envelops the room, and his singing voice is still going strong. In celebration of his birthday, he will perform two concerts with the Quebec Symphony featuring songs of Félix Leclerc on Feb. 26 and 27. Rouleau is arguably Canada's all-time top bass. With a career in the world's great opera houses and with the world's greatest singers, it comes as a further surprise when he attributes luck for his career as a singer-artist. "Luck, and very hard work," he said.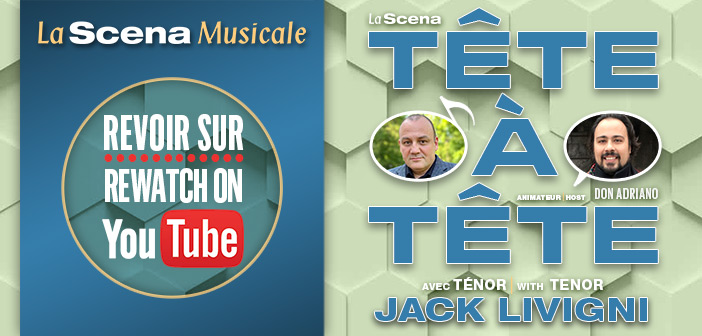 His lucky start
Rouleau grew up in Matane, Quebec. At the age of 12, he moved the 630 km to Montreal to study at Brébeuf College. There he sang in the choir as a boy soprano "by ear" and at 13 his voice broke and "descended to a bass." While he always had a strong speaking voice, the young Rouleau never thought it was anything special. "A good speaking voice doesn't translate to a good singing voice," he said. In fact, two of his brothers are tone deaf. However, the Rouleau family's Outremont home often played host to a multitude of visiting impresarios and musicians including Arthur Leblanc, André Mathieu and Gilles Lefebvre. It was Lefebvre, often bringing his violin for some impromptu music making at summer camp, who told Rouleau that he had a voice. At age 17, the carefree Rouleau went to study with Edouard J. Woolley. "I sang 'O Canada' at my first lesson, because I knew no other songs," he laughed. Woolley found a diamond in Rouleau's voice. "A diamond in the rough," said Rouleau.
A true basso profondo is rarer than a good tenor voice. Rouleau was off to a good start, winning every singing contest he entered. His big test was the 1949 Archambault Prize, the precursor of the OSM Competition. He promised his parents that he would "give music a shot" if he won. Standing in his way was the solfège test. When the judge stopped Rouleau at the second measure, he admitted that he couldn't read music. "They told me that they appreciated my sincerity and honesty." Nevertheless, the young novice won, and after the prize-winning concert, he was invited by Wilfrid Pelletier to study at the Montreal Conservatoire.
At the Conservatoire, Rouleau studied to be a musician, taking theory and piano. Since the Conservatoire had no voice faculty, he took voice lessons privately with Albert Cornellier and then Martial Singher. At the same time, Rouleau studied economics and political science at the Université de Montréal. However he never finished because he left for Europe during 1952-54 for studies with Mario Basiola and Antonio Narducci. His big break came in 1955, after singing for free with Experimental Opera of New York and New Orleans Opera. David Webster was auditioning for a bass for Covent Garden, and he offered Rouleau a contract on the spot. "That was my first real audition for work and my second and last was for maestro John Barbirolli," Rouleau said proudly.
Artist
At Covent Garden, Rouleau joined a yearlong opera company with 1,200 employees and 48 soloists on the payroll. "Every new singer has to pass the critics or you won't last. You are nervous, but nerves disappear with experience and confidence. Having confidence is enormous. Technically, you have to be solid. If you can't control the diaphragm in public and you tremble, you cannot have a career," he said with earnestness and humility. "When you are on the stage, Papa, Mama and your professor are not there. You are alone to defend the role and the scene with all your ability. If you are not capable, then you fail. If you fail, they won't rehire you. You have to be better than others."
Above all, Rouleau talks about the importance of being more than a singer. "It's being the artist, to create the colour and beauty to satisfy and touch the audience. I think it is innate in a person and it needs to be developed. You have to search and work, work and work to improve."
His Dream
Looking back, Rouleau takes pride for the Mouvement d'action pour l'art lyrique du Québec (MAALQ), which he formed with Robert Savoie and many others. "We succeeded in our three objectives: created the Opéra de Montréal in 1980, the Opéra de Québec in 1981 and the Atelier Lyrique of the Opéra de Montréal in 1983." All three organizations have paved the way for a new generation of Canadian singers who can be heard at home. Rouleau stayed on the OdM board until 1989, when he quit over the hiring of Bernard Uzan. "I felt and still feel that Canadians have the talent to run their own operatic and artistic institutions," he said. Although he now presides over Jeunesses Musicales Canada, he still dreams of the day when a national Quebec institution encompassing opera, operetta, ballet and orchestra will perform year-round in a new 1,500-seat opera house. "It's the Covent Garden model and it will take $200-million, and I'm convinced there is a demand for it. Like President Obama said, it's better to work together than to divide." Don't count Rouleau out. At 80, he is still going strong.
This page is also available in / Cette page est également disponible en:

Francais (French)