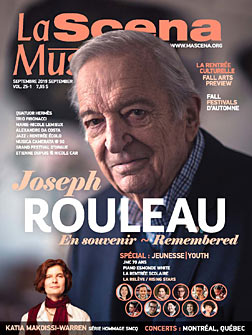 Advertisement / Publicité
This page is also available in / Cette page est également disponible en:

Francais (French)
The Canadian musical community has been hit hard by the passing of Canadian bass Joseph Rouleau on July 12, 2019. The news was first shared on Facebook:
Marc-Antoine d'Aragon
19 hrs · 
Je viens d'apprendre le décès, il y a à peine deux heures, d'un de nos plus grands ambassadeur vocal Joseph Rouleau. Il fut ensuite un aussi grand porte étendard du développement musical, particulièrement auprès des Jeunesses Musicales Canada.
Joseph a été d'un tel appui et d'une telle inspiration pour moi lorsque j'ai pris la barre de l'OCM il y a 3 ans. Je pense spécialement à Renée en ce moment. Jos, tu retrouveras ton cher ami André.
Not only was Rouleau a world-class singer, his tireless work at championing music and opera consumed his life. Rouleau has been a donor and Ambassador to La Scena Musicale and we mourn his passing and give our condolences to his wife Renée and his children and grandchildren.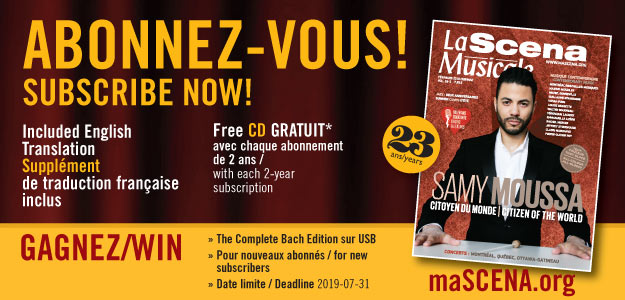 When details of the funeral become available, we will publish it here. Send your messages of condolences and memories to [email protected] and we'll publish them on this page.
Here are some tributes already published:
Enclosed are Interviews and articles about Joseph Rouleau we have published in past issues of La Scena.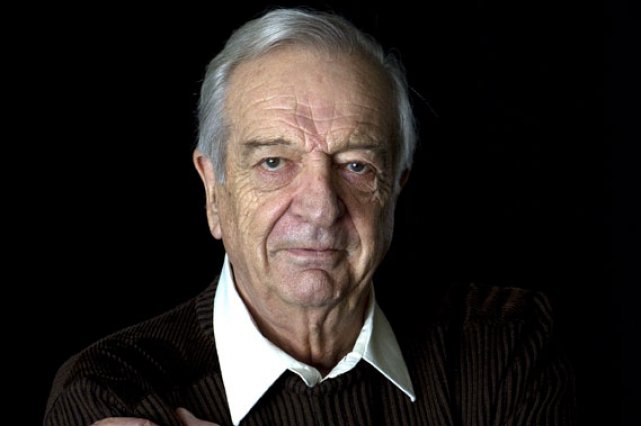 I recently had the great pleasure of conversing with Joseph Rouleau, a Quebec bass of international reputation, still working on projects at 89.
Why, in the middle of a singing career that would have filled more than one life, was he interested in the development of young artists?
"If we go back to the 1950s, there was not much [opportunity]," he replied. André Turp, Robert Savoie, Maureen Forrester and I, we all made our first tours with Jeunesses Musicales.
"I made my first tour in 1950-1951 with Jeunesses Musicales. This allowed me to sing in more than 40 concerts and make money, $50 per concert, to study in Italy."
Referring to his years as a professor at UQAM, from 1980, he says: "I had never taught singing in my life. But I had worked enough to know about it.
"I took care of the students. I founded the UQAM Opera Workshop to allow them to learn what it's like to go on stage, to teach them movement, how to play a role, the pedagogy of singing and vocal technique."
He also told me about his 25 years as president of the Jeunesses Musicales du Canada, from 1989 to 2014.
"When I was elected president, the movement was dying. I found collaborators, I set to work trying to revitalize the movement.
"We reorganized the structures, we rebuilt the reputation of Jeunesses Musicales, so we could approach the institutions that helped us financially.
"I also accepted the presidency of the Jeunesses Musicales Foundation for two years. The foundation was created to help the Jeunesses Musicales movement with the mission to educate the youth in classical music and career development for the best Canadian artists.
"We did it, and we still do it, with our concert tours, giving them 40, 50 even 60 concerts a year. We organize an opera each year, with auditions from Halifax to Vancouver to give young singers the chance to play a big role in Don Giovanni, The Marriage of Figaro, etc. It takes good singers, with young directors, sets, costumes, makeup, staging, surtitles, in Quebec, Ontario and the Maritimes."
Rouleau is also very proud of the Concours musical international de Montréal (CMIM), which he co-founded with the late André Bourbeau. "In 2001, with my friend André, I created the wonderful CMIM, which was originally the Jeunesses Musicales competition. We did not have a penny when we set it up. Today it is internationally recognized.
"This year, which is devoted to singing, we had about 500 entries from 52 countries [the competition is held every year, alternating singing, violin, piano]. There are two categories, aria and art song, to which are attached magnificent career development awards. It means a lot for a laureate to be able to find an agency, make recordings, and so on."
What are the essential qualities today for young artist who wants to build a career? "An excellent vocal technique, which is appropriate to the voice of the artist who sings a certain suitable repertoire. A solid technique, and good talent as a musician.
"Today most of these young people are also pianists. They are well prepared by conservatoires and universities and they are given the help they need to make it to the next level, a professional career.
"Young people today act very well on stage, thanks to television and cinema. They develop the power of communication through their presence and movement."
What does the future hold?
"On the fundraising level, it has definitely improved. Quebec society is no longer just about land and agriculture. Many people have reached a high financial level. They have master's degrees in economics or administration.
"This is reflected on the arts. Many of these people love culture and become patrons, either as individuals or in business. I would like to acknowledge the work of the Azrieli Foundation, which provides outstanding assistance to Jeunesses Musicales and other organizations. We also receive grants from governments.
"As far as I am concerned, I have become, and am still, a professional beggar," Rouleau continues with a laugh. "Money is a necessity.
"I am in a position where, thanks to my career, to what I have achieved, many people like what I do and do not find me too unpleasant. I tell them about a project and they help me a lot.
"The most important institution is the Opéra de Montréal. The number of productions has greatly diminished. We must all help in its development so that it plays its full role.
"It is an essential reservoir for our youth and the institution must also have the funds to welcome the greatest international singers. We need an opera house, a hall of 1,500 or 1,600 seats, where not only operas, but also operettas and musicals, are presented. Then we can give everything to the public. Because we are at the service of the public."
Thank you, Joseph Rouleau.
Jeunesses Musicales du Canada www.jmcanada.ca

Concours musical international de Montréal (CMIM) www.concoursmontreal.ca
Translation by Viviane Reid
---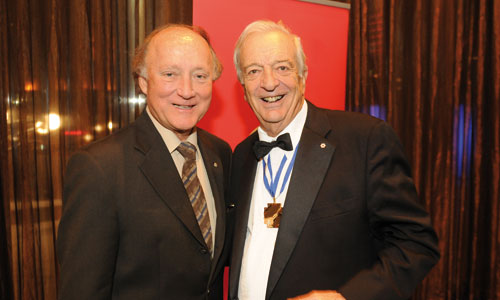 André Bourbeau with Joseph Rouleau during a 2011 OSM concert in Rouleau's honnour.
Joseph Rouleau's Mission
by Wah Keung Chan / April 1, 2015
It's been a tough year for Joseph Rouleau. Health problems had sidelined the renowned 86-year-old Canadian bass since last September when he retired after 25 years as the president of the board of the Jeunesses Musicales du Canada (JMC). But he's better now. Although his international singing career is well documented, Rouleau's accomplishments in arts administration are equally stellar.
In 1976, while still based in London, he founded the Movement d'action pour l'art lyrique du Quebec (MAALQ) with 10 others, including Robert Savoie and Pierre Roland, with three objectives: to create an opera company in Montreal, one in Quebec City, and an opera academy. In 1979, he convinced Jacques Parizeau, then Quebec finance minister, to provide $2M towards the creation of the Opera de Montreal (OdM). For the 10 years Rouleau sat on the board of OdM, he remembered interesting times, when the company was able to put on 7 productions per year. In 1990, when general and artistic director Jean-Paul Jeannotte retired, Rouleau quit the board over the hiring of American Bernard Uzan. "I felt we were mature enough to hire a Canadian," said Rouleau.
In 1977, Rouleau returned to Canada and, in 1980, became professor of voice at UQÀM, a position he held until retiring in 1998. He soon became active on the UQÀM board (10 years) and its executive committee (5 years). The famous story of Rouleau walking into magnate Pierre Péladeau's office and in 5 minutes obtaining a $1M donation for UQÀM is true. "I went there with UQÀM's vice-rector, Florence Adenot-Juncas and Jacques Hétu, chairman of the music department, and I opened the conversation with the plan to build a concert hall for UQÀM, and if he donated $1M, the hall would bear his name," said Rouleau. "And that's how it became the Centre Pierre-Péladeau, housing also the department and the music library." Afterward, Rouleau invited federal minister Marcel Masse, who gave $3M, and the remaining $3M came from the Quebec government.
Also in 1980, Rouleau co-founded the Orchestre Métropolitain with Robert Savoie and several others. "We suffered martyrdom; for the first five years, we didn't have funds to pay the musicians. Finally, when Pierre Péladeau became president, we were able to revive the orchestra and pay the musicians. Now, it's the second Montreal orchestra of top quality."
Perhaps Rouleau's biggest challenge came in 1989, when he was elected president of the board of the Jeunesses Musicales du Canada. "I didn't realize that it was in such bad shape. There was a $200,000 accumulated debt and lots of other problems." When the JMC was founded in 1949 by Gilles Lefebvre, the goal was to help young musicians like Rouleau, who participated in its first tour in 1950. "I gave 44 concerts, accompanied by John Newmark, and the JMC paid me $50 per concert, and this helped fund my studies in Italy."
That gratitude has been repaid many times over. "I started working with my colleagues and my board. I did my best to improve the JMC's reputation with the funding agencies, who were starting to abandon us. I succeeded in getting everyone on the same plan. We hired as executive director, Nicolas Desjardins for 7 years, Jacques Boucher for 3 years and Jacques Marquis for 10 years, and now Danielle Leblanc." Rouleau also took on the presidency of the JMC Foundation (FJMC), which was down to two members. With phone in hand, it took him two years before he convinced André Lesage, president of Deloitte Touche, to take over the presidency of the FJMC, a position he held for 6 years. After about 4 years, the deficit was eliminated.
Rouleau's best recruit was former Quebec finance minister André Bourbeau. "André's sister was a member of the foundation, and he was invited to a fundraiser where he won a bidding war with Pierre Péladeau for a private performance by soprano Dominique Blier for $5000. Afterward, he came over and asked if I wanted to raise more money, and that's how his annual concert at Dunham was born," said Rouleau. Bourbeau took on the presidency of the JMC Foundation in 1997 and the Dunham concert ran for 21 years, raising $12,000 and in subsequent years raising substantial funds to help both the JMC and the MIMC.
The Rouleau-Bourbeau duo has been a force to reckon with. The foundation and the JMC organize an impressive list of annual fundraisers including a golf tournament, an art auction and a wine auction. The most significant project has been the 14-year-old Montreal International Musical Competition (MIMC). Originally started in 1993 as the Joseph-Rouleau vocal competition, it grew from a Quebec event to a national competition within 5 years, with first prize increasing from $1500 to $15000. By 2000, Rouleau and Bourbeau wanted to develop this into an international competition, one to replace the defunct Montreal International Competition. When Marie-Nicole Lemieux won the Joseph-Rouleau competition in 2000 before taking first prize at the Queen Elisabeth International Competition in Belgium that same summer, Rouleau and Bourbeau accompanied her there and the idea was solidified. "We decided in 2001 to create the international competition in 2002, but had no money. We met Quebec premier Lucien Bouchard and finance minister Agnes Maltais. After presenting the idea, I asked if we should ask the federal government to finance the competition or would it be funded by the provincial government? Bouchard looked at Maltais, and said, 'We will take care of it.' We worked hard at fundraising. The competition now has Christianne Leblanc as executive director, and its own foundation."
Most impressive is that Rouleau has done this as a volunteer, though he has a small stipend for his work with the FJMC and the MIMC.
What drives him? "The JMC's mission to educate youth in classical music and to develop the careers of the best Canadian artists; it's extraordinary," said Rouleau. "I don't want it to die."
---
Joseph Rouleau: The Force of Destiny
by Wah Keung Chan / February 1, 2009
Upon hearing the profoundly resonant voice of Canadian bass Joseph Rouleau, it's hard to believe he is turning 80 on February 28, 2009. His speaking voice envelops the room, and his singing voice is still going strong. In celebration of his birthday, he will perform two concerts with the Quebec Symphony featuring songs of Félix Leclerc on Feb. 26 and 27. Rouleau is arguably Canada's all-time top bass. With a career in the world's great opera houses and with the world's greatest singers, it comes as a further surprise when he attributes luck for his career as a singer-artist. "Luck, and very hard work," he said.
His lucky start
Rouleau grew up in Matane, Quebec. At the age of 12, he moved the 630 km to Montreal to study at Brebeuf College. There he sang in the choir as a boy soprano "by ear" and at 13 his voice broke and "descended to a bass." While he always had a strong speaking voice, the young Rouleau never thought it was anything special. "A good speaking voice, doesn't translate to a good singing voice," he said. In fact, two of his brothers are tone deaf. However, the Rouleau family's Outremont home often played host to a multitude of visiting impresarios and musicians including Arthur Leblanc, André Mathieu and Gilles Lefebvre. It was Lefebvre, often bringing his violin for some impromptu music making at summer camp, who told Rouleau that he had a voice. At age 17, the carefree Rouleau went to study with Edouard J. Woolley. "I sang 'O Canada' at my first lesson, because I knew no other songs," he laughed. Woolley found a diamond in Rouleau's voice. "A diamond in the rough," said Rouleau.
A true basso profundo is rarer than a good tenor voice. Rouleau was off to a good start, winning every singing contest he entered. His big test was the 1949 Archambault Prize, the precursor of the MSO Competition. He promised his parents that he would "give music a shot" if he won. Standing in his way was the solfege test. When the judge stopped Rouleau at the 2nd measure, he admitted that he couldn't read music. "They told me that they appreciated my sincerity and honesty." Nevertheless, the young novice won, and after the prize-winning concert, he was invited by Wilfrid Pelletier to study at the Montreal Conservatory.
At the Conservatory, Rouleau studied to be a musician, taking theory and piano. Since the Conservatory had no voice faculty, he took voice lessons privately with Albert Cornellier and then Martial Singher. At the same time, Rouleau studied economics and political science at the University of Montreal. However he never finished because he left for Europe during 1952-54 for studies with Mario Basiola and Antonio Narducci. His big break came in 1955, after singing for free with Experimental Opera of New York and New Orleans Opera. David Webster was auditioning for a bass for Covent Garden, and he offered Rouleau a contract on the spot. "That was my first real audition for work and my second and last was for maestro John Barbirolli," Rouleau said proudly.
Artist
At Covent Garden, Rouleau joined a yearlong opera company with 1200 employees and 48 soloists on salary. "Every new singer has to pass the critics or you won't last. You are nervous, but nerves disappear with experience and confidence. Having confidence is enormous. Technically, you have to be solid. If you can't control the diaphragm in public and you tremble, you cannot have a career," he said with earnestness and humility. "When you are on the stage, Papa, Mama and your professor are not there. You are alone to defend the role and the scene with all your ability. If you are not capable, then you fail. If you fail, they won't rehire you. You have to be better than others."
Above all, Rouleau talks about the importance of being more than a singer. "It's being the artist, to create the colour and beauty to satisfy and touch the audience. I think it is innate in a person and it needs to be developed. You have to search and work, work and work to improve."
His Dream
Looking back, Rouleau takes pride for the Mouvement d'action pour l'art lyrique du Québec (MAALQ), which he formed with Robert Savoie and many others. "We succeeded in our three objectives: created the Montreal Opera in 1980, the Quebec City Opera in 1981 and the Atelier Lyrique of the Montreal Opera in 1983." All three organizations have paved the way for a new generation of Canadian singers who can be heard at home. Rouleau stayed on the Montreal Opera's board until 1989 when he quit over the hiring of Bernard Uzan. "I felt and still feel that Canadians have the talent to run their own operatic and artistic institutions," he said. Although he now presides over the Jeunesses Musicales du Canada, he still dreams of the day when a national Quebec institution encompassing opera, operetta, ballet and orchestra will perform year-round in a new 1500-seat opera house. "It's the Covent Garden model and it will take $200-million, and I'm convince there is a demand for it. Like President Obama said, it's better to work together than to divide." Don't count Rouleau out. At 80, he is still going strong.
---
Hommage à Joseph Rouleau
Par Jacques Boucher et Odile Thibault / 2 novembre 2004
Pour souligner les 75 ans du grand chanteur Joseph Rouleau, Les Jeunesses Musicales du Canada, dont il est le président, feront paraître sa biographie, signée Jacques Boucher.
La vie et la carrière exceptionnelles de Joseph Rouleau offrent un récit captivant. Professeur de chant à l'Université du Québec à Montréal de 1980 à 1998, il recevait récemment le statut de professeur émérite, une distinction qui s'ajoute à la longue liste de récompenses que lui ont mérité son talent et sa détermination. Soulignons: Prix Calixa-Lavallée, Officier de l'Ordre du Canada, médaille d'argent du Royal Opera House du Covent Garden, médaille du 100e anniversaire du Metropolitan Opera, Prix Denise-Pelletier, membre du Panthéon canadien de l'art lyrique, Grand Officier de l'Ordre du Québec, Prix Opus du CQM et, tout récemment, le Prix du Gouverneur général pour les Arts de la scène.
Voici un extrait de la biographie qui paraîtra le 1er décembre prochain.
« Would you like to join Covent Garden ? »
Début décembre 1956. Moment intense pour le jeune Rouleau.David Webster, le directeur général du prestigieux Royal Opera House Covent Garden de Londres, l'attend à New York pour lui faire passer une audition. Une occasion pleine de promesses, propre à déterminer le cours de sa vie entière. Un rendez-vous qui a pourtant failli être manqué…
Joseph Rouleau passe alors quelques jours à la Nouvelle-Orléans, en Louisiane, pour chanter deux soirs « Le Bailli » dans Werther de Massenet, à l'invitation de The New Orleans Opera House Association. Dès la fin de sa seconde représentation, le 1er décembre, il prend l'avion pour New York, où David Webster compte lui faire passer une audition le lendemain. Mais ce jour-là, au saut du lit, Joseph Rouleau réalise qu'une laryngite aiguë lui a fait perdre la voix pendant la nuit. Sur la recommandation de son agent Semon, de la National Artists Corporation, il va consulter le docteur Reckford, le laryngologiste attitré du Metropolitan Opera. Le médecin lui prescrit le silence absolu pendant deux jours et lui demande de revenir ensuite à son cabinet.
David Webster, qui doit repasser à New York deux jours plus tard, propose à Joseph Rouleau de l'entendre à son retour, le 4 décembre. Le jour dit, le docteur Reckford s'installe au piano, lui fait faire quelques vocalises et rend son verdict : « M. Rouleau, vous direz à ce monsieur de Londres que vous pouvez chanter trois airs d'opéra, mais pas plus. » Ce que Joseph Rouleau, en toute innocence et franchise, dit à monsieur Webster à son arrivée à Town Hall, où se passait l'audition.
Il chante ses trois airs : l'air de « Jacopo Fiesco », « Il lacerato spirito », extrait du prologue dans Simon Boccanegra de Verdi, l'air de « Sarastro », « In diesen Heil'gen Hallen », extrait de Die Zauberflöte de Mozart, et l'air de « Philippe II », « Dormirò sol nel manto mio regal », extrait de Don Carlos de Verdi. Puis, David Webster lui dit cette phrase magique qui sonne comme un sésame : « My boy, would you like to join Covent Garden ? » Une phrase qui restera à jamais gravée dans la mémoire du jeune chanteur, une phrase qui prédit que sa carrière vient de prendre un tournant décisif. De quoi faire perdre contenance à un tout jeune chanteur, qui répond naïvement, dans son énervement : « Yes, Sir, with pleasure ! »
David Webster est allé négocier l'engagement de Joseph Rouleau avec son agent. Et Joseph, lui, est allé s'acheter un chapeau sur la 5eAvenue. Pourquoi un chapeau ? Lui-même ne saurait l'expliquer. Il n'en avait jamais porté de sa vie ! Mais ce chapeau l'a suivi comme un talisman durant ses premiers moments au Covent Garden, jusqu'à ce qu'il le perde à l'automne 1959 lors d'une réception donnée à l'ambassade de Tchécoslovaquie — le chef d'orchestre, Jaroslav Krombholc, étant originaire de ce pays — pour souligner l'ouverture de la saison du Covent Garden. Joseph Rouleau venait de chanter le rôle de « Pimène » dans Boris Godounov de Moussorgski.
Pour un jeune artiste, Canadien de surcroît, le Covent Garden est un endroit mythique, une maison d'opéra prestigieuse jouissant d'une immense réputation en Europe et dans le monde entier. Pauline Donalda, qui y avait elle-même beaucoup chanté, en parlait souvent au jeune chanteur.
À son retour de New York, Joseph Rouleau annonce la nouvelle à sa femme. Une nouvelle qui implique de grands bouleversements dans leur vie, et de manière assez précipitée…
* * *
Le contrat de Joseph Rouleau au Covent Garden commence le 11 février 1957, soit juste deux mois après l'audition. Avant de partir, il honore quelques engagements, comme le rôle de « Uberto » dans La Serva padrona de Pergolesi, enregistrée au studio de télévision de Radio-Canada à Ville Saint-Laurent, sous la direction de Michel Perrault, avec comme réalisateur Noël Gauvin. Il chante également « Cesare Angelotti » dans Tosca de Puccini, avec l'Opera Guild of Montreal au Her Majesty's Theatre, sous la direction d'Emil Cooper ; il participe à deux émissions télévisées de Radio-Canada, « L'Heure du concert » et « Place aux femmes » avec l'animatrice Michelle Tisseyre, puis donne deux concerts pour les Jeunesses Musicales du Canada, à Val d'Or et à Amos. Il doit aussi se résoudre à résilier son contrat pour chanter Carmen de Bizet au printemps de 1957 à l'opéra de la Nouvelle-Orléans avec le maestro Renato Cellini.
Par ailleurs, il lui faut également travailler très fort les rôles qui l'attendent au Covent Garden. Ce qu'il fait, jusqu'à en tomber malade. Le stress y est certainement pour quelque chose. Bien qu'il ait déjà chanté en français et italien La Bohème de Puccini, il doit cette fois apprendre le rôle en anglais, ce qu'il a peu fait jusque-là. Il a aussi sur sa table de travail Die Zauberflöte de Mozart, qu'il travaille avec Jacqueline Richard.
Mais avant de quitter le Québec, il lui faut encore régler son dossier du Conservatoire. Le 1er février 1957, il envoie sa lettre de démission en tant qu'élève du Conservatoire, un morceau d'anthologie où, malgré le ton officiel et respectueux, transparaît la satisfaction de l'élève qui prend son indépendance.
Le départ pour Londres s'est fait avec très peu de bagages, une valise et des partitions d'opéra. La petite Diane n'a pas tout à fait quatre ans, et Joseph Rouleau pas encore trente ans. C'est le grand tournant.
* * *
À son arrivée à Londres avec sa femme Barbara et sa fille Diane, Joseph Rouleau habite une chambre d'hôte réservée par le Covent Garden à South Kensington. Ensuite, vers la fin mars, la famille s'installe au 64, Queen's Gate, Bayswater, près de Hyde Park. À l'époque, Diane ne va pas encore à l'école et Barbara reste à la maison. Il y a peu de place pour les loisirs. Les premiers six mois sont vraiment axés sur le travail, et Joseph n'a pas le temps d'avoir le mal du pays.
Un mois à peine après son arrivée, déjà, il part en tournée avec le Covent Garden. Car la compagnie nationale, financée par l'État, a comme politique de faire une tournée annuelle dans plusieurs villes de Grande-Bretagne. Il sera par la suite de quatre autres tournées anglaises du Covent Garden, soit 1958, 1959, 1961 et 1964.
Au programme de la tournée, cette année-là, six représentations de La Bohème de Puccini, où Joseph Rouleau tient le rôle de « Colline », et une représentation de Die Zauberflöte de Mozart, où il est « Sarastro ».
C'est à Cardiff, au Pays de Galles, le 9 mars 1957, que le jeune chanteur fait ses débuts avec la troupe du Covent Garden dans La Bohème de Puccini, dans une production du tout début du xxe siècle. À cette occasion, il se retrouve aux côtés d'un autre Québécois, Richard Verreau, qui, lui, chante « Rodolphe ».
Nous sommes trois jeunes chanteurs canadiens à être arrivés en Angleterre à peu près en même temps : Jon Vickers, Richard Verreau et moi-même. La veille de ma première représentation, le 8 mars 1957, Jon Vickers faisait ses débuts dans Un Ballo in Maschera de Verdi. Le 9 mars, les critiques disaient de lui : « A star is born ! ». Quant à Richard Verreau, il a lui aussi été bien accueilli par la critique, unanime sur sa voix et son interprétation. C'est dans le rôle du « Duc de Mantoue », dans Rigoletto de Verdi le 14 mai 1957, qu'il a fait ses débuts sur la scène du Royal Opera House Covent Garden, sous la direction d'Edward Downes.
J'avais été engagé pour remplacer, dans La Bohème de Puccini, la basse sud-africaine Frederick Dalberg, un homme d'une grande maturité et au vaste répertoire, qui quittera le Covent Garden en 1958. Je m'étais fait dire que je serais un membre très utile à la compagnie.
Ces deux productions étant jouées depuis longtemps, la géographie des rôles et les mouvements scéniques sont déjà bien réglés. Il suffit de les mémoriser.
Il reste par contre à travailler l'interprétation. Pour les productions déjà rôdées, le temps de répétition est réduit. Mais au Covent Garden, les chanteurs ne sont jamais jetés dans la gueule du loup. Ils ont le temps de bien répéter avant de se présenter devant le public. Les chanteurs étaient dirigés par Jimmy Gibson. Chef de chant et chef d'orchestre permanent, il ne dirige pas souvent ; il s'occupe plutôt de l'administration artistique.
Que ce soit pour la préparation musicale ou pour la préparation scénique, il y avait une équipe pour nous aider. Jamais un jeune artiste n'était envoyé dans la fosse aux lions sans préparation.
Avant de chanter un rôle, je répétais matin, midi et soir, avec un répétiteur et le metteur en scène, jusqu'à ce que ce dernier soit satisfait. Ainsi se construisaient véritablement les fondements d'une carrière.
Je me souviens des séances de travail avec Jeffrey Tate, chef de chant au Coven Garden. J'ai travaillé de nombreux rôles avec lui. Il venait de Londres en train, chez moi, à Chislehurst, et nous passions la journée dans mon studio à mettre au point des rôles d'opéras ou des pages d'oratorios. Je pense, entre autres, à Don Quichotte de Massenet, ou aux quatre rôles dans Les Contes d'Hoffmann d'Offenbach. Le soir, après le repas, nous jouions au bridge. Puis en fin de soirée, j'allais le reconduire au train.
Notre amitié est durable. Lorsqu'il venait au Québec diriger l'Orchestre symphonique de Montréal, immanquablement, je passais la fin de semaine avec lui à ma résidence du lac Émeraude.
Cet homme, linguiste, est certes un fin musicien, un grand artiste et un chef remarquable.
* * *
Puis le 23 avril 1957, fameux grand jour de ses débuts sur la scène londonienne du Royal Opera House Covent Garden, Joseph Rouleau reprend le rôle de « Colline » dans La Bohème de Puccini, sous la direction cette fois de Rafael Kubelík, qui occupe à l'époque — ce, pendant trois ans — le poste prestigieux de directeur artistique du célèbre théâtre londonien. L'enjeu est d'importance puisque c'est à lui que revient la décision finale quant à l'engagement des chanteurs.
Je n'hésite pas à qualifier le maestro Kubelik de très grand musicien à la sensibilité généreuse. Il était de plus un grand chef d'orchestre, muni de moyens expressifs hors du commun.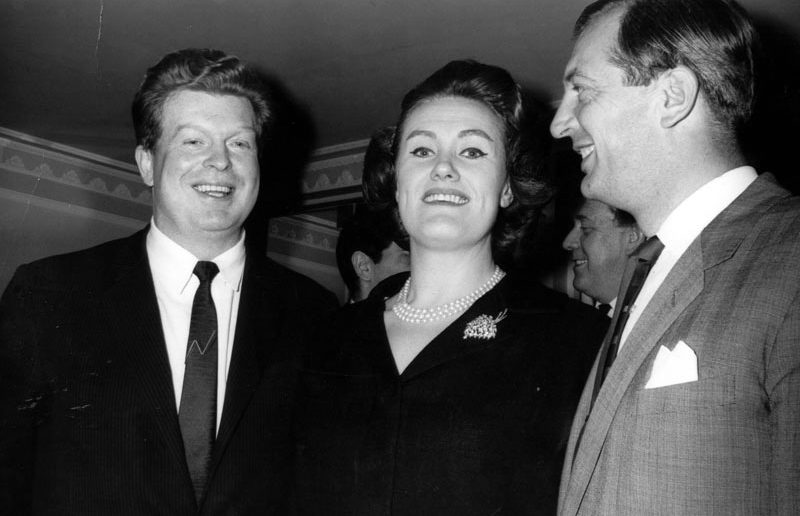 En dehors du podium, il était aussi un réel visionnaire. C'est sous son règne, et en complicité totale avec sir David Webster, que le Covent Garden est devenu dans ces années-là l'une des meilleures maison au monde. Le répertoire, la qualité de l'affiche — interprètes, metteurs en scène, costumiers ou décorateurs — tous les éléments étaient réunis pour séduire le public, le toucher et susciter des éloges tout autant de la critique que des directeurs de théâtre, qui, du monde entier, venaient voir nos productions.
Avec nous, les chanteurs, le maestro Rafael Kubelík était très gentil. J'ai entretenu avec cet homme qui parlait cinq langues une très harmonieuse relation artistique.
Il n'est pas exagéré d'affirmer qu'il fut, avec sir Webster, le « père » de ma carrière internationale.
Le soir du 23 avril 1957, le trac n'a pas paralysé le jeune chanteur. Il est entré en scène confiant. Et tout s'est bien passé. *
(tiré du chapitre 9)
À Milan…

Présenté par Robert Savoie, Joseph Rouleau frappe à la porte du studio du professeur Narducci. Il a en tête deux objectifs bien ébauchés : étudier avec toute l'énergie possible et surtout, faire du chant sa carrière. Narducci accueille avec enthousiasme le jeune Rouleau et évalue bien vite l'ampleur de son talent. Il le précipite dans l'étude des grands rôles du répertoire.

« Maestro Narducci avec qui j'ai étudié de novembre 1952 à février 1953 m'a incité à l'apprentissage du plus grand nombre de partitions. Je sais, aujourd'hui, que cela était une erreur.

«Dans ce court espace de temps, j'ai dû travailler une bonne douzaine de textes musicaux. Par exemple, il m'a demandé d'apprendre, en italien, l'opéra La Bohème de Puccini que j'avais auparavant chanté en français. Cela à raison de trois cours par semaine. Le lundi, je devais lui apporter le premier acte, le mercredi, le second et le reste à l'avenant ! Toutes mes journées étaient consacrées à cette formation. L'exigence du simple apprentissage des textes musicaux nous empêchait d'approfondir, sinon de développer une approche technique. Pour être franc, je dirais que je n'avais pas alors la solidité vocale ou l'envergure technique pour assimiler tant de musique. » (tiré du chapitre 7)
This page is also available in / Cette page est également disponible en:

Francais (French)