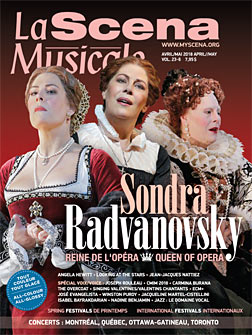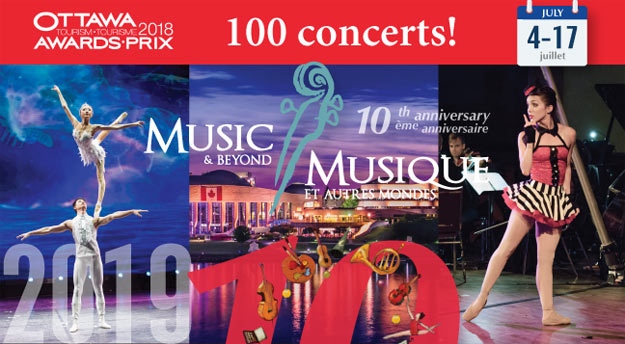 Armenian-Canadian soprano Isabel Bayrakdarian created a sensation in 1997 by winning the Metropolitan Opera National Council Auditions and, three years later, first prize at Plácido Domingo's Operalia. Audiences and juries alike were captivated by her clear, warm soprano and innate personality.
"Because I was the 'outsider,' the biomedical engineer, I was blissfully unaware of the pressures and the mind games that often sabotage a singer's performance in competitions," said Bayrakdarian.
"I just loved to sing, and to express and live the words that I was singing was pure oxygen to me. I never compared myself to any other singer, which I think was the key to my success in competitions and beyond. I vowed to always give my best, but most importantly to enjoy the experience.
"Stuart Hamilton told me early on about singing in competitions: 'If they like you, great, they have good taste. If they don't, then they don't know what the hell they're talking about.' This made it easy for me not to take the rejections personally. Because we always have to remember that there's us [the person]and there's the gift [the blessed voice]. Just because someone doesn't like the voice, doesn't make the person unlovable. This is also key to healthy perspective and a happy life."
For the last six years, Bayrakdarian has reduced her appearances on stage. "I moved to California in 2012 to be close to my mother and my family, since I was about to have my second child, and needed all the help I could get.
"Little did I know that I would be the one helping my mother, who had a massive stroke weeks after my daughter Leah was born, and remained in a coma. So I stayed there permanently to help care for her.
"When I was asked to teach at University of California Santa-Barbara (UCSB), it was truly a blessing, because it provided a meaningful musical outlet, while still being close to my mother."
Even though her mother passed away more than a year ago, Bayrakdarian continues to live and teach full-time at UCSB as assistant professor, while becoming more and more active as a performer. "Santa Barbara continues to be a place of blessing for me. They don't call Santa Barbara a slice of heaven for nothing!"
How is she as a teacher? "First and foremost, I've come to realize that not everyone is meant to be a professional singer. As a teacher, you can certainly guide talented singers by teaching them solid technique, helping with diction, languages, dramatic skills, but ultimately, they need to have an innate spark and fire which will galvanize all the teachings (mental) into an expression (heart).
"Often, young singers remain in the head and not enough in the heart. They need assurance, acceptance, and their ego wishes to please others (coaches, agents, etc), or they are afraid of making a mistake – again, in order not to disappoint others. This can lead to a calculated – and worse, fearful – approach to singing, which just doesn't communicate with the listener.
"The audience needs to be moved, and you move the heart, not the mind! I advise young singers first to learn and master the technique that will free up their instrument, then enjoy the process of learning about what their soul wants to express. This often manifests itself in the color and timbre of the voice and will help guide the correct repertoire choices.
"When I was a young singer, I used to think that repertoire and voice labels were dictated by the limitation of the vocal range. My own journey, as a singer and as a teacher, has proven otherwise: every single instrument should be flexible to go to the highest and lowest extremities, regardless of categorization (soprano/mezzo); it's where the natural tessitura is and the colour/timbre of the voice which should guide towards the right repertoire choices so that you respect your own individuality and uniqueness".
A multiple Juno Award winner, Bayrakdarian is once again nominated. "All my recordings up until now have been driven by curiosity, which is why it's a very eclectic and fun discography. The idea for my latest CD, Mother of Light, came about in a very dark moment in my life. The day my mother had her stroke was the day my life turned upside down. When the doctors didn't give her a chance to survive, I prayed – and appealed – to the humanity of Christ, through our mutual love for our mothers: 'God, if you take care of my mom, I'll sing about your mom.'
"My mom made it through the surgery, and lived for another three and a half years. Though the process and journey of her recovery was not what we had hoped for, as far as I know, God kept His promise, so it was time for me to keep my mine. This is how this recording, which is all-Armenian sacred music repertoire dedicated to Mary, Mother of God, came about."
Bayrakdarian will be singing an Armenian program with the McGill Chamber Orchestra in Montreal in May. She thanks conductor Boris Brott for giving her full liberty in programming the vocal repertoire, which ranges from medieval sacred hymns and 17th-century troubadour music to 19th-century folk songs by Komitas/Gomidas and 20th-century songs by Khachaturian. Bayrakdarian has commissioned contemporary Armenian composers, as well as the conductor Alain Trudel, to make the arrangements.
Isabel Bayrakdarian sings at the Amici Chamber Ensemble 30th Anniversary, April 27 in Koerner Hall, Toronto. www.amiciensemble.com, and with the McGill Chamber Orchestra, May 23, in Bourgie Hall, Montreal. www.orchestre.ca