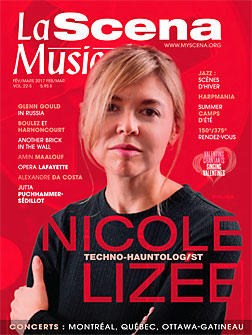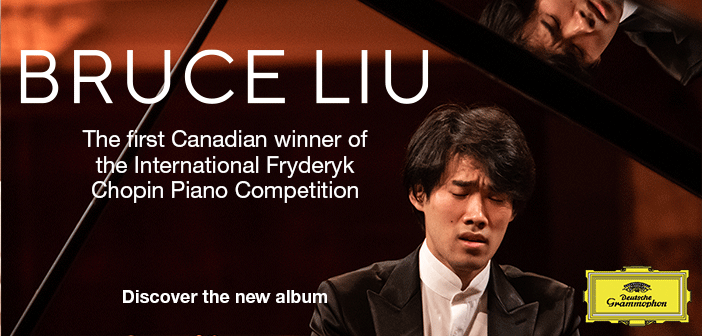 January 22 marked the 120th anniversary of soprano Rosa Ponselle's birth. She is generally considered by critics, musicians, and fans as one of the two greatest voices of the 20th century – Enrico Caruso being the other. Indeed, she was called Caruso with petticoat due to the similarity of their voices. Her voice was large and dramatic, known for its dark velvety timbre and incredible ease of production.
Ponselle's  story was quite the fairy tale. A young American girl without any formal voice training is discovered singing vaudeville and makes her debut next to Caruso at the ­Metropolitan Opera – a veritable overnight sensation. She was born Rosa Ponzillo on January 22, 1897 in Meriden, Connecticut to Italian immigrant parents. The youngest of three ­children, Rosa looked up to her sister Carmela, the oldest child ten years her senior. When Carmela started music lessons, six-year-old Rosa tagged along and eventually took up piano. Naturally, Rosa learned all of Carmela's repertoire. One day in 1908, Miss Ryan, the piano teacher, heard Rosa sing through an open window. When she discovered that it was Rosa singing and not Carmela, she immediately ­encouraged Rosa to take singing seriously.
Things began to change for Rosa. Her mother brought her to hear some of the great singers of that time including Emma Calve, Nellie Melba, Luisa Tetrazzini, and Ernestine Schumann-Heink. At this time, despite her ­father's objections, Carmela left to further her vocal career in New York in more popular styles such as musical theatre and vaudeville. It was Carmela who encouraged Rosa to use her singing talents to earn pocket change. She then graduated to playing piano and singing for silent movies. Soon, she was offered singing engagements in nearby communities. At that point, her repertoire consisted of ­popular American ditties, classic Neapolitan gems, and "Voi lo sapete" from Cavalleria Rusticana – her first operatic aria.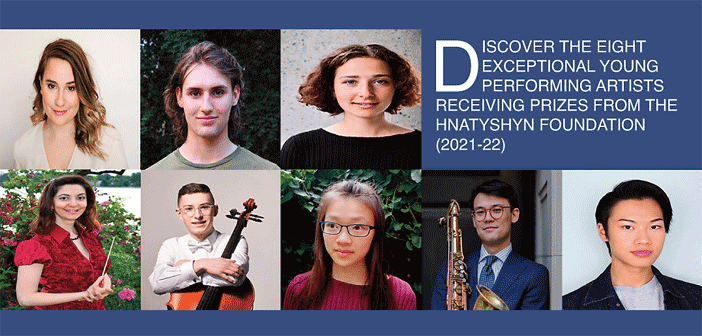 In 1916, Carmela convinced Rosa to form a sister act to perform in vaudeville performances. The Ponzillo sisters were billed "Those Tailored Italian Girls" and were an instant hit in 1917, touring throughout the US. Their program ­included popular songs such as Victor Herbert's "Kiss Me Again," duets of "O sole mio," and several operatic pieces such as the ­Barcarolle from Les contes d'Hoffmann.
As their act became more and more operatic, they were encouraged to try to get a ­contract with an opera company. They became friends with Romano (Nino) ­Romani, a conductor and vocal coach, who brought them to top-flight manager William Thorner who was at first more impressed with Carmela. But famed baritone Victor Maurel told him, "Can't you hear the difference? It's the other one whom the gods have smiled upon."
In early 1918, the Ponzillo sisters were out of work because of their demands for higher pay. During the spring, due to the war, the Metropolitan was having problems ­casting for the Met premiere of Verdi's La Forza del Destino scheduled for Nov. 15 with Caruso in the lead. Thorner arranged an audition with Caruso for both girls. Caruso was impressed enough to arrange a second audition two days later at the Metropolitan with general ­manager Giulio Gatti-Casazza. Gatti-Casazza asked Rosa back two weeks later to sing the difficult "Casta Diva" from Bellini's Norma. Despite fainting three measures from the end, she was offered a contract to sing Leonora in Forza, Rezia in Weber's Oberon sung in English and Santuzza in Cavalleria Rusticana.
At Gatti's suggestion, she became Rosa ­Ponselle. Carmela, having been changed to mezzo by Thorner, was not offered a contract as the Met boasted mezzo Margarete Matzenauer and contralto Louise Homer on their roster. Later in her life, Carmela sang at the Metropolitan for several years, but only in secondary casts. She never attained the same levels of success as her sister, thus causing strain on their relationship.
Ponselle worked intensely that summer with vocal coach and life long friend Nino ­Romani. When she returned to New York in mid-September, she was in high spirits until the day of her debut, when she read a critical review of an established tenor in the previous day's performance. Fearing what the critics would say about her, her spirits were shot and her family had to literally drag her to the opera house. To make things worse, when she vocalised in her dressing room, the heavy carpets and drapes absorbed the sound ­making her think that something happened to her voice. She was still a nervous wreck when she went on stage, but buoyed by Caruso's great singing, she sang wonderfully, thus making history as the first person born in America to sing at the Met. Although she was an instant success, she was never able to shake the feelings of stage fright and nervousness before performances for the rest of her life.
Following Forza, Ponselle found success in Oberon which she sang for the first time with Giovanni Martinelli, who became an frequent collaborator in future productions. Her first recording session with Columbia Records ­followed. Her biggest regret was not having recorded with Caruso who was under contract with RCA Victor; Ponselle signed with ­Columbia under the impression that Victor was not interested, finding out only later that her manager Thorner had received kick-backs from Columbia to secure her services.
In her distinguished career of almost twenty years, Ponselle was a star with the Metropolitan Opera, eventually receiving one of the highest salaries. Except for a visit in 1924 to Italy and several seasons at Covent Garden (1929–31), she preferred to remain in the comforts of America; she found Italian audiences too threatening to sing at La Scala. After singing "Vissi d'Arte" for Puccini three months before his death, he said, "I wished I heard you earlier." Her main roles were taken from the French and Italian Dramatic Soprano repertoire including La Juive, Aida, Andrea Chenier, Ernani, L'Africaine, La Gioconda, and Don Giovanni. She will always be remembered for a memorable Norma that was revived for her in 1927. Her Violetta from Verdi's La Traviatta was criticized for ­transposition (a common practice in those days) but also lauded for possessing both the dramatic and coloratura demands of the role. Her last new role, Carmen, though well suited to her voice, was controversial as some critics blasted her for her liberties with tempi and so-called vulgar dance sequences.
A combination of factors caused her retirement from the stage in 1937. By this time, she had married Carle Jackson, the rich son of the mayor of Baltimore. For the 1937–38 season, she asked the Met general manager Edward Johnson to revive Cilèa's Adriana ­Lecouvreur, a difficult role that wrecked ­Renata Tebaldi's voice when she successfully demanded its revival thirty years later. Johnson refused on economic reasons even when Ponselle offered to sing for free. These two factors compelled her to resign from the Metropolitan and retire at age forty at the height of her vocal powers to the comforts of her mansion, away from the stresses of performing.
One might expect Ponselle to disappear into isolation and seclusion like many a retired Diva. This was true for only a decade: Carle was away in the Navy during WWII, and their marriage never recovered from this interruption. In 1951 they divorced. Rosa kept the mansion named Villa Pace, which today is the site of the ­Ponselle museum. She soon became involved in the ­operatic scene in Baltimore becoming director of the Baltimore Opera, giving experience to young singers. She also became involved in teaching, helping encourage such notables as James Morris and Beverly Sills. In 1954, ­Ponselle recorded an album at Villa Pace for RCA. Though the upper and lower ranges show some wear, her voice was still as fresh and ­vibrant as ever. Many of her guests at Villa Pace reported hearing to her vocalise things like Liebestod from Wagner's Tristan und Isolde. Ponselle passed away quietly on May 25, 1981.
Ponselle's voice was naturally placed, ­resonant and free: "I was born to sing." With mezzo colouring in addition to the facility and ease of a lyric soprano, it has been said that ­except for Kirsten Flagstad, Ponselle had the largest voice at the Met. Although she did not credit any teacher she admitted that vocalise/exercises from Romani helped her ­obtain evenness and ease in her high notes. Listening to her early acoustic recordings, one notices a natural free voice that thins out at the top. By the mid-1920s, her vocal mastery was complete. Her 1927 recording of "Pace, pace mio Dio" has often been used to demonstrate the difficult messa di voce (start piano, swell to fortissimo, and diminuendo to pianissimo) exercise. Her voice is also a prime example of the spinning tone that is seldom heard in today's singers. Ponselle was to say later in life that although great voices are nature's gift, a singer is only great after a lot of hard work.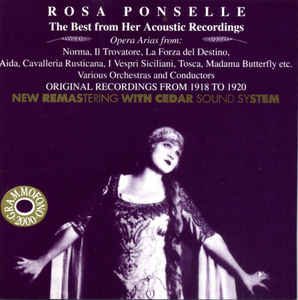 Ponselle's recorded legacy include acoustic recordings with Columbia, and after 1923, studio recordings with RCA. Grammofono 2000's Rosa Ponselle – The Best from Her Acoustic Recordings (1918–1920) is an excellent compilation of her early recordings. The pricey Romophone does a good job in transferring the electric recordings from 1926–28. Only two complete operatic performances seemed to have survived: a 1935 La Traviata and a 1936 Carmen. Unfortunately for us, the technology of that era, and problems with mike placement only gives us a glimpse of her incredible voice. Even so, one cannot help but be astounded by it. A number of Radio Broadcasts from the 1930s were also preserved and serves as the best testament of the effect of her voice. The broadcasts with conductor André Kostelanetz for the Chesterfield Hour are particularly ­rewarding since he experimented with mike placement and found that a microphone placed in the second or third row recreated the Ponselle's voice heard at the Manhattan ­Theatre. He had noticed an interesting stereo effect in her voice that close-miking did not pick up. Of the handful of CD transfers out there, Rosa Ponselle on Radio under The Radio Years label does the best job in recreating what her voice must have really been like.
We celebrate the 120th anniversary of Rosa Ponselle's birth in appreciation of her stature as a great singer and a great voice, as well as a salute to the generous person she was after her retirement. If only we could forget that she left singing in her prime or that technology was not ready to fully capture the splendor of her voice or her greatest roles for posterity.
---
Originally published in La Scena Vocale, January 1997, Vol. 2, No. 5