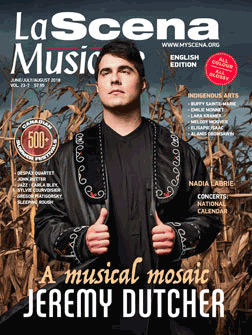 Advertisement / Publicité
This page is also available in / Cette page est également disponible en:

Francais (French)
This year, thanks to a special project grant from the Canada Council, our June/July/August issue is bigger than ever, printed on 96 pages of colour glossy paper, and with a special theme on Indigenous Arts timed for the National Indigenous Peoples Day on June 21. The special section is directed by Nathalie De Han and consists of 14 pages of interviews and profiles of Indigenous artists.
The summer issue comes out on June 4 in separate English and French Editions with a combined print run of 50,000 copies (doubling our normal 25,000 copies) and is distributed nationally. La Scena Musicale's 22nd annual Summer Festival Guide is again all-colour, glossy and in the bigger three-column format with its own cover. This is Canada's largest directory of summer arts and music festivals – classical music, jazz, world, folk, country, pop and rock music, theatre, dance, film, visual arts and competitions. Last year we listed 515 festivals. This year, we have even more, proving that Canada is still the land of festivals. Ontario leads the way with 194 while Quebec is second with 117. Our writers highlight the most exciting events and tell you about any important changes to the established festivals.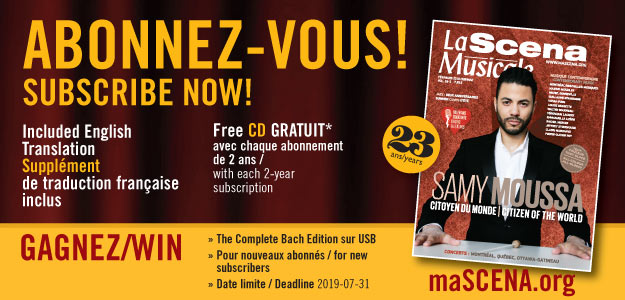 Indigenous Special
The Indigenous Arts Special is intended to celebrate the unique heritage, cultural diversity and outstanding contributions of First Nations, Inuit and Métis peoples. La Scena Musicale gives voice to artists from different First Nations and highlights the artistic effervescence of our Amerindian country. Among those profiled are Jeremy Dutcher, who is seeking a hybrid idiom that blends his Wolastoqiyik heritage with his classical training as a tenor; André Dudomaine, the Innu director of the Montreal First Peoples Festival; and the singer and activist Buffy Sainte-Marie, who, despite her fame, finds time to give educational concerts to schoolchildren with the Regina Symphony Orchestra; as well as Alanis Obomsawin, Joséphine Bacon, Moe Clarck, Lara Kramer and Emilie Monnet. Dutcher graces the cover of the English edition.
More
The issue also features flutist Nadia Labrie on the French cover, the Quatuor Despax celebrating their 15th anniversary, Roddy Ellias's opera Sleeping Rough on homelessness, a look at John Rutter's new composition, and the Jazz couple Carla Bley and Steve Swallow.
National Calendar and mySCENA.org
Just as last summer, we present a national print calendar, containing 750 classical music concert listings from coast to coast to coast. Owing to space limitations, all listings are in summary form. We invite readers to visit our website, www.mySCENA.org, to see complete details in both English and French.
Over the last year and a half, we've been migrating our previous award-winning site (www.SCENA.org) to www.mySCENA.org thanks to funding from the Canada Periodical Fund. Although it remains a work in progress, our calendar tool is ready to take on music events from across Canada, other arts events, and even international events. Thanks to funding from Young Canada Works and Canada Summer Jobs, our web programming interns will add more features and tools this summer. We invite both arts organizations and arts consumers to visit our site for the latest news and informational tools.
In Memoriam
As we were working on this issue, we lost two of La Scena Musicale's closest friends within a week. Longtime board member Holly Higgins Jonas passed away at the age of 81 on April 30, 2018. A passionate choral singer, Holly authored the award-winning book In their Own Words: Canadian Choral Conductors and wrote several articles for La Scena Musicale. Lawyer and philanthropist Maurice Forget, who was a member of La Scena's Advisory Committee, had been a volunteer to numerous non-profit arts boards in Montreal for over 38 years, winning the 2009 Prix Arts-Affaires (read the 2010 profile at our website). Maurice passed away on May 3, 2018 at 71.
Both have been witness to La Scena's long struggles to secure government funding, and I'm glad they heard the news of our Canada Council grant before they left us. Although the $26,000 project grant (intended to fund the three issues February/March, April/May and June/July/August 2018) is a one-time award with no guarantee of repeat, we feel that it is a recognition of the new directions we have undertaken over the last six months to improve the quality of our magazine by going all-colour on glossy paper, increasing the amount of articles and consequently the number of pages (25% over last year), and producing specially themed issues (Theatre in Dec./Jan., Voice in April/May and in this issue, on Indigenous Arts).
We are continuing this direction in 2018-19 with more special-theme issues and content. Our September issue will be a special on Art Song, October will focus on Jewish Music and Theatre, November will look at baroque music and circus, December/January will be a special on choral music and dance. Our decision to go all-colour and glossy has risks. Market paper price has increased over last six months. This means our costs will go up.
This 96-page magazine you hold is part of our vision to tell the stories about musicians and artists. We hope to expand the magazine by a further 15% next year to tell more stories. To accomplish this, we need your help. We would be most grateful to readers who buy a subscription or make a donation. Thanks to Quebec's Mecenat Placements Culture program, all donations will be matched with a future 15% grant.
Have a great summer full of arts and celebration.
Wah Keung Chan,
Editor & Founder
This page is also available in / Cette page est également disponible en:

Francais (French)