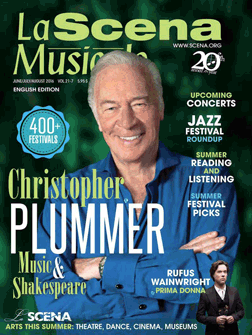 Advertisement / Publicité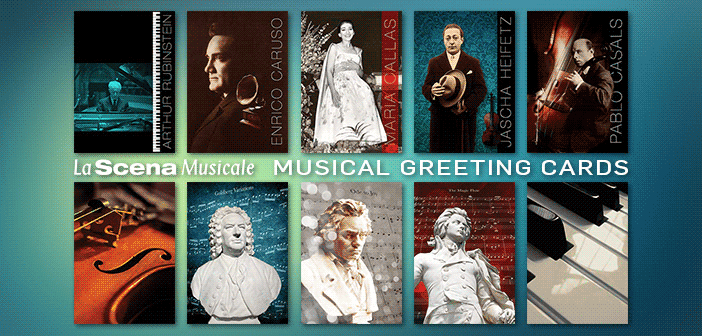 This page is also available in / Cette page est également disponible en:

Francais (French)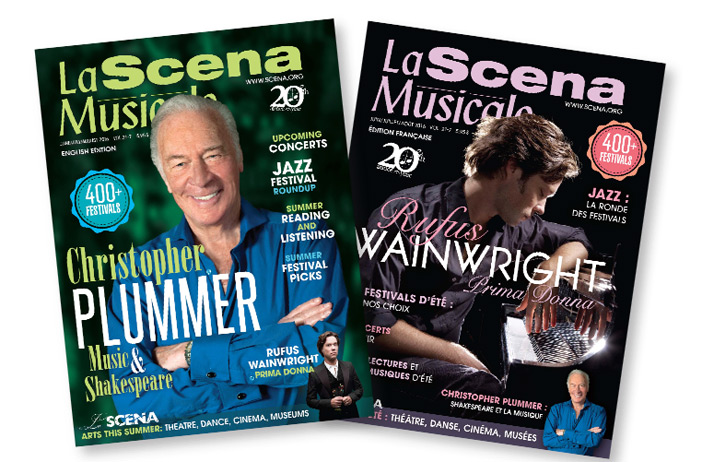 This May, Montreal hosted the annual Opera America Conference, which stimulated discussions about the future of opera and by extension, the future of classical music and the arts. The theme, "Global Strategies, Local Actions," seemed appropriate for a conference held in Montreal as the 400 visitors were impressed by success stories from the Just for Laughs and Montreal International Jazz festivals.
The session called "Electronic Media: a Strategic Imperative?" presented by Rob Overman (Creative Director of Stingray, a Montreal-based provider of multiplatform music products and services) caught my attention. Although making videos of opera and other performing arts for television, the web, and other media may work well for the European market, it is not currently suitable for North America, given that opera companies are handcuffed by rigid collective agreements. According to Overman, the availability of videos may be great for branding by gaining more digital eyeballs but it is not profitable. If it were more cost-effective, more companies would go digital in order to capture new audiences. HEC professor Serge Poisson-De-Haro expressed doubt that consuming opera on a 10-inch tablet would lead to many opera converts. He added, "It takes a couple of years to educate new audiences; the goosebumps experience happens in the hall."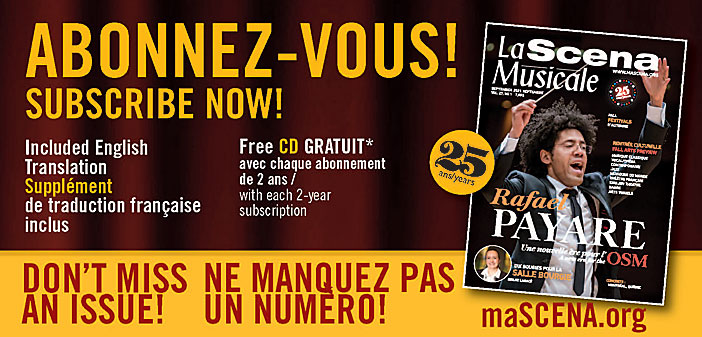 In recent years, expanding the audience for live opera is one of the main pre-occupations of opera companies. North American companies are inclined to present new operas, hoping to engage younger audiences and connect with them with music written today. According to Robert Marx's article, "Rebalancing the Portfolio," in this spring's Opera America Magazine, professional opera companies in North America have produced nearly 400 new works (an average of 25 per year) since 2000. This may be a boon for composers but I wonder if the effort and expense is paying dividends since opera audiences continue to dwindle. Moreover, how many of the 400 new works have real lasting power?
During the Saturday session of the conference, "Global to Local – Strategies for Opera," disagreement among the panelists continued. Bernard Foccrouille, General Director of Festival d'Aix-en-Provence, insisted that opera should not be considered entertainment, but should be labeled as art, while Montreal Opera Executive Director, Pierre Dufour, did not share the same opinion. Regardless of the semantics, the point of the matter is to find ways to draw more people to opera.
Throughout the conference new works were on display, beginning with Chants Libres's The Trials of Patricia Isasa (go online to read the glowing review by La Scena's Kiersten van Vliet). I caught Friday night's New Works Sampler online, and attended Opera de Montreal's world premiere of Kevin March's Lilies (Les Feluettes), also reviewed online. I left Les Feluettes satisfied that I had witnessed a well-crafted drama that eloquently depicted a love story while shining a light on the torture of homosexual repression. Missing were memorable musical moments, those love arias and duets that tend to echo within us all the way home.
Similarly, the excerpts of six new Canadian and American works at the New Works Sampler did not leave me with any captivating musical moments even though I enjoyed the story-telling. I prefered the American works because the singing sounded more relaxed, the vocal line sitting more solidly on the voices of the American singers. In other words, in comparison, the Canadian singers tended to go shrill, maybe because the music was too high for their range. Someone asked me if this was the fault of the singers or the fault of the composers. I place the blame squarely on the composers for not understanding that new works are most often sung by younger, less experienced singers. I'm reminded that Purcell wrote Dido and Aeneas in 1688 for a girl's school, spinning great arias that sat on a comfortable tessitura, probably explaining why the work continues to be performed today, often at the college level.
My biggest takeaway from this year's Opera America Conference is that although North American opera companies seem to be doing everything by the book to attract younger audiences through new works, a notable weak link is composition. Twentieth-century composers – and those who followed – became allergic to creating melodic music in pursuit of academic originality. This trend disregarded listeners' musical sensibilities, resulting in a real turnoff for audiences. Elusive as it may be, without music that captivates, new operas may be relegated as passing entertainment by younger audiences, failing to convert them into budding opera lovers. I challenge today's composers to know their audience well enough to write for them, something that makes the great composers of the past always relevant to audiences.
Speaking of relevance, composers and opera companies alike, should take a page from Ned Canty, General Director of Opera Memphis, whose 30 Days of Opera program is literally bringing good singing and great operas to the public – free performances (from pop-up arias to children's operas) on street corners, libraries and markets all over Memphis. For Canty, "Every performance is an attempt to engage." Stay tuned for our September issue to get a special look at the state of opera in Canada.
This issue features our 20th Annual Guide to Canadian Summer Festivals, including over 400 festivals in classical music, opera, jazz, world music, folk, pop, country, theatre, dance, visual arts, film and literature – it is no wonder that Canada is now considered the land of festivals! Christopher Plummer makes the cover page of our English edition and inside, his love of music is explored through his new program of Shakespeare and music. Our French cover is graced by Rufus Wainwright, who performs excerpts of his opera Prima Donna as part of Montreal's International Jazz Festival. To promote a better user experience, we have increased the font size of the festival guide.
In anticipation of the 20th anniversary season of La Scena Musicale (a real milestone!), we are proud and excited to launch our new website mySCENA.org on June 7th, thanks to a grant from the Canada Periodical Fund. This new website is based on the latest technology, building on our award-winning news website by allowing more user interaction to cultivate a community of arts lovers by informing, educating, and engaging. In addition to creating a profile to leave comments and reviews, users can create their very own arts experience with a personalized homepage of news, reviews, and events catered to their interests. Stay tuned to our website starting June 7th for more exciting developments, including a crowdfunding campaign to support our raison d'être of promoting classical music, opera, and the arts and our continued efforts to serve you better.
My, how time has flown since our magazine was born from the little newsletter that I first wrote and distributed all over town in 1996! This autumn, we will celebrate La Scena Musicale's 20th anniversary with a gala devoted to Rising Stars. If you wish to join our fundraising committee, simply send us an email at [email protected].
On behalf of our dedicated team of staff and volunteers, I wish you a happy summer full of music and the arts!
This page is also available in / Cette page est également disponible en:

Francais (French)